When we all arrived at the Hirsch on one fine Saturday noon, Wembo was rightly (obviously) incensed. 2 games back to back?! TWO?! Or is it five? How much your author would have given to hear those words in a J. Peterman style, again.
Nonetheless, Wembo-less and sans Jonty (who narcissistically decided not to give away his B1 German exam for a greater cause. Pro Tip: Get your A1 in English too while you're at it, Bogan), the MCC playing 11 arrived at the Serendip ground in the best of spirits. The team had been unbeaten so far in league after 8 games.
Such won the toss and decided to bowl first. No one perhaps had expected the unexpected and what unfolded from there on was pure bliss. Such opened the bowling with a wide and four, followed by a spectacular catch by Phil Hancock at point; and Waqas at mid-on. 7/2 after one over. THINK YOU'RE SO PRETTY!!EEEEEE!!!EEEEEE!!!
Waqas and Macca joined the party, chipping away wickets in tandem. Milan snicked one behind to the keeper (Craig Barrett unimpressed after being robbed of +1 to his catching stats), one-hand man Modak grabbed one at short third, Ali snicked one behind, Such plucked one at mid-wicket. Wickets fell like ninepins and Serendip succumbed to 75 all out in 13 overs.
Macca and Such with 3 scalps each, Waqas with 2, Jaxon and Shivam with 1 each. Well bowled and well fielded, job well half-done, upto the bastmen now.
Unfortunately, none of the batsmen complemented the bowlers. Chasing 76 to win in 20 overs, Jaxon parished in the 2nd over followed soon by Vishv, both LBW to left arm spinner Amir. Macca got bowled for 1 by Roshan. Kunal played well for 11 before being caught at covers. Such coped well with relentless pressure from opposition bowlers, finally caving in with required run rate rising. Argha, Waqas and Phil ran themselves out under pressure and Craig got caught soon after. Amol was run out in the last over, leaving MCC 14 runs short.
Bitter pill to swallow, not because this was 1's first defeat of the season; but we couldnt chase down 76. But we live on to play another game (Wembo "WHAT?? TWO T-20s?? AGAIN??")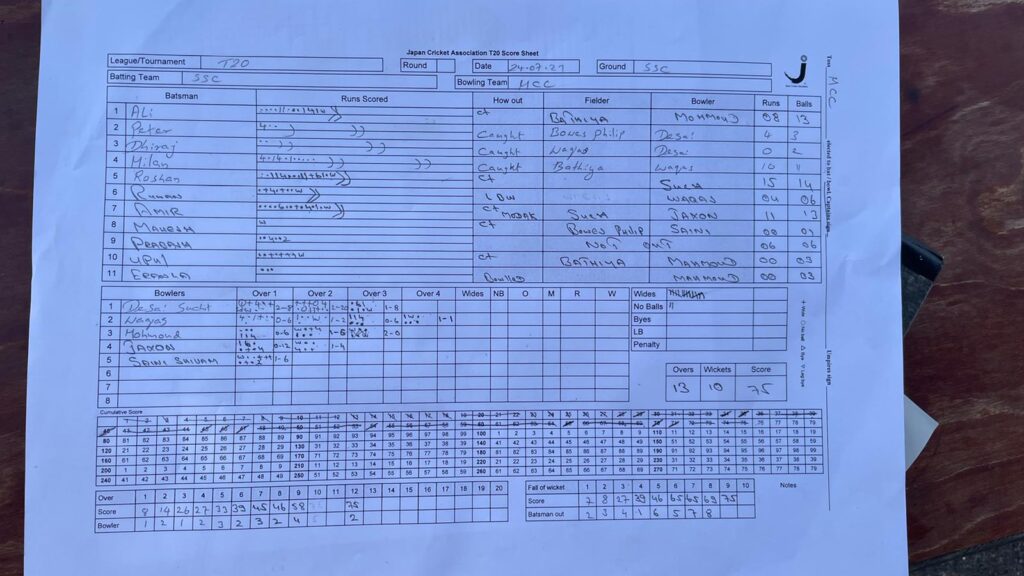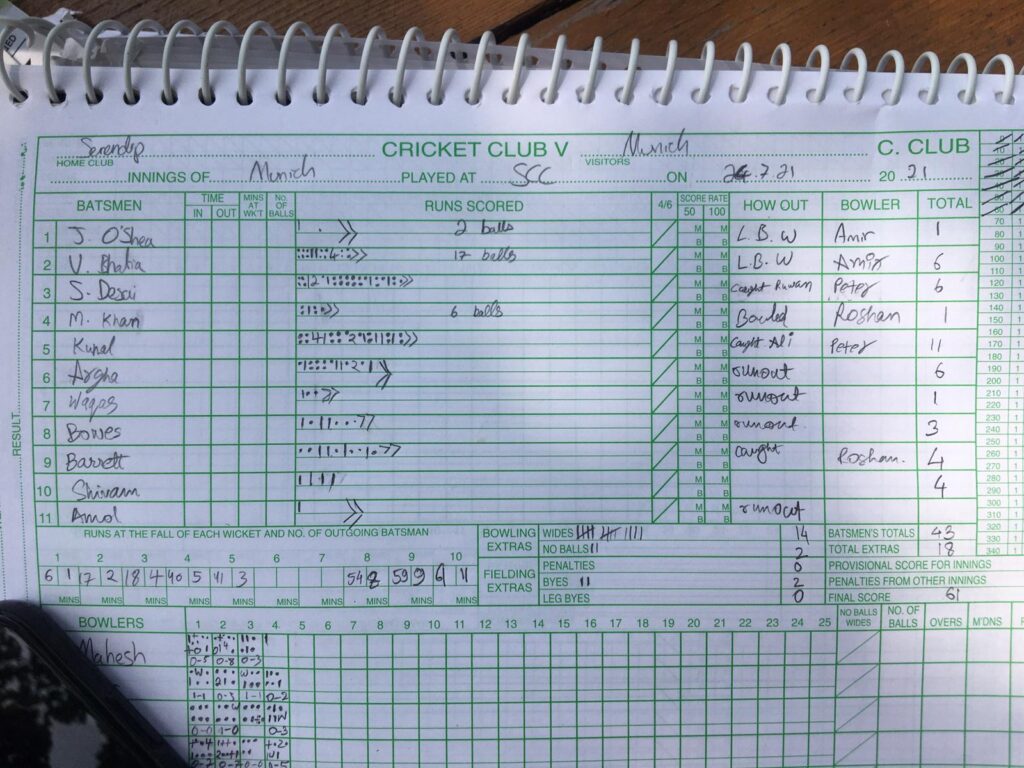 Such lost the toss for the 2nd game and we were asked to bowl first under the scorching heat. Jonty arrived just in time to lead playing 11 into the field. Milan and Peter opened for SSC. MCC's shoulders were dropping low as the aftermath of game 1, and it showed with slightly wayward bowling and mis-fieldings. First wicket well in the 5th over for 30, Craig catching their opener Peter off Jaxon.
In came Amir at number 3 and clobbered bowlers all over the park between fine and square leg. He soon reached his 50 and thanked all bowlers for generous lines by raising his bat, before getting stumped for 55 off Craig. Milan on the other side was caught by Such off Kunal.
Catch of the day came when Macca plucked one from thin air while back paddling. Nicking fruits off neighbours' trees is bound to pay off at some point. Waqas bowled 2 in 2 balls to ensure a mini collapse. SSC all out for 159 in 19.5 overs. Waqas had 3 wickets this time, Craig and Kunal with 2 each and 1 each for Jaxon and Macca.
Chasing 160 in 20 overs, Jonty and Vishv started the innings the way we should have had in first game. Jonty smashed Amir for 2 fours in 2 balls and MCC were 25/0 after 3 overs. Jonty was caught out soon at deep mid wicket, swiftly followed by Such; 40/2 after 5 overss. Macca and Vishv kept the asking run rate in check, ran hard and scored a boundary or two in every over that followed.
56 runs partnership was finally broken in the 11th over, when Vishv was caught at extra over for 46. Macca and Argha kept the scoreboard ticking, Argha flicking one majestically for 4. As if cricket wasnt cruel enough, another good shot by him led to his downfall. He was caught right at the sqaure leg boundary having played an uppish leg glance. An inch either side would have been a six.
MCC's trademark collapse ensued and from 116/4 in 13 overs, were all out for 129 in 17. Away day in Neuperlach came to a sad end with 2 defeats.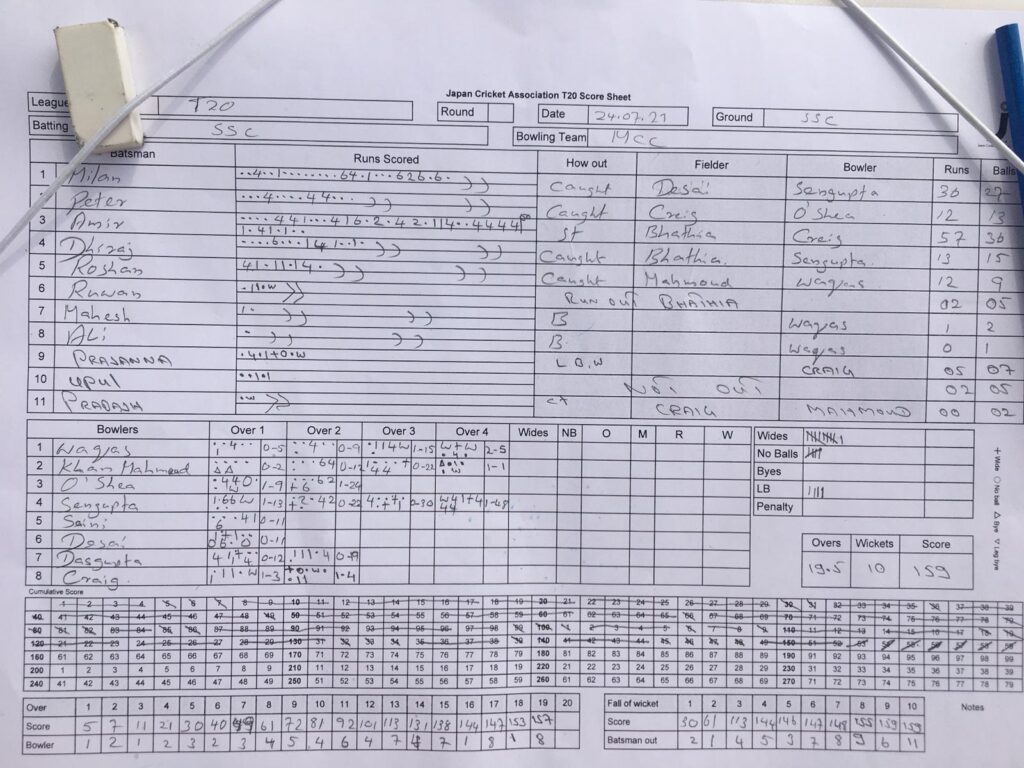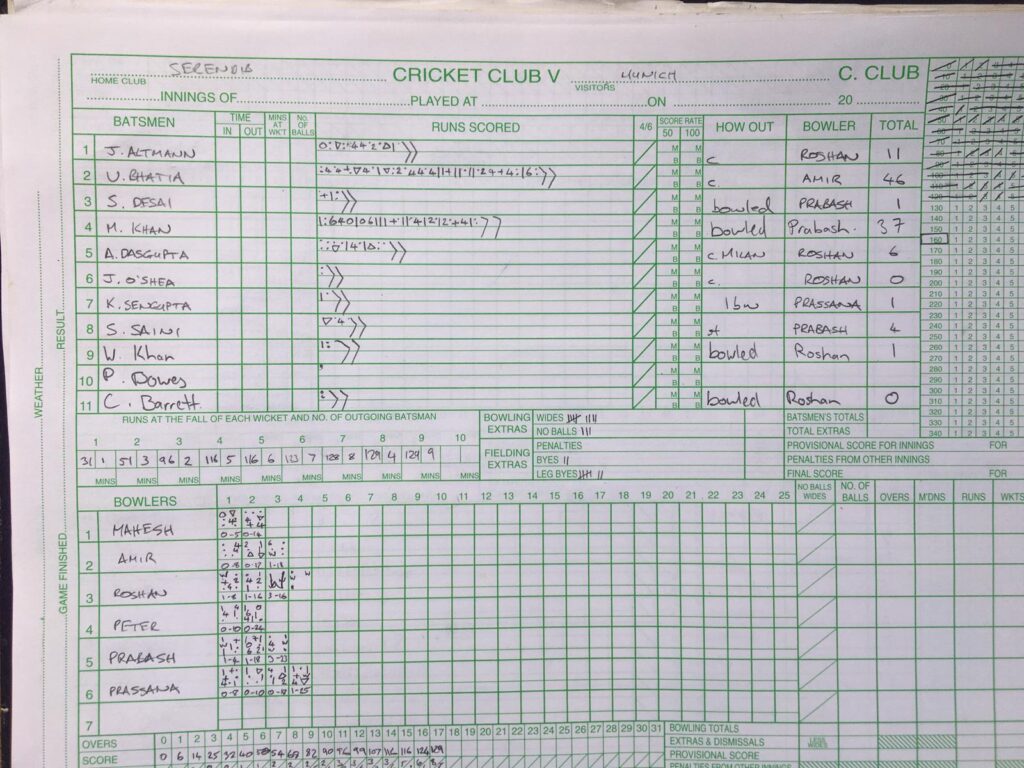 We bowled amazingly well in the first game, only to bat well in the 2nd. Perhaps 1 win and 1 loss would have been a fairer reflection; but our good old cricket is not known for its philanthropy.
Few of the MCC players warded off to the Hirsch to share a few beers with the 2s. Seeing familiar sights of Wembo, Collo, Dave LL, Simrat, Tom-Toms et al made the author so excited, he got joy stains. Rich capped off the day with his jaw dropping beer opening skills (this time with a train ticket).
Dang Ling-Wang1

1Allegations have been made that if you read Dang Ling-Wang the right way, it contains hidden messages, often Satanic. There have also been claims that if you read it backwards, it's probably a Welsh town. A load of sckollob, naturally.