Arriving at the ground for the final match it was immediately obvious that two things were different:
We were now bathed in warm sunshine, with barely a breeze. Perfect cricket weather.
Everybody was broken.
Touring is tough on the body for many reasons. Pain killers, liniments, strapping and plasters were being liberally distributed. Also the wisdom of the signs that read "Do not drink the tap water!" was now becoming pitifully plain to some…
Unless you really do want to visit every toilet on Malta, do not drink the tap water.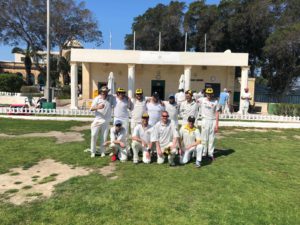 Figure 1 – Day three patched up XI pose for team photo
The toss was tossed and lost and so the assembled biomechanical tragedy that was the remnants of the MCC touring side, stumbled uneasily on to the field.
Jonty Altmann's first ball was accompanied by the words "Oh Jesus!" and something like, "Foxtrot me!" from P Bowes, behind the stumps.
Jonty warmed to his task, gently. As did Pierre Du Plessis from the other end. Many catches were shelled the day before, but then the side had collectively caught "Catching disease" and the ball had begun to mysteriously stick in the hands. The illness was happily still infectious and Jonty picked up both openers, one caught by "Sat Nav" Naveen, the other by Finchy. Pierre had thrown off his accumulated aches and pains and was bowling with real pace and purpose, but simply nothing was working for him. The closest chance being a rib-tickler that nearly dropped on to the stumps. He finished wicketless.
With the score on 60 for 2 after the first eleven overs, Gattinger and Deverill took up the "Brian" mantle. Veith was getting good swing and despite a few wild'n'windy ones was causing the batsmen some issues. A good catch from Craig Barrett being the reward.
JD's first over was expensive, but he tidied it up and it was only the all-too-crucial umpire who didn't hear the blatant snick through to Bowes. Importantly, the run rate had been slowed. 101 for 3 after 20 overs and drinks.
Owen Davies replaced JD and Craig Barrett on for Veith. Owen won't want much said at this point, but Craig collected two, one (thanks to "Catching disease") a snick on to the shoulder of Jonty (Now keeping wicket), snaffled by JD. The second a straight full toss, flush in front. Thank you very much, LBW.
Craig might have had a third had Veith held on to one smashed in to the covers? The result was still a wicket however, as the batsman risked a run on the miss field only to see Veith gather neatly and get the return in sharply for Jonty to remove the bails. Gone!
Harit was on, bowling with even more air than Craig and "Sat Nav, Nav-man" Naveen, replaced a struggling Owen (Blame the water). Both bowlers went wicketless, but the run rate was still not escalating on a pitch designed for automobiles.
Phil had an over that went for ten and saw him fielding at the next opportunity, which meant the moment everybody had been looking forward to had come. George (Captain my Captain) Michahelles was on!
George's two overs went for a respectable run-a-ball at a point in the game where the opposition must have been looking to get a wriggle on. Hazza handed the ball to Ian Finch at the golf course end. Apart from his catch, Finchy hadn't had the best of tours thus far. Such are the wonders of cricket however that just as one good performance can be followed by misery, so can misery be followed by redemption. Finchy closed out with three quick wickets in his four overs. The first, an LBW from his first ball, a bowled top of off and a lovely catch from Owen completing the trio. Finchy was all smiles again!
One last over from Veith saw their number eleven caught in the deep by JD and the MARSA side had been bowled out for 199 off 19.2 overs.
Bowling stats:                   Overs     Mdns     Runs      Wickets
Jonty Altmann                   6             1             28           2
Pierre Du Plessis               5             0             25           0
Jon Deverill                        5             1             17           0
Veith Gattinger                 6.2         0             29           2
Owen Davies                     2             0             13           0
Craig Barrett                      3             0             9             2
Naveen Arunachalam      3             0             16           0
Harit Khanna                     2             0             13           0
Phil Bowes                         1             0             10           0
Ian Finch                             4             1             19           3
George Michahelles         2             0             12           0
Catches: Nav 1, JD 2, Finchy 1, Barrett 1, Owen 1,
Run outs: Veith 1.
Lunch was a welcome and pleasant affair, as it had been throughout the tour. Liniment, strapping, pain killers and plasters distributed, Jonty and Pierre set off to make the necessary inroads. Four balls later Jonty returned with the score on nought. Caught behind.
Nav took over and it would be fair to say that a steady start was made. The confidence of scoring a 50 N.O. in the first game had been eroded by a duck in the second for Nav and Pierre, who had remained wicketless all tour, was also on a pair. Everyone but the fines master was nervous!
Both began to find the middle of the bat and once off the mark the runs began to flow with increasing fluency. By the eighteenth over we had reached 82 for 1 and the race looked to be on. It was an unfortunate time for Faff to pick out deep midwicket and he left on 27, when more was on offer. A good knock, still.
Nav was starting to make hay. Some excellent running and lusty blows were doing real damage to the MARSA total. Craig was happy to play the supporting role as Nav found the boundary with regularity. Nav passing fifty for the second time in three days. One six hit the top of the pavilion, followed by another soaring in to the tennis courts only to hole out at the third attempt. Nav gone for a wonderful 68. The score 137 for 3 after 30.
6 an over was gettable on this ground, but early season rustiness and tour weariness makes itself known. Phil joined Craig and although every effort was made to find the boundary, the necessary clean hitting eluded them. Craig left, caught on 22. JD came and went for one from two balls, stumped (Fittingly) trying to come down the track on one leg. Phil was caught on 12 and Hazza made 10, before being caught on the boundary whilst attempting the first of the three sixes required from the last three balls.
Owen had connected with one nicely and looked like he could bat all day if it weren't for the scoreboard pressure. He was triggered LBW on the penultimate ball, for 10. Finchy played an immaculate forward defensive off the only ball remaining as a hapless Veith looked on from the other end, never to face.
MCC 181 for 8 from 40 overs. The closest game of the tour, but in truth we were never quite ahead of the game.
Speeches and platitudes were given, Nav Man receiving the player of the tour award from the MARSA CC. MCC once again forgetting to bring something to give the opposition for their hospitality.
Figure 2 – Nav receives his man of the series award, while Craig and Abigail accept the Marsa pennant
Drinks, fines, drinks and then a splendid dinner at the Greek restaurant on the seafront was just what was needed to round off a tour of camaraderie and spirit.
Morning had us pack our bags before saying our good byes to each other and Malta too. No wins on tour, but that should galvanise us as team mates and as individuals. There were various good performances and lots of hilarious tales, both from on and off the pitch. If you haven't heard about Veith's romantic walk along the jetty, I'm happy to provide pictorial evidence to accompany the tale! For those of us who were there, we will never be short of a reason to smile or break even out in to hysterics, just at the thought of it.
A collective "Thank you" from all of us who benefited from MARSA CC's hospitality and to Craig Barrett for getting it all organised. We look forward to seeing some of the MARSA players at the Hirsch in September.
Cheers to All!
JD