The first Division I league match of the season and MCC, resplendent in their fine new coloured kit, arrived at the Erasmus Grasser Gymnasium to face the might of MIC.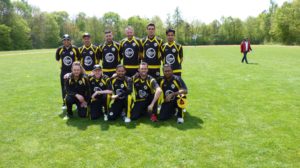 Nothing had changed there from last year, glass shards were still scattered all around the recreation area and ants swarmed everywhere. However, they no longer use a Flicxpitch but have reverted to coconut matting laid on some pressboard, hoping to compensate for some very large irregularities in the ground. Unfortunately the board stops just on a good length at one end so only one end is used for bowling.
Many of what would normally be considered as being in the first team squad were unavailable but others including the captain and vice-captain of MCC II helped to make up the eleven.
Captain Ayub duly lost the toss and MCC were asked to field, opening the bowling with Colling and Waqas Khan. For the first time in a long time the first ball bowled in anger in the league was not a wide so well done Nick Colling. The two openers kept it tight and had figures of 0 – 10 and 0 – 17 after four overs each. Maiwand Khan then made a determined effort to lead the wide boys in his first over but thereafter bowled beautifully, aided by Imtiaz, the other first change bowler. Barrett and Deverill were also miserly and after 20 overs MIC were 90 -1, Imtiaz getting an LBW. There should have been a run out of their opener who went on to score 91 – at least it looked like a run out from the scorer`s table. After the drinks break MCC got three runouts, dropped some five catches, displayed some fairly mediocre fielding, particularly returning the ball to the keeper – or not as often happened – and MIC finished on 239 for 9 after 40 overs, aided by 31 wides and 3 no-balls.
After the tea break MCC opened the batting with Butt and Altmann to face the bowling of Pfanni Pollisetty, the MIC captain and ex-MCC player. Altmann was in full indoor cricket mode and hared down the wicket having played a super shot straight to a fielder and was almost run out.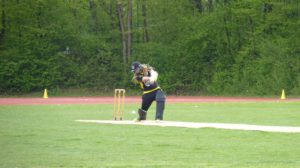 He was then bowled by a ball which stayed low having faced two balls only and the score on 12. Nineteen runs later, Butt fell having made an aggressive 17 runs, caught by Kashif, who gave a perfect demonstration of how to catch taking three during the afternoon.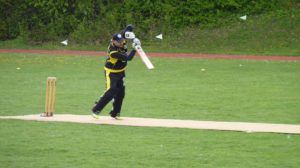 Deverill was the next to fall with the score on 73 having been in a partnership of 42 with captain Ayub. At the drinks break MCC were 77 for 4 down and looking unlikely winners.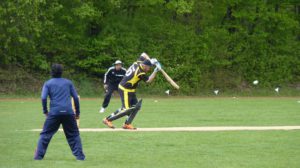 The score ticked over slowly, wickets fell also slowly but Barrett was determined to bat out the 40 overs and really annoy the opposition. Shouts from outside the boundary reminded them that the final position in the table was also determined by run-rate so stop bowling rubbish. In the 39th over their bowler responded by bowling two five run wide balls almost causing apoplexy. Waqas Khan was out caught on the last ball of the 40th over having been in a partnership of 24 with Barrett who faced 41 balls for his 7 runs, so one unusual target of batting out the 40 overs had been achieved.
Afterwards, Butt T.K. took us to a secret beer garden known only to him for a most enjoyable after match socialising as the Rosenhugel beer garden was closed.
Butt, 17, caught, 2 overs, 0 mdns, 0 wkts, 25 runs, 1 catch
+Altmann, 1, bowled
Deverill, 18 bowled, 5 overs, 0 mdns, 0 wkts, 27 runs, 1 catch
*Ayub, 21, caught, 7 overs, 0 mdns, 0 wkts, 46 runs, 1 catch
Konchada, 2, run out, 2 overs, 0 mdns, 1 wkt, 26 runs,
Khan Mahmud, 19, caught,
Colling, 5, caught, 7 overs, 0 mdns, 0 wkts, 34 runs
Barrett, 7*, 2 overs, 0 mdns, 0 wkts, 6 runs
Ahmad I, 1, caught, 4 overs, 1 mdn, 1 wkt, 13 runs
Khan Waqas, 7, caught, 7 overs, 0 mdns, 4 wkts, 29 runs,
Khan Maiwand, DNB, 4 overs, 0 mdns, 0 wkts, 26 runs, 1 catch
MCC, 141 for 9 in 40 overs lost to MIC, 239 for 9 in 40 overs by 98 runs
MCC MOM: Khan Waqas.