On Saturday 5th the complete party including lady Wembridge assembled at Piccadilly gardens after some deliberately confusing instructions made to bump up the fines box, and took the tram to Old Trafford for the second day`s play of the test against South Africa. It gave Wembo ample opportunity to wear his Proteas shirt and cultivate his pseudo Saffir accent, much to the amusement of the other tram passengers.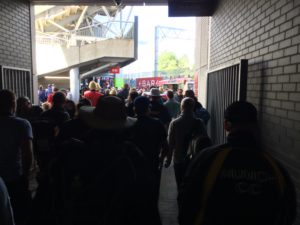 We saw some wonderful test cricket but, unfortunately, we were in the Fosters party stand which is a pseudonym for "amongst the yobs". After 4 o`clock thousands were so pissed and we were showered with missiles from the upper ranks, so much so that Giles left the ground and Finchy moved to the other side of the ground. None of this troubled Veith at his first test and he joined in the creation of the long beer mug snakes wholeheartedly. Unfortunately once the snakes broke they were turned into beery missiles.
After the match tour manager Barrett decided we would all go for a Ruby Murray very close to the tram stop at Deansgate.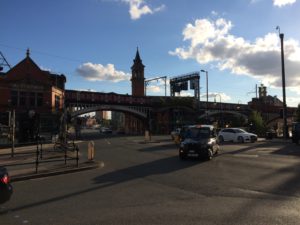 Suffice it to say that his idea of very close is different to anyone else`s and we walked miles only to be told there was a 45 minute wait to get in. On the way we had passed the Hilton hotel and saw one of the umpires, Aleem Dar, he with the frightening beard, entering. Not to worry said the long distance runner there is another one just around the corner – the corner being some ¾ mile away – but we made it and enjoyed a very spicy dinner.
After dinner the manager said we would walk to a nearby pub resulting in another long route march and, once again, we were refused entry. Not to be daunted he led us to another watering hole which, although far, far away was well worth the effort and there we stayed until closing time and once more walked back to the hostel.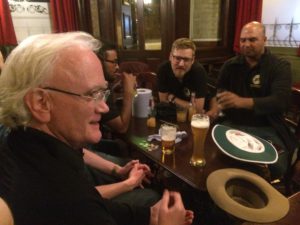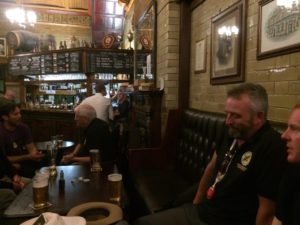 The next morning we assembled at around 1015 to travel to Littleborough, some by car, some by Über taxi and six of us by train from Victoria station.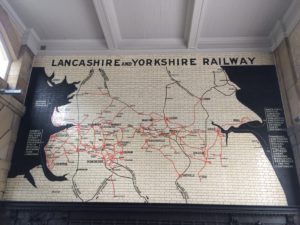 This is where the bomb killing all those young people was set off recently so was cause for a little reflection before boarding the train. Once again the Saffir accents came out remarking that we wondered how long it would be to Old Trafford. One fellow passenger finally pointed out that this particular train did not go there.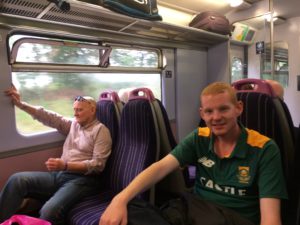 It was a short 15 minute walk from the station to the ground which is situated in a park frequented by Springer dogs it seems, as we passed three of them on the way there.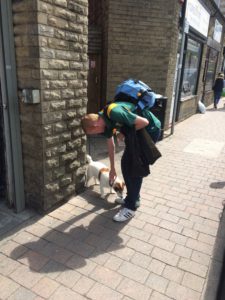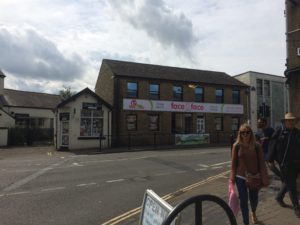 We also admired a notice on the station building pointing out that there was no lead on the roof so please don`t attempt to steal it. There was also a cute little lingerie shop with the amusing name of Knickerice Allsorts. We were looking forward to playing a club who have had a fair number of celebrated cricket players in their ranks over the year – Joel Garner and Gary Sobers for example – and some of their photographs are hung in the club room.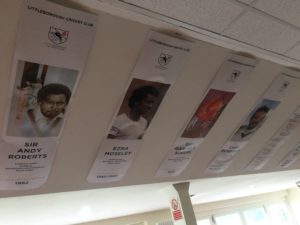 Once at the ground we agreed with the opposition that we should start as early as possible and play 25 over innings as rain was not only forecast but an absolute certainty in these parts.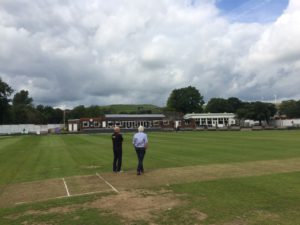 MCC were allowed to bat without a toss as "it would be sad if you came all the way here for nowt". MCC opened with Giles and Ayub, thereby removing any chance of another 168 partnership between Giles and Carr. Giles left after four balls to admire the pictures in the club room and was replaced by Arunachalam who clearly likes playing in England on grass wickets.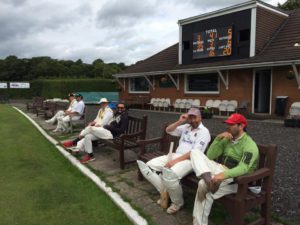 He tonked 16 before Ayub joined Giles in the art gallery and was replaced by Fudge who faced five balls before departing so missed out on a double gold. Wembridge replaced him and there was a 21 run partnership until Arunachalam fell with the score on 41 of which he had scored 35. Deverill and Wembridge put on 23 for the 5th wicket and Wembo made way for Khanna. Thirteen runs later Colling replaced Deverill and ten runs later he made way for Finch, MCC now 87 for 7 after 19.3 overs. This changed to 93 for 9 when Carr replaced Khanna and stayed at 93 when Finchy was bowled to give Gattinger a bat. Five runs later Veith departed so MCC were 98 for 10. Captain Barrett tried to improve his average and came in as the 12th batsman but was out for a duck on the second ball faced – serves him right too. Carr had defended his second 0 not out of the tour but doesn`t see that this does not improve his average.
After some splendid teas – the really look after you up north – MCC opened the attack with Colling and Ayub. In his second over Mudi got two off consecutive balls and after four overs Littleborough were 12 for two down. A partnership of 35 for the third wicket was broken when Deverill bowled their opener and highest scorer for 35. Two runs later Deverill got his second bowled with the score on 49 for 4 after 12.2 overs. In the next over Barrett struck making them 54 for 5 down and he got a second two overs later with Littleborough 58 for 6 down after 16 overs.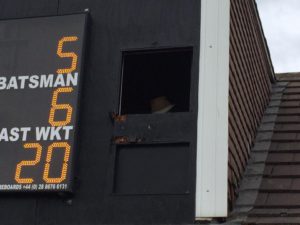 By now the promised rain had set in and conditions were very bad but the brass band in the park continued to play manfully, was it Handel`s water music I heard? Had we not been a touring side the game would have been abandoned long ago. The 7th wicket partnership of 19 was broken when Arunachalum took his second catch of the day this time off Carr´s bowling making it 75 for 7 down after 19.4 overs. The splendidly named Sandford-Mitchell and Khan Z knocked off the required runs in just under four overs allowing us to retire to the club house. Many jugs of ale and lager were passed around, one young lady wouldn`t believe I was German so made a fuss of Veith.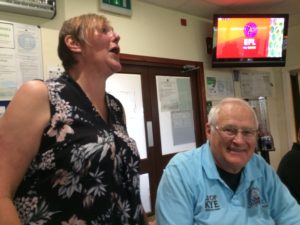 Several of us enjoyed fish & chips with mushy peas although Carr wouldn`t touch the peas as they smelt funny.
A taxi to the station, the night train to Victoria station and then to a superb pub just around the corner from the hostel.
The demands of being tour manager was clearly too much for captain Barrett. As the night wore on he became increasingly puggled and extremely loud but, it was a great tour and he deserved all the pleasure he was getting.
Giles, 0, bowled
Ayub, 0, caught, 3 overs, 0 mdns, 6 runs, 2 wickets,
Arunachalam, 35, LBW, 1 over, 0 mdns, 10 runs, 0 wkts, 2 catches
Fudge, 0, caught, 2 overs, 0 mdns, 7 runs, 0 wkts
Wembridge, 15, caught, 1.1 overs, 0 mdns, 7 runs, 0 wkts
Deverill, 23, stumped, 4 overs, 0 mdns, 11 runs, 2 wickets
+Khanna, 8, caught, 1 catch
Colling, 7, caught, 2 overs, 0 mdns, 11 runs, 0 wkts
Finch, 4, bowled, 2 overs, 0 mdns, 18 runs, 0 wkts
Carr, 0*, 3 overs, 0 mdns, 6 runs, 1 wkt
Gattinger, 4, bowled, 2 overs, 0 mdns, 15 runs, 0 wkts
*Barrett, 0, caught, 3 overs, 1 mdn, 3 runs, 2 wkts
MCC, 98 – 11 in 23.5 overs lost to Littleborough, 99 – 7 in 23.1 overs by 3 wickets.
MCC MOM: Arunachalam