Glorious summer day at the Hirschanger, around 20°C and MCC at the must-win stage of the season in order to avoid the drop into division II.
Captain Ayub used Maria Theresa correctly, lost the toss and MCC were asked to field and opened the attack with Kahn Waqas and Altmann. The Flicx was showing an unpredictable bounce and this helped Waqas to his first LBW wicket in the 3rd over with the score on 17.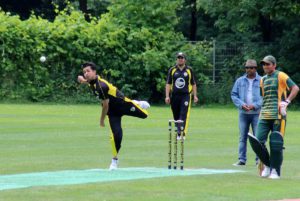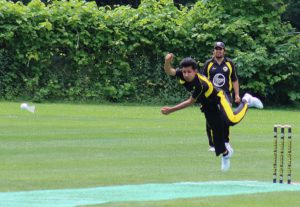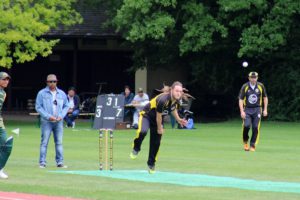 He got a second in his third over, an unusual one-handed catch by Deverill, emulating the Khan Mahmud style. Two balls later he got his third wicket – a second LBW – and Pak Orient were 25 for 3 down. In the 9th over Imtiaz replaced Altmann who then took over the gloves from Butt. A very good first over brought Imtiaz a wicket, caught by Kotru.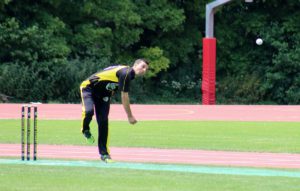 Deverill replaced Waqas at the other end and got a wicket in his first over, an excellent catch by keeper Altmann leaving them 45 for five down after ten overs.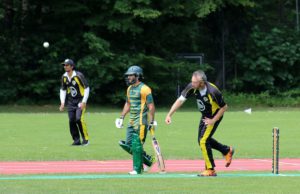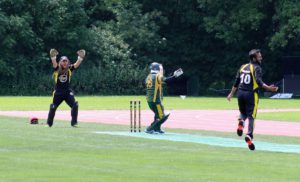 Khan Mahmud and captain Ayub were the next bowling pair, starting from the 15th over.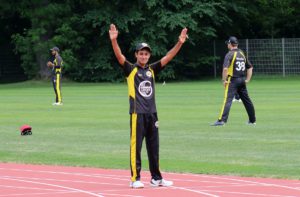 Mahmud was on fire with his leggies, Ayub got a wicket in his first over and at the drinks break at 20 Overs, Pak Orient were 90 for eight down. The last two wickets also fell to the Mahmud/Wembridge slip catch combination and the opposition were rolled over for 102 after 24.3 overs.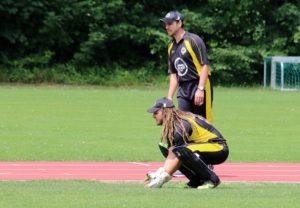 Teas were provided by Nirmal Konchada and included some mouth-watering sausage rolls he had baked himself that morning. I propose he has the catering job for life.
MCC opened the chase with Wembridge and Deverill who had to face some very good, hostile bowling. The Flicx seemed to have changed its character and now had become very bouncy.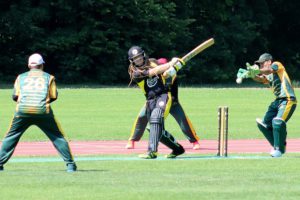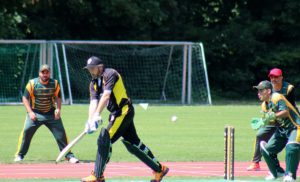 Deverill fell in the fourth over, well yorked, for three runs and the score on 12.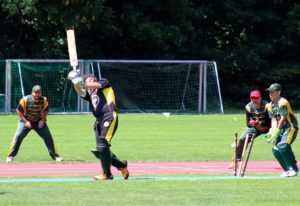 Two runs later Wembridge departed for one leaving Altmann and Butt at the crease. They put on a useful 26 runs for the third wicket before Altmann was bowled in the 13th over with the score on 40.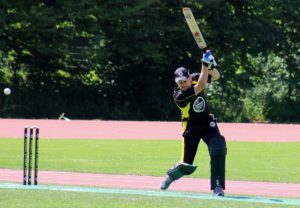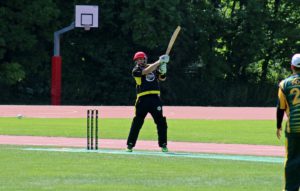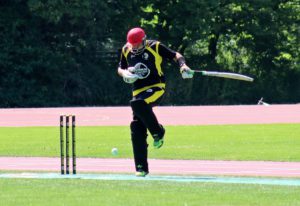 Ayub replaced him and batted steadily and very carefully being not out at the end. His partnership with Butt lasted for six runs only before Butt left to make way for Khan Mahmud.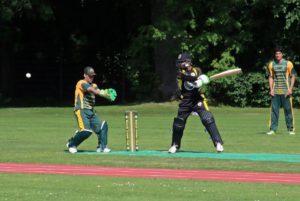 They batted well, scoring comfortably, until Mahmud took an almighty swipe after 28.1 overs with the score on 101. Kotru replaced him but did not face a proper ball as the next ball bowled was a wide and they ran one to give us victory.
Wembridge, 1, bowled, 3 catches
Deverill, 3, bowled, 4 overs, 1 mdn, 11 runs, 1 wkt, 1 catch
+Altmann, 14, bowled, 4 overs, 0 mdns, 23 runs, 0 wkts, 1 catch
Butt, 14 caught
*Ayub, 22*, 4 overs, 1 mdn, 10 runs, 1 wkt
Khan Mahmud, 22, bowled, 5.3 overs, 0 mdns, 18 runs, 4 wkts
Kortu , 0*, 1 catch
Khan Waqas, DNB, 4 overs, 0 mdns, 14 runs, 3 wkts
Konchada, DNB
Ahmed Imtiaz, DNB, 3 overs, 0 mdns, 23 runs, 1 wkt
Mushtaq, DNB
MCC, 103 -5 in 28.1 overs, beat Pak Orient, 102 – 10 in 24.3 overs by 5 wickets
MCC MOOM: Khan Mahmud
At the post-match discussions at the Fraulein Grüneis kiosk we were joined by Paul Scott, who was looking forward to some new treatment on his leg on Monday 19th. We hope it is successful and we see him back in action soon.