After beating the league champions Erlangen in the quarter finals and Wurzburg, the runners-up in the Regionalliga Nord in the semis, MCC faced the might of Pak Orient, the runners up of the Bundesliga Süd-Ost in the final of the BCV T20 at the Pak Orient ground starting at 13:15. This was the first opportunity to win silver, apart from indoor tournaments, since 2009, the last time we were T20 champions. The teams were on time as well as the single umpire which was disappointing for a final, particularly as two umpires were expressly requested.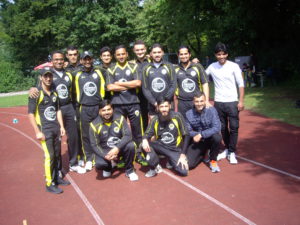 Captain Ayub lost the toss and MCC were asked to field, opening the attack with Brooks and Kahn Maiwand. They bowled tightly, Brooks in particular assuming Jonty Altmann`s mantle of bowling superbly but not getting wickets. The first wicket fell on 27, caught Ayub, bowled Maiwand with the score on 31 but Pak Orient put on 74 for the second wicket, broken by an LBW from Butt on his very first ball. He also got a wicket on his second ball, stumped Otmankhil, but not given by the Pak Orient square leg umpire. It looked out from the scorer`s table on the boundary and also, apparently, from the bowler`s end umpire, for he overruled the decision and gave it out. This somewhat incensed the opposition and there was a pitch invasion by their captain Ali, Omar Khan and a spectator, protesting that the stumping cannot be given by the main umpire. This is correct under the laws and the umpire, Milan, should have appointed a second umpire so serves him right for any aggro he received. Thus, at the end of the 13th over they were 108 for 3 down. Ayub got a caught and bowled in the 14th over and in the next over, Butt`s second, Otmankhil got another stumping leaving them on 125 for 5 down after 15. In his third over, the 17th Butt got a fourth and also a direct-hit run out making them 144 for 7 down. In the eighteenth Khan Waqas got his wicket so Pak Orient were 149 for 8 down when the heavens opened. The innings should by rights have finished then due to the long rain break but the umpire allowed the innings to progress to 20 overs and they were all out for 175 after exactly 20 overs.
There were no teas, Qureshi having refused to bring them for the sixth time and, after a 30 minute break, MCC opened the batting with Butt and KHan Mahmud. Butt tonked the first ball beautifully for four but sliced the second to be very well caught at deep gulley so it was something of a set-back. Qureshi, he who didn`t bring any teas, replaced him and played a most unusual innings. He faced 13 balls and swung lustily at each one, connecting with four of them only and, not surprisingly, was bowled leaving MCC on 19 for 2 after 3.2 overs. Captain Ayub came and went with the score on 23 to make way for Bhamare. Abijith took a sighter then hit a massive six off the second ball faced but, with the score on 34, he left to look for some more teas. Khan Waqas took his place for three runs only to make way for Konchada with the score on 37 after 7.5 overs. Throughout all this Khan Mahmud had been accumulating runs and was now in the highest MCC partnership of the day with Konchada. This was sadly ended when Konchada was well run-out with the score on 64. Abdul Maroofkhel was next in, hitting a splendid four before falling LBW in the 13th over with the score on 72. Otmankhil, once again went looking for gold and hoping to top the duck race table came in and gave way immediately to Khan Maiwand. Mahmud finally gave up hope and skied one to be caught for an outstanding 42 and allowed Brooks to face a few balls. He was run out for 1 leaving Maiwand just short of his maiden half-century.
It was quite a heavy defeat but the team had done marvellously well to reach the final and deserve a lot of credit . Most of us retired to the local hostelry afterwards to sort out the problem with North Korea as one does after a cricket match
Butt, 4, caught, 4 overs, 0 mdns, 24 runs, 4 wkts
Khan Mahmud, 42, caught, 1 over, 0 mdns, 14 runs, 0 wkts
Qureshi, 4, bowled
Ayub, 1, bowled, 4 overs, 0 mdns, 45 runs, 2 wkts, 3 catches
Bhamare, 10, bowled,
Khan Waqas, 1, bowled, 4 overs, 0 mdns, 38 runs, 1 wkt
Konchada, 13, run out,
Maroofkhel, 6, LBW,
Otmankhil, 0, caught, 2 stumpings
Khan Maiwand, 3*, 3 overs, 0 mdns, 26 runs, 1 wkt
Brooks, 1, run out, 4 overs, 0 mdns, 26 runs, 0 wkts.
MCC, 92 – 10 in 16 overs, lost to Pak orient, 175 – 10 in 20 overs, by 83 runs.
MCC MOM: Butt T.K.