A sunny day again at the Hirschanger for the BCV T20 semi-final but the atmosphere was more like Friday afternoon training sessions with seven of the "regular first" team making themselves unavailable. Captain Butt was able to get a team together nevertheless and most arrived on time to set up the pitch etc. so that the scheduled 12:30 start was only delayed by 10 minutes or so. Also we had the club`s highest aggregate run scorer, captain-for-life Mark Lovell and the club` s highest aggregate wicket taker Tony Blades in the team so it can`t all be bad. Even Happy Hooch, Adam Turner, came out of a three year hibernation to keep wicket for us.
Erlangen won the toss and chose to field leaving MCC to open the batting with Lovell and captain-for-the-day Butt. They put on a quick-fire 29 before Lovell went in the 7th over for 14 and was replaced by Ayub. They kept the run rate up until an exhausted Butt departed for 40 in the 14th over with the score on 75. Bhavsar came in at number 4 and watched Ayub fall in the 16th over and then Bowes and Amin Khan in the 17th who both went for ducks, Khan with a golden one after playing the most spectacular of cross batted shots you could ever hope to see. Ah my, if only they had played proper cricket shots and scored one run each. Waqas Khan now came to the crease and there was a rapid 6th wicket partnership of 28 until Bhavsar was caught behind with the score on 116 on the very last ball of the innings leaving Waqas not out on 17 from 12 balls. Noticable in the score book was the meagre total of only 7 wides bowled on twenty overs.
All photographs courtesy of Philip Crebbin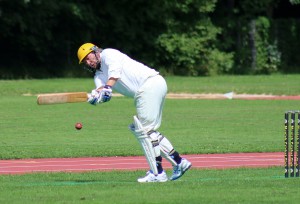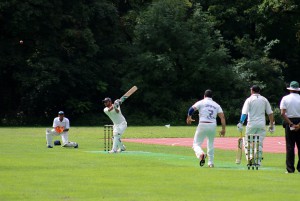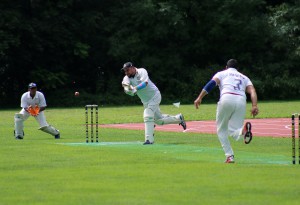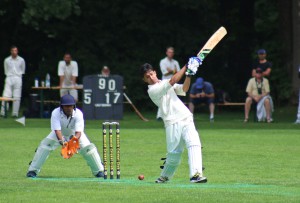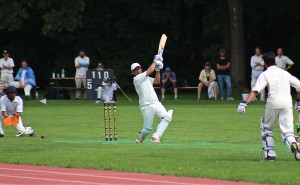 After teas provided by Ayub, which included some magnificent Turkish Delight which I haven`t had in donkey`s years, MCC opened the bowling with Blades and Bhavsar. They bowled tightly and after 5 overs Erlangen were 30 for one down, but 10 of their runs were from wides. Still the one wicket was Blades`s entry into the 25 wicket club. Their second wicket fell in the 7th over, a superb run out by Bowes with the score on 34 so they were just about up with the required run rate. A good partniership of 39 for the third ended when Otmankhil took a catch , a difficult one, to make up for an earlier drop and in the next over Bhavsar got another run out leaving them with 83 for four down after 15 overs. An important stand of 29 for the fifth wicket was broken by a third run out, this time from Ayub and at the end of the 19th over they were 112 for five down. Five runs needed to win and Ayub took over the bowling. The balls of the last over were, 1, 1, 1, 1, Wicket so the scores were tied. A dot ball for the final ball of the over would mean a tie and result in a super over decision, a wicket would mean MCC were winners due to fewer wickets lost, any runs scored in any way meant victory for Erlangen. Perhaps true to MCC form for the season the next ball was the 20th wide of the innings. The South Coast Mafia were so impressed they offered 10 Euros instead of the 5 Euros they owed for match fees. Well done Seb.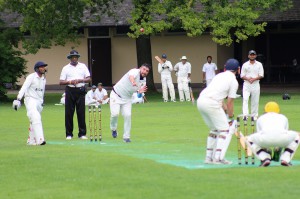 Lovell, 14, bowled,
*Butt, 40, caught, 4 overs, O mdns, 27 runs, 0 wkts
Ayub, 25 bowled, 1.5 overs, 0 mdns, 11 rins, 1 wkt,
Bhavsar, 13, caught, 4 overs, 0 mdns, 17 runs, 0 wkts
Bowes, 0, bowled
Khan Amin, 0 , LBW, 1 0ver, 0 mdns, 10 runs. 0 wkts
Khan Waqas, 17*, 4 overs, 0 mdns, 13 runs, 0 wkts
Turner, DNB
Blades, DNB, 3 overs, 0 dns, 23 runs, 1 wkt
Otmankhil, DNB, 1 catch
Ahman Imtiaz, DNB, 2 overs, 0 m dns, 14 runs, 1 wkt, 2 catches.
MCC, 116 for 6 in 20 overs lost to Erlangen, 117 for 6 in 19.5 overs by 4 wickets
MCC MOM: Mudassir Ayub