Munich Cricket Club vs CCB, 25 over Friendly, Saturday 10 Aug. 2019 
Munich CC 192/8 (25 overs) (B. Fulton 50 ret., Mah. Khan 48) defeated CCB 99/9 (17.1 overs) (S. Pal Singh 3/13, B. Fulton 2/10)
Man of the match: B. Fulton
In stark contrast to with KC & his Band, it was pretty scrappy weather with a few players from both opposition and MCC alike a little hesitant to make the journey to the resplendent Hirschanger Sportanlage, if not at least to return some recently repaired club equipment to the sacred green storage cube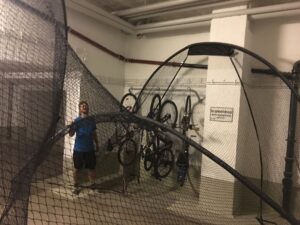 Gallery 1: MCC Kassenwart Veith Gattinger (not present at the match) resurrecting the club pop-up net
Our new pal Simrat Pal Singh was waiting at the railway station anticipating a cancellation notice. That was however never going to be the case with the rest of the team frothing at the mouth for a reason to get out of the house on a Saturday and have a hit.
Captain-of-the-day Obaid Mushtaq got right down to business, diligently setting up the ground and making the necessary phone calls to figure out where the hell all the CCB players were.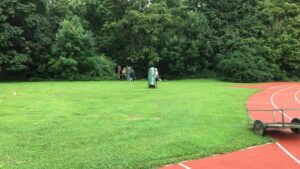 Gallery 2: Setting up the Flicx rain, hail or shine – regardless of whether or not players are waiting at an S-Bahn platform for the weather to improve
With a pocket of sunshine emerging (as it always does, every single time), a handful of CCBler appeared, as did Maxi Höck who agreed together with Maiwand Khan to represent the opposition for the day.
With an agreement to reduce the match to 35 overs (later 25 overs after subsequent interruptions due to rain) newcomer Ben Fulton combined with Phil Bowes for a majestic start; the two knocking up a solid 50 run opening partnership before Bowes was bowled trying to belt Maiwand for a second four.
The New Zealander continued to display his family talent, bringing up a near-chanceless half-century in style in the company of Mahmoud Khan before honourably retiring. After such a sparkling debut performance on the Hirschanger Flicx, we can only conclude that the NZ test selectors must have picked the wrong cousin for national duties.
Wembridge joined Mahmoud who was continuing to work the ball around with his usual style before finding himself stumped just short of his own half century, bringing Nic de la Rey to the wicket.
The Australian enjoyed the battle in slippery conditions against old arch nemesis Maxi Höck; the latter having the last laugh after a superb reflex caught-and-bowled off a lofted straight drive belted back to him with compound interest.
Both Obaid and 'Personal Trainer' Pratik Thakur came and went quickly while de la Rey continued, creeping once again over that twenty milestone before being snagged at slip. Doc Simrat and Usman Sandhu put together the last handful of runs to bring the MCC (themselves short of two batsmen) to a total of 192.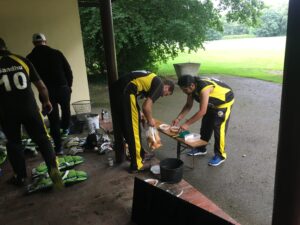 Gallery 3: Yet another delicious curry supplied by masterchef Obaid Mushtaq, evoking fond memories of his previous triumph in 2017
Those truly engulfed by the cricket virus and ready to hit the wicket no matter what the weather were rewarded with very satisfying nourishment at the tea break, with Obaid Mushtaq up all night preparing a fine chicken curry, accompanied by bread kindly supplied by Mahmoud Khan.
The tea break also offered a fascinating insight to traditional Bavarian culture and interaction, with recently-returned physician Franz Spieẞ enjoying what appears below to be a hearty laugh and raucous merriment with Helmut.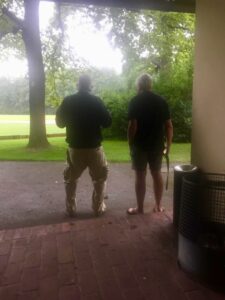 Gallery 4: Club physician Dr. Franz Spieẞ dynamically undertaking Bavarian-style negotiations with the Platzwart
After a few glasses of Sekt and some arm twisting, MCC headed out to the field accompanied by Spieẞ himself, bursting out of retirement after many years between innings.
Mahmoud and Pratik opened the bowling with all but one of the CCB openers really offering a token resistance. PT (phone home!) shattered the stumps of two victims while Simrat found himself on a hat-trick at one stage. He finished top of the list with three wickets; all caught by unfortunately anonymous fieldsmen according to the scorebook.
Usman picked up the slack, bowling two fellows himself with some excellent straight, accurate off-stump bowling. Even Spieẞ managed to roll his arm over for one over. He found himself landing the ball quite nicely after dusting out a few cobwebs with a few early "looseners"; impressive in any case for a septagenarian bursting back onto the scene after so many years in the shed. (An aborted catch-attempt at point was however attributed no longer having a valid health insurance policy.)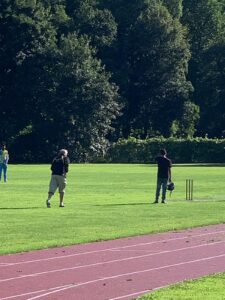 Gallery 5: Spieẞ finally breaking out of retirement after probably two decades or so to roll his arm over for the MCC in sandals
Also a bit rusty with the ball, Fulton nevertheless managed to snag two wickets for bugger-all as the match drew to a close and CCB limped to 99 for the lost of nine wickets; this concluding the day as Höck had already buggered off home without batting. ('…give it up!') 
Although not the most fully-engaged match to have been played by the club in its 37 year history, full credit goes to Catering and Cricket Captain Obaid for organising and executing the events of the day; also not to be overlooked is his impressive captaincy record of 100% wins by an average of very nearly 100 runs.
Wendi-Meg Breward