With a pretty rough forecast for the day slowly improving, an optimistic bunch arrived at Hauptbahnhof at 9.45am sharp for the 10.04am journey to Tegernsee.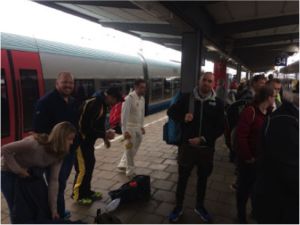 Only half an hour earlier, Craig Barrett had been informed by Captain Deverill, aka "J glass knee D" that his glass knee had shattered once again and that it would therefore be prudent for him to rest this one out with his replacement, our resident South African Ivan Bekker. He probably was the only one who actually checked the weather forecast…Barrett, already at Moosach Bahnhof, was totally unprepared for this news, and thought to himself, "Ok, I hope Wembo has a ball…"
The motley crew of players and spectators, one or two nursing a hangover were in good spirits. With 3 x Bayern tickets purchased and the debate over who's name would go on which, a plan was hatched to wind Faf up something rotten after he had declared that he had said "9 times" the day before that he would be catching the train from Donnersbergerbrücke and NOT Hauptbahnhof.
Faf duly embarked on the train on the wrong carriage much to the concern/amusement of the travelling party as we did not know whether he had actually made the train or not. A quick call from Wembo confirmed he had and at Harras, Faf proceeded to run down the platform towards the correct carriage. The group, expertly convincing him that we thought he was buying his own ticket at Donnersbergerbrücke, managed to keep it up for a few minutes before finally admitting it was a complete wind up! Poor Faf!
After a spot of train cricket and plenty of further banter, the crew arrived in Tegernsee and were greeted with glorious sunshine for the 15 minute walk to the ground.
After a little confusion about the address given on the facebook page, the other two MCC members arriving by car made it to the ground just in time for the toss.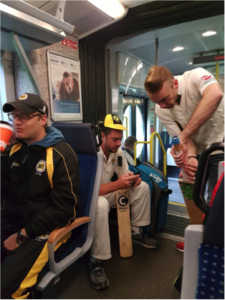 Cpt "I had this dumped on me at half past nine this morning" Barrett (who describes himself as a "useless tosser") not surprisingly lost the toss and MCC were fielding.
The weather was holding and the scenery was quite dramatic with some thick clouds still hanging in the valleys covering the mountains tops.
Keeping true to form we discovered that we actually did not have a new ball..
Nevertheless the play soon started with Faf opening the bowling. The openers for Tegernsee much to the frustration of the rest of their team started with a more orthodox approach to cricket.
Albert was dismissed for 3 runs in the 8th over after a great catch from Wembo at short cover and the replacement batsman had had enough of the orthodox style and went sledging from ball one. He hardly connected and was lucky to be neither bowled nor given LBW. After riding his luck more than once, he was finally run out by John Jonkiffe in the 21st over.
At this point MCC felt quite confident. The bowling had been good, with Faf (6-1-16-1) and Collo (5-0-10-0) keeping it tight and Veith (4-1-18-0) bowling maidens.
Unfortunately we had only taken two wickets so far and it was time for the wide boys to bowl their spell. Bachstädter was the final wicket of the day caught by Bhat off Barrett for an excellent 64.
After 30 overs Tegersee were 207/3 (32 extras)
In a tactical ploy to makes us drunk and satisfied the barbecue was brought forward from after the game to tea.
Wembo and Faf seemed to be unfazed by this when they were sent out to the crease to open. Cpt. "I had this dumped on me at half past nine this morning" Barrett gave specific instructions to be sensible but aggressive. He had been assured that Faf could really hit the ball…how wrong this would prove to be…
Wembo soon got his eye in and started scoring boundaries in his usual style. Faf not quite so. Never really looking comfortable he contributed 0 runs to the 50 partnership. By the time Wembo was caught and dismissed in the 11 over, these numbers had improved and from their 64 run partnership he contributed 7 runs. 22 runs being extras.
(With 46 runs the 12th man Extras was actually the top scorer on the day)
James Jabez who arrived to support the MCC, was in charge of the off field entertainment better known as the blood bath when he decided to toss a shot put to Collow, who whilst trying to catch it, lost a whole nail in the process. As Clint Eastwood said in Dirty Harry: This is a shot put, the most powerful ball in the world and it will take your nail clean off…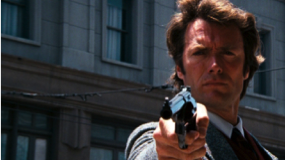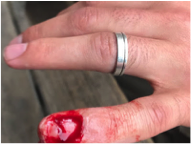 Rahul Bhat coming in at Number 3 played sensibly and aggressively top scoring for the MCC with 45. (3×4 / 3×6) before being clean bowled.
Tegernsee were appealing for every ball that hit the pads, but all umpires were unmoved. This led to the comical episode that Phil who was umpiring from square leg and also filming for the live feed on facebook, found himself surrounded by the Tegernsee players demanding to see the video replay.
Maybe a check of Law 36 would have been more prudent.
Faf was finally run out on 18, MCC being 111/2 at this point. Still with a fighting chance, even though our run rate was lacking a bit.
Arun took on the fight scoring 20 before being caught.
Phil being next in told John: "to get ready this will not last long…I'm sledging from ball one" and after being bowled with the second ball he proved just that.
This marked the beginning of the famous MCC batting collapse. John came and went as did Ivan who sliced one to point. Next up was Veith who also joined the duck race. Cpt. Barrett steadied the ship and even though we lost we were spared the ignominy of being bowled out.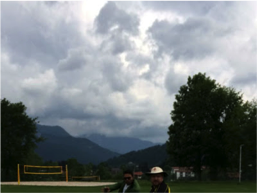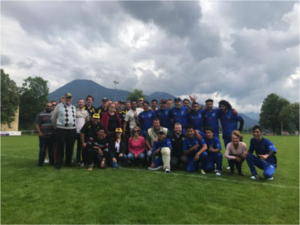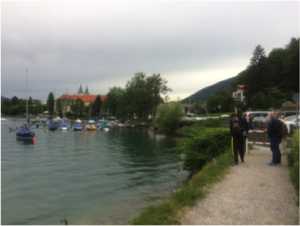 MCC fall of wickets 64/111/147/147/148/155/157/166
MCC 169/8 (46 extras) after 30 overs
All in all a good day out, discounting Collow's little finger of course, and as always Cricket was the winner…
MCC MOM : Rahul Bhat
Click here to view the article published in dem Münchner Merkur (21 May 2018)
GM