Match Report: MCC away to Erlangen.
"I wish I could have batted longer." Complained Sumeet after the game. I think we've all had that feeling?! Nobody goes out to bat hoping to return too soon, do they?
Erlangen is a long way to go and it would be a travesty to make the three to four hour round trip, if you're not going to put in your best performance. The drive began from the meeting point at Nordfriedhof Ubahn station at roughly 10am ish, with Sumeet and myself as designated drivers. Barrett and Dube had made their own tracks, leaving Mudi, Waqas, Ali and Shashi in my motor and Wembo, Ivan, Zeeshan in with Sumeet. So it was that the intrepid eleven converged on the ground just before the midday start time. Much of the talk in my car centred on how much better it was when a side plays as a unit, supporting one another and recognising that there is a greater purpose outside of your own individual performance and desires. Deep man! Waqas was playing it cool, just soaking it all up. Not a word.
I got my wish and lost the toss, something I would advocate to any aspiring captain. We were kindly asked to take the field on a balmy summers day. Waqas took the new ball and began with a very well-directed maiden. I will state now, this guy is going from strength to strength and I'm impressed by his efforts to tidy up and get rid of the extras. He's a pleasure to watch and it's all going the right way.
He was joined by Mudi at the other end, the two fielding at short cover for each other between overs. They worked well in unison, Waqas' extra pace and accuracy kept the batsmen honest allowing Mudi to experiment with changes of direction and pace. It was all well backed up in the field with good stops helping limit the runs. Erlangen is a notoriously high scoring ground as the track is billiard table flat and the boundaries short. After ten overs the board read 40 without loss. Who would crack first?
The answer came in the eleventh over as their #2 drove uppishly and was caught by Mudi at short cover off the bowling of Waqas. The early pressure rewarded. Reward came again within a few balls as the new batsman cut a wide one in to the open mitt of Andrew Wembridge. I'll take some time to try and describe this more accurately for you, in the hope that I will spare you having to listen to Wembo going on about it relentlessly…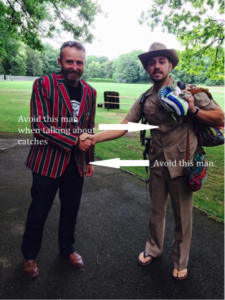 There was less than 0.1 of a second between the bat and the catch. It took the batsman 10 seconds to realise that he was out and not 4 runs the better off. You know that stuff kids get given by mischievous aunts and uncles, heaping distress on the parents? It's a kind of snotty goo that you can roll in to a ball, throw at a wall and it just "THWAP!" sticks. That was Wembo's catch. His left arm shot out and the ball ceased to travel. It was that simple and improbable. Great viewing!
Wembo took on the duties from Mudi in the twelfth over, while Waqas bowled out at the other end. Wembo struck in his third and eighth, catches being pouched by Mudi and a salmon-like Craig (What can I say, the man turns pink in moonlight!) a good one handed effort being taken at midwicket by Craig and a skier to Mudi at cover.
Mudi had finished his last three overs while the ball was still relatively new after Waqas was done. Although he finished wicketless, he bowled well and the batsmen were beginning to live dangerously in pursuit of runs. The stage was set for Aditya and Shashi with some top-draw spin required. They both delivered, Aditya befuddling the remaining opener, well stumped by Ali Khan. Wembo ran in from the boundary to hold on to a good catch, removing the dangerous #5 and Aditya was looking at a possible hat-trick. So close, but not to be.
Meanwhile Shashi was collecting wickets cheaply, removing #7 caught off a flashing edge by Sumeet at first slip. Aditya followed up by clean-bowling #8. Calamity in the field saw #9 run out, taking a dodgy second run after an overthrow, Sumeet keeping his cool to throw the ball neatly to Aditya who removed the bails at the bowlers end. Good work.
Shashi closed the first act when Waqas pouched #11 with a low diving effort at short midwicket. A cogent display from a cohesive MCC side. Erlangen surprised to be dismissed in 34 overs for 141. In summary; splendid accurate bowling supported by excellent fielding (Including 7 catches, 1 stumping and a run out).
Everybody, including Erlangen knew that this was a below-par score. Even so, you take nothing for granted. Looking at our line-up, there were any number of combinations that would work as a batting order, but there was one man who was made for this type of job. Craig donned the pads accompanied by Zeeshan. A quiet start was aided by poor direction, the wides keeping us up with the required run-rate. Then Messer's Barrett and Shaikh started to connect and the hunt was on.
The partnership was worth 64 when Zeeshan missed a straight one, gone for 25. Zee, suffering from too much bat love. I think he'd have scored another 15 if he would accept that his bat retired last season. Time for a new one? I joined Craig briefly, stupidly running myself out on the best batting track you'll find on the circuit! 67 for 2 after 16.
Ali and Craig partnered up and were ticking along at a more than healthy rate, Ali finding the rope regularly until he holed out for 26. 110 for 3 after 25. It was all looking plain sailing. No need for a wobble! And so it was that Sumeet took a considered and steady approach along with Craig, the two seeing us home in the 32nd over. Barrett finishing on an unbeaten 43 and Sumeet not out on 17, wishing he could have batted longer.
Well he couldn't. We had to race home, dump the cars and neck a few victory beers! My god they taste good! When are we having the next one, I've got a taste for it!???
It was a splendid performance from the team as a whole. Erlangen had some of their star players missing this is true, but the side we faced was no poor squad and we beat them well. We will never know how much closer it might have been? But I can tell you this, when we play like that lads we're a hard side to beat.
Bowling: (Overs, maidens, runs, wickets)
Waqas 8/2/19/2 (How cool is that?)
Mudi 8/0/38/0 (No wickets but good support)
Wembo 8/0/40/2 (not so part-time after all?)
Aditya 6/0/19/3 ("There is only one…"! Top bowling)
Shashi 3.4/0/9/2 (On that track!? Good work.)
Catches: Wembo 2, Mudi 2, Craig 1, Sumeet 1, Waqas 1.
Runs: Craig 43 N.O. Zeeshan 25, Deverill a lonely 1, Ali 26, Sumeet 17 N.O.
MOM? Honours shared between C Barrett with the bat, Waqas Khan and Aditya with the ball and Andrew Wembridge in the field. Since there can only be one MOM, I'll have Craig bask in the moment. Cometh the hour, cometh the man.
Well done ALL.
JD