Stuttgart Cricket Verein 346-10 (40.0 overs) (C. Barrett 5-63, J. Jonkiffe 3-22) defeated MCC 121-9 (35.3 overs) (A. Wembridge 18, R. Bhat 15)
MCC Man of the match: Craig Barrett
Very early start at the Hirsch for a Sunday morning, with meeting time assigned to be 7:30am. The very-well disciplined Farid Otmankhail proved himself once again to be a real early-bird, heard to have arrived at 7:00am without so much as a hint of a hangover.
Vehicle 01 'Harrison' commanded by John 'Doc' Jonkiffe departed at 7:38am with Brooks, Mushtaq, Otmankhail and Wembridge aboard.
Vehicle 02 'Merciful Merc' commanded by Captain Prafull Toke departed at 7:46am with Shaikh, Bhat and Mahmoud aboard.
Craig Barrett made his own way to the ground somehow whereas Usman Sandhu did not make his own way to the ground anyhow.
Anyway, a pit stop en route pepped up our spirits, with fast bowler Adrian Brooks making the most of the extensive selection on offer at an Aral along the way.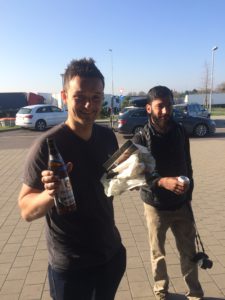 This really was a weekend tailor-made for cricket; a  glorious, cloud-free day without a hint of moisture on the field. Captain Praf decided it was perfect conditions to field and the MCC hit the middle after a brief warm-up; an eleventh player by the name of Shahir being kindly loaned to us by SCV. (Who was periodically replaced by a vertically challenged Afghani with an unbelievable rocket-arm.)
Opening bowler Mahmoud struck early with a dubious LBW but the next SCV wicket fell with the total on an unfortunate 152 runs, despite the other opener copping a beauty on the toe and hobbling off the ground retired hurt.
At least 3 edges inexplicably fell to ground between the keeper and first slip along the way, until Craig 'Buster' Barrett began his slaughter of the opposition batsman with a sky-high caught and bowled.
Captain Toke finally got the big breakthrough, bowling 'Aravinda' de Silva just short of his century, while all other MCC bowlers were pummled all over Baden-Wüttermberg. Barrett continued on his merry way with a catch by Praf, an LBW and two 'bowleds'; a certain stumping to snag an 'Irish Hattrick' sadly failed to eventuate due to a keeping fumble.
With the score creeping over 300, Captain Toke reached for his never-before used secret chemical weapon in Doc Jonkiffe who snagged TWO wickets – LBW and stumped –  in his very first over bowled in a cricket match.
Barrett kindly allowed Jonkiffe the final scalp by bowling a considerably less-intense final over of his spell; the two Goras finishing with five and three wickets respectively when father-to-be Obaid swallowed a fly ball to mid-off off the final ball of the innings.
The battering on the field was only beaten by the four delicious pizza toppings kindly provided by SCV for the tea interval, washed down with a few Bavarian Helles carted across the border by the captain.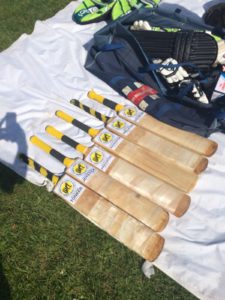 Obaid and Farid steeled themselves up to open against the vicious SCV attack, with a required run rate of 8.65 from the get-go.
Doc Jonkiffe continued his winning form as an umpire this time by mishearing an edge that coincidentally registered 8.65 on the Richter scale in the meteorology headquarters of the striker's native Kabul.
Obaid unfortunately went early, but had a near-man-of-the-match winning performance given his following lightening-fast skill development in scorekeeping accuracy.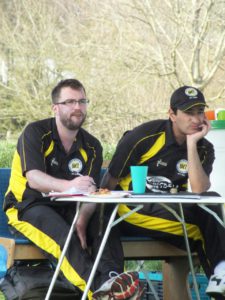 A promising partnership of 42 with Rahul 'Daddy' Bhat ended when Farid was eventually bowled after a respectable 36 ball innings.
Rahul elegantly guided the ball around, with three fours in his total of 15 before getting trapped out of his crease whereas Zeeshan and Mahmoud were only able to offer token resistance before both being caught out while still in single figures.
Praf was bowled for five after being tied down by some remarkably crafty spin bowling on the wooden-boards-with-thicker-matting-on-top pitch which REALLY got some grip.
A 31-run partnership between Wembridge and 'Michelle' was interrupted with the return of the opening bowler; the Australian unintentionally allowing one to squeeze through a gap between his bat and pad.
Brooks suffered a virtually-identical fate two balls later, allegedly by another seething off-cutter that must have also jagged a mile.
Barrett kindly accommodated the Doc's desire to finish his innings undefeated (0* from 2), allowing everyone to polish off the last few beers before the 2.5 hour trip back home. Cricket the winner once again, but at least we got some well-deserved vitamin D after a long, dark winter.
Wendi-Meg Breward
W-MB