Augsburg, 18th May 2023
Jonty decided to hand his captaincy sandpaper over to his compatriate, Cameron for this Thursday, as he wisely chose to spend Father's Day with his family rather than listing to his other children rag on his fielding selections, or spending time in the car listening to Vish's singalongs.
Much of MCC's day was spent travelling to/from the ground, and those kilometres travelled seemingly corrupted our depth perception as it almost took a a minute for us to realise the inner circled layed out was 10 steps, rather than 30 yards.
After using the measuring tape to confirm our wild theory (10 steps ≠ 30 yards), we joyfully dragged the opposition back out to pull the circle to a more reasonable "20 yards". Already in their heads, and Waqas was yet to bowl.
Match 1
We lost the toss (Cameron forgot to sandpaper the coin) and were sent in to bowl, all excited to see how the 'boards' would play. They bounced on one side, and somehow bounced on the grass side (more to come later). Waqas and Cam had no issues getting some elevation, which clearly troubled the opposition as they couldn't rely on cross batting half-volleys to their usual 20 meter boundary, which we also had to move back another 5-10 metres. Cam took 2 at the start to some attempted cross-bats, and Waqas had balls travelling through at shoulder height, leading to another 2 snicks when they attempted to prod forward. One could imagine it's a nice as a keeper to receive the ball coming through at a consistent height, much to the contrast of the flicx. No worries here as Vish was gobbling up every ball/snick that came through, great performance.
Augsburg were 4fa not FA when newbie Keshav started up, enjoying the bounce just as much, and with tight lines, he found himself with a slick economy of 3, and 2 wickets to go with it.
With Mucca bored with the traditional game of cricket, he's seemingly playing his own, more challenging game orf trying to bowl at every speed. He would have been covering 120km/h, then the very next ball would come at an equally arousing 70km/h. You'd hear the stumps getting knocked over, then laughter coming from everyone on the pitch, knowing they'd have the same fate.
On this postage stamp, keeping the home team to 96 would be seen as a winning score. Unfortunately less that that would have even been defendable, as MCC instead chose to charge themselves for the second game, and just "get a feeler" for the wooden boards in game 1.
We saw some excellent catching practice from the top order, with Hans playing a picture perfect defensive block, only for this to pop up to short cover. Then, Such crushed a drive straight to cover, who took a fantastic catch.
2 sixes were hit for our batting innings, with Such playing carefree, and Waqas giving us a tease at the end, but the biggest (undocumented) six came from a dead ball. Apparently bowling a ball on the non-boarded side of the wicket is classified as a dead ball. Deep attempted to revive it, giving it a life of it's own, as it made it's way over to the club house for one of the biggest sixes we've seen. Unfortunately we had to abide by the laws of the game and settle with a dead ball. Deep had enough (2 balls later) and made his way back to the changerooms for the second game.
Match 2
Won the toss, batting, applying, as we all agreed.
Hans and Mucca kicked the innings off with momentum, dropping singles and swatting boundaries through the field. This clearly impacted the opening bowlers, who absolutely dominated in the first game. This momentum carried right through this batting innings, as the opening pair handed the baton to Such and Deep who had zero issues reaching the boundary. Deep (36) hitting at 144, and Such (34) at 170 carried us right through to the end, both with enough confidence to smack the balls right through square-leg's hands.
With 130 on the board, confidence was high after holding Augsburg to 96 in the first game. Unfortunately it didn't quite start the same as the first bowling innings, or really any game as Waqas went wicketless in his spell. The pacers did their job in the first game, but the second game was a different story, as they were mercilessly dispatched with the exception of Keshav clever field placement, enabling him to bowl short and wide for a catch at deep cover.
While Anirudh's day with the bat wasn't as productive as hoped, he more than made himself part of the day with an incredible runout from the boundary and a deep catch.
Unfortunately with JD's back deciding it was done with the day, the 'quicks' were no longer an option.
Time for a change of pace, literally, with our slower options of Max and Deep stepping up and completely turning the momentum of the game. Augsburg were 6-108, requiring less than 30 when these two began turning the screws, completely drying up the runs resulting in some cleaned bowls and catches in the deep.
Then, Mucca wanting another attempt at bowling under 50km/hs, took the last two wickets with the old 1-2 combo of 120km/h & 50km/h.
The last 4 wickets fell for 5 runs. Incredible.
The day was ended with a few celebratory drinks, commending our MoMs, Waqas and Deep. However, in a wild turn of events, these two appeared displeased by each other's MoM company, where Waqas proceeded to disassemble Deep's glass on the "prost.
In good spirits, Waqas did cover the round which was greatly appreciated by those who had an unshattered drink.
We're building great t20 momentum, so now onto the next round!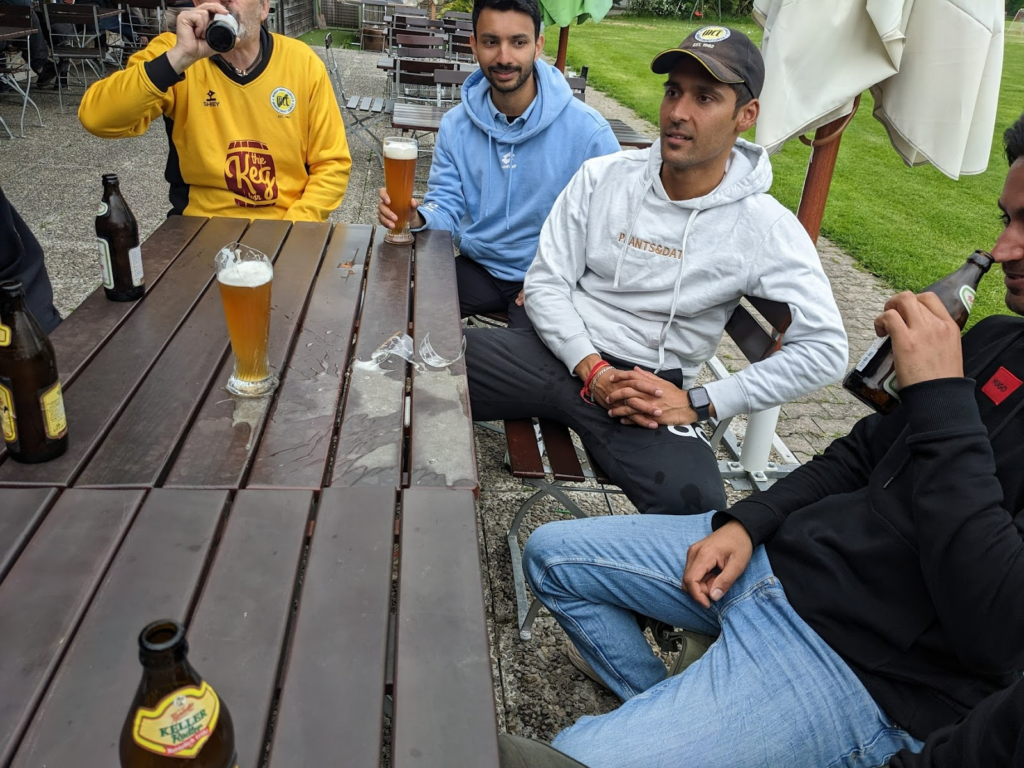 ^Waqas' attempt to dehydrate Deep
Cam o'flage