If all goes perfectly, it's still more than a 4 hour drive from Freiburg to Munich. Last year MCC made the opposite run across to Freiburg and were greeted with rain so biblical, Noah was said to be working on a new design complete with inboard engine, Jacuzzi and top-deck infinity-pool. Then Covid came along and all cruises cancelled.
You would be forgiven for thinking that nothing in life is for certain, but you will be pleased to hear that this is not so. For whenever The MCC play Freiburg Nomads CC you are assured of a good time. The teams will always be jovial, friendships remade, supporters welcome and the cricket hard fought. For the Grumpy Head will always be miserable. Guaranteed.
Thank heavens then that the day was made complete by the gentle, soothing rays of an early September sun. In the week or so leading up to the prestigious event, Noah had been heard knocking up something in his shed, only to be thwarted again as the sun rose to greet the day in question.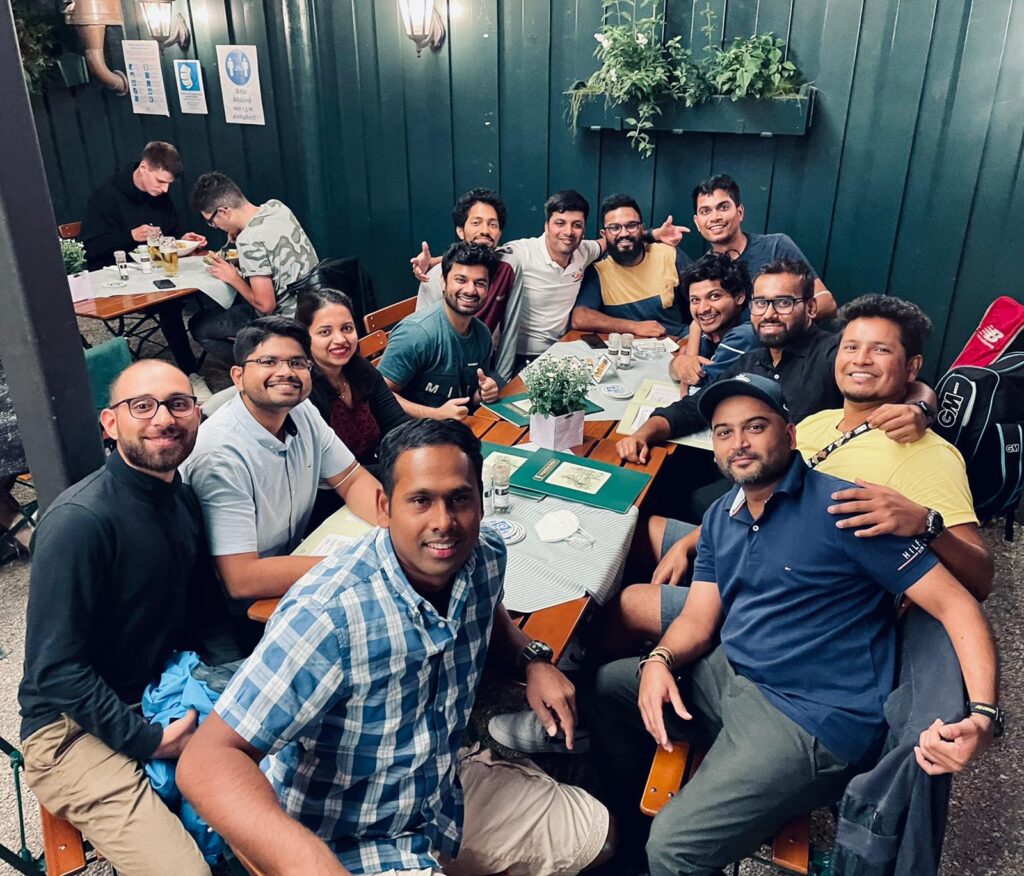 The two teams exchanged covid-friendly hugs, back-slaps, jibes and japes and then formed a circle for the ceremonial prematch greetings. "Keep your gloves up. We want a clean, fair fight. May the best side win…"
Captains Naveen and Ankit conducted the toss and MCC were sent in to bat. A good toss to win, it was felt. The grass was thick with dew and runs would be hard to come by until it burnt off.
The Freiburg warm-up was notable for the lack of dropped catches ("Amateurs! Don't they know you shouldn't use up all your good ones before the game!?").
Vischv, still on free transfer to MCC during the season, was back playing for his real club. The cause of much humour. Sending a chill of fear though the MCC team.
The first innings was notable in these ways:
Every Freiburg bowler ended with good figures – Naveen 7 overs 1 wicket 11 runs Rubesh 7/33/2 Bhanu 7/31/0 Aditya 7/19/3 Dev 5/21/0 Deep 4/21/3 Chester 2/14/0.
Extras were also kept to a frugal 15.
Everyone from the MCC batted (Not so much "Notable" as expected).
There was a superb direct hit, run out to remove Ankit.
A satisfying but not insurmountable 152 total was posted.
Suchit, who opened the batting, was the last man out on the penultimate ball of the innings for a very classy 81 runs.
It is very rare for anyone to make 50 on the flicx, but rarer still is for somebody to play a long innings. Rarer yet then, that it should be virtually chance-less. Suchit was dropped once, that chance being a tough one. It was a pleasure to watch. A hook for six was the first big pay-off for some early patience. A gorgeously timed leg side drive to the boundary mid-innings and a flat driven six towards the end were the best of them. Congratulations on a rare beauty, played at the home of cricket (In Germany).
There were plenty of smaller contributions made with the bat, but it was Suchit who was the glue.
The grass had dried and runs had come more easily as it did so. That said, the grass was also pretty long and the ball was hardly skipping to the boundary. 152 would be hard to get and if the determined FNCC were to do it, they would be worthy non-holders of the trophy.
Ankit and Mucca set about trying to chisel out the opening batters, while the batters looked for early runs. Honours were even until the breakthrough came in the fourth over, Mucca's effort-ball surprising their #2. It steepled off the face of the bat and a diving Owen Davies from behind the sticks, secured the catch.
Skipper found his form and trimmed the top of off to remove the other FCC opener. Then a good partnership by S Ramaswamy and a certain V Bhatia saw Freiburg to a respectable 55 after 18 overs. Vischv had looked as forthright as we'd ever seen him and he'd just managed to silence the banter, when a lofted straight drive attempt was miss-cued and the ever-predatory Mucca flew in to pouch a splendid running catch off the bowling of Altmann.
The two paired up again soon after, as Jonty lured another false stroke from the #3 and again Mucca made true on a low catch after a good chase.
Tom Clode, performing in front of a capacity crowd that included his best-beloved, showed no nerves in dismissing #5, clean bowled. The wheels were coming off the Freiburg innings after a good start, but still the dangerous Naveen had not taken guard. As he did so, surely this was the match?
Jonty removed a further two batsmen, one bowled, the other LBW. Suchit's day was not over yet as he finished with two wickets. Tom Clode also returned to snaffle another. Freiburg were tumbled after a good start for 110.
Bowling figures: Ankit. 6/1/21 Mucca. 6/1/14 Jonty. 8/4/26 Argha. 6/0/18/ Tom Clode. 3/2/16/ Suchit. 4.3/2/12
Both openers bowled beautifully and the FNCC batters did admirably to resist them as well as they did. Jonty was making the ball hoop around corners. It was no wonder wickets fell as the run rate went up. All bowlers kept it tidy and 110 was no mean feat off the this attack.
Once the ground was put to bed, the ceremonial circle reformed, this time with beer and two buckets (And I do mean buckets!) of Pimm's on offer. The Grumpy Head was handed back to Naveen. Freiburg didn't seem to perturbed. "Why would we be unhappy? We won the trophy!" one man called out. And therein lies the spirit of cricket.
The sun set. Beers and buckets vanished. We traipsed off, a merry caravan headed for the Sitar restaurant. It had been booked for 15 people but such was the bonhomie that 30 arrived. Sitar did us proud. The food was spot-on and the weather kept its vigil as we all sat outside and nattered vigorously.
Farewells were finally said. For me, it was likely the last time I will see the Tasmanian this year. We all look forward to having you back next year Richie. 'Been great having you over.
Freiburg melted into the night and the MCC'ers stumbled off in different directions. If there was one thing we all knew for certain it was that we were all looking forward to doing it all again, next time.
Julius Dementicus