Freiburg Nomads CC vs Munich Cricket Club, Grumpy Cup Home Fixture, 40 Over Friendly, Saturday 17 Aug. 2019
Freiburg Nomads CC 205/7 (40 overs) (A. Wembridge 3-15, P. Thakur 2-31) defeated Munich CC 176 all out (37 overs) (J. Altmann 80, C. Barrett 35)
Man of the match: J. Altmann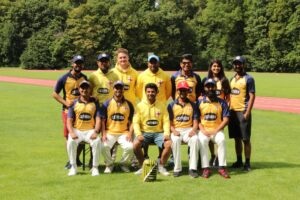 Gallery 1: Freiburg Nomads CC back at the Hirsch frothing with confidence after their recent home victory, bringing a delightful spectator and picking up two stray Münchner en route (Picture: M. Zuckerberg)
Gallery 2: Captains Naveen Arunachalam and Craig Barrett ready to do battle to avoid (that) horrible head (Picture: M. Zuckerberg)
Gallery 3: Enjoying that lovely feel of real grass underfoot after the toss (Picture: M. Zuckerberg)
IN FREIBURG STEHT KEIN HOFBRÄUHAUS. Oder doch? It's a moot point in any case as the Freiburg boys, still grinning from their win against the MCC touring team a few weeks earlier, were looking forward to a big Bavarian weekend for a chance to play in the English Gardens again like last year when that horrible Easter Island head thing was still a miserable grey. 'Nav Man' Naveen Arunachalam had returned from England and the Englishmen there only to find himself facing off against yet another Englishman in Craig Barrett for the coin toss, of which your author is unsure exactly who won.
Anywho, Freiburg headed out to bat first represented by Messrs. Gangurde and Chemudupaty who put on an opening stance of 24 of which 12 were off Jonty Altmann's impressive opening over with four wides and two fours. Our fellow with Holiday Dreadlocks did however manage to break through in the fifth over, with Gangurde being caught by Captain Craig. Nick Colling, opening from the other end, remained wicketless and the batting pair managed to reach 70 before the second wicket fell, caught Jonathan Deverill, bowled Maiwand Khan. (Who also managed an impressive four wides in his first over.)
JD and CB both suffered wicketless spells themselves, despite Deverill's tight bowling earning him 2 maidens in a six over spell for a mere 14 runs. It was all left to Pratik Thakur for a breakthrough and break through he did, dismissing Batsmen 3 and 4 (bowled and caught Obaid Mushtaq respectively) to put the brakes on an inning starting to get out of control. The 'Personal Trainer' finished with 31 for 2 from his five overs.
Soon enough, another threat had presented itself rather fiercely as Nic de la Rey, perhaps-too-kindly loaned out to the Nomads for the day, had started to belt everyone around the Hirsch without the slightest hint of remorse. And rightly so! This included smashing yet another New Zealander in James Kantor around who bowled 2 overs for an unfortunately less than economic 19 runs.
Barrett tossed the ball to Wembridge who managed to bowl 'The General' with his very first ball as he chopped one on to his stumps. Parekh's edge to Barrett at slip the next over gave the Australian his second wicket and, with his sights now firmly set on this-time-opposition-player Nav, (knowing very well just how much he despises shitty, slow bowling) was confident of picking up a third wicket. And this he did after a sort of dab shot fell in the safe hands of 'Ohh Badd' to give the fieldsman his second catch of the day; Nav departing with 26 from 15 deliveries.
Gallery 4: Collo fires one down from the Chinese Tower end to the ever-careful Arunachalam while Wembridge, bowling from the City end, appears to unintentionally impersonate a fruit machine
Freiburger A. Kovvali and former-Freiburger Vishv Bhatia wrapped up the innings for the Nomads undefeated despite the best efforts of Philip Bowes and Prafulla Toke who each rolled their arms over for an over; the team appearing to be reasonably pleased with their total of 205/7.
Fully aware that the dangerous Captain Sat Nav would be charging in to open the bowling, Captain Barrett inspected his troops and decided that Wembridge and Bowes would be the best candidates for a rip-snorting start. It was indeed all action from the get-go where the scorecard registers a Wembridge single off the first ball followed by a Bowes single two balls later. This would not usually be in any way remarkable save for an irregularity which lay with the fact that this Bowes' single was actually an attempted two and his idiotic partner was run out at the bowlers' end. 'Rocket Arm' Raviteja Chemudupaty and his bright red cap sizzled in a direct hit from mid-onish mid-wicket with such precision that Wembridge continued the run all the way to the showers without so much as a glance over the shoulder. LöL.
They say in every cloud there is a silver lining and in this case, it was a heavily dreadlocked lining who decided that today was going to be his day for a big score. Altmann established himself as the fortress of dependability as he anchored the crease with Bowes (b. Nav for 2), Ohh Badd (b. for 0), JD (Flicxd and smacked in the face, attended to by Dr Spieß, retiring hurt on 6*), Jabez (b. for 0) and Barrett (on 4 off roughly 45 balls when JA was eventually dismissed after a partnership of 55)
This wasn't just a half-century, rather a HUGE half-century comprising 10 fours and 2 sixes off what appears to be only 70 or so balls. Needless to say, this was exactly the sort of middle-order strength the MCC needed to have any chance of exceeding 200. With but the cruelest of fates it was none other than usual-touring-teammate Nav who managed to finally remove Altmann on a grand total of eighty, just a few good hoicks away from a three-digit score. Well. There's always next year.
Once Collo had been bowled for just five with the score on 124, JD appeared to have stopped bleeding and thus decided to join Barrett to see if they could knock off the 80 runs or so in the remaining 14 overs. Certainly doable, Craig started to up his runrate with the introduction of the odd two. Deverill added a further 13 to his 6* before being caught at mid-off. Maiwand knocked up a reasonable 9 from 15 balls and was bowled by Dev G bringing Pratik to the crease to accompany Barrett who had now collected two fours in his 35 from around an impressive 88 deliveries.
Eventually being bowled shortly thereafter by Aditya (yes, that was now seven MCC batsmen dismissed bowled), Toke and Thakur only managed to contribute one further single before Pratik was caught in a mixup and run out; Praf stranded on 0*. MCC had finished with 176 all out in the 36th over, just 29 runs short of victory.
After a brief awards ceremony, Captain Craig was returned that same bloody head he had thrown in the car that morning with a special appendage as gifted by Captain Nav, with both of these trophies now cementing their place in Munich for what will probably be a year.
Many thanks to Nav and his Freiburg Nomads for coming all that way for our third battle for 'The Grumpy Cup'. We can't wait for the follow up in 2020!
Gallery 6: MCC congratulate the Freiburg on winning the second encounter of the year, Captain Barrett lets it all hang out and club physician Dr. Franz Spieß supervises the prescription of a third Kiste of Augustine Helles (Pictures: M. Zuckerberg)
Wendi-Meg Breward