Freiburg Nomads CC vs Munich Cricket Club, Grumpy Cup Away Fixture, 40 Over Friendly, Sunday 04 Aug 2019, Seeparkstadion, Freiburg im Breisgau
Munich CC 189/8 (40 overs) (O. Davies 42*, A. Wembridge 41) defeated by Freiburg Nomads CC 195/1 (28.1 overs) (N. Colling 1-34)
Man of the match: O. Davies
Munich Cricket Club was delighted to accept the invitation from former Münchner but-still-fully-committed-MCC-cricket-tourist Naveen Arunachalam to make our way over to his neck of the woods in Baden-Württemberg, where the smell of crepes wafts across the perilously close French border. Having been defeated on Bavarian soil the previous September (and thus remaining in possession of that horrible head anti-trophy), the Freiburg Nomads were only too keen to have the chance to get their own back on their turf.
To try and counter this hometown advantage, the MCC proudly nominated former Freiburger Vishv Bhatia as captain for the day to apply his valuable local knowledge and take charge against his old team. The knowledge was used particularly well in finding local accommodation during Schulferien as it turned out Nav wasn't even around and his flat was empty. Allegedly in England doing some sort of training course, it wasn't that he was simply trying to avoid us embarrassing him in his own hood as we first assumed. (Incidentally this worked out very nicely for him as he didn't have to fork out for another visa for the Bath Tour later that month.)
So, with every hotel and hostel in the country booked out (and in neighbouring Frankreich), the MCC players unable to snag someone else's empty bedroom decided to bust out whatever camping gear we could lay our hands on and try our luck in the forest.
Gallery 1: The determined tourists successfully circumvented the effects of Schulferien and consequential Unterkunftsmangel by uncovering a load of camping gear. (Pictures: W-M. Breward, MFP Records)
Nick Colling commandeered one vehicle for the big five hour drive with passengers Andrew Wembridge, Bhatia and Simrat Pal Singh while the 'Cruise Brothers' Veith Gattinger and Nic de la Rey made their way across as a family unit complete with their mother. Despite his best intentions, Phil Bowes' voracious appetite for cricket after a week in La Manga was forced to remain unsated after a series of hassles with delayed flights and lost baggage resulted in a subsequent decision not to attend.
With the team looking in a bit of trouble to make the numbers, it was Adrian Brooks to the rescue after he apparently bumped into a bloke named Steve Salthouse in Munich somewhere. Even more fortunate was that 'Stefan Salzhaus' for whatever reason had some sort of campervan thus (seemingly) solving both transport and accommodation hurdles. Pierre du Plessis decided to travel by train from relatively nearby Heidelberg thus securing an eleventh man.
Indeed, although one may have thought taking all that camping gear would immediately solve all accommodation problems, that unfortunately wasn't the case at all given the fines you can theoretically cop for Wildcampen and that all the decent camping grounds were, perhaps unsurprisingly, booked out. Salthouse and Brooks made enquiries at six totally ausgebuchte places before finally settling for one that appeared to be solely there for those too disorganised to book in advance. But this was of no consequence as the MCC made themselves very comfortable with a delectable impromptu lakeside dinner with the camping stoves and grills searing the garlic bread, sausages, wraps, a few ribs and Dr. Simrat's prize-winning chicken masala cooked to perfection.
Gallery 2: Salthouse and Singh were the masterchefs in command of the dinner fit for kings (including Chester at the back there) am Tunisee as Captain Vishv Bhatia salutes the serenity. (Pictures: W-M. Breward)
Joining us for dinner and a few Hacker Pschorrs was the charming Freiburger Chester who had very kindly offered to accommodate ALL of us in his apartment should we really have been stuck without anywhere for the night. So, many thanks to him for such a considerate (and brave) offer. In any case, the one night for those under canvas resulted in nothing more than a teensy bit of neck stiffness for a few that had well and truly subsided by the time we'd had an invigorating butane-boosted breakfast of eggs, toast and tea.
The tourists made it to the Freiburg cricket ground bright and early to greet our hosts, most of whom were familiar faces from our previous encounter. We offered a hand where we could with a few sentimental memories being evoked when rolling out the Nomads' Gen-1 Flicx. This old girl had certainly seen many a good match in her lifetime, boasting more holes than a Swiss cheese – incidentally only 135 km south from there. Lying flat on the astroturf football field, the bounce was quite low but despite imperfections the pitch played quite true, certainly truer than the MCC Gen-2 Flicx on water-logged, insufficiently rolled earth.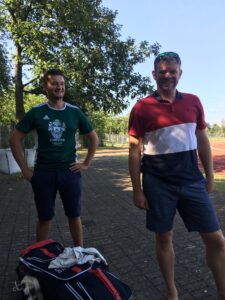 Gallery 4: Steve Salthouse kindly volunteers to make up the numbers for the MCC after Brooksy discovered him wafting randomly around Munich in a campervan. (Picture: W-M. Breward)
Captain Vish won the toss, elected to bat and threw Salthouse (who claimed to have not played in 20 years) and 'the General' de la Rey over his left shoulder to face the opening salvos. They put on an opening partnership of 20 before Old Salty was bowled in the sixth over. De la Rey unfortunately suffered the same fate the very next over after compiling 15 (including three nice fours), allowing Wembridge the opportunity to join the good Doctor at the crease.
A steadying 48-run partnership ensued with both Simrat and Andrew attempting to make the most of the short straight boundaries, especially that concrete lip on the edge of the running track that allowed for some highly amusing ball launching over the heads of both long-off and -on. Freiburger Deepak finally managed to dismiss the Singh on 19 after he skyed one straight up trying to work it away on the leg side. This was followed up by the bowler's former teammate Captain VB being caught and bowled from a leading edge in an almost identical fashion a few overs later for a total of two.
Gallery 5: Seeparkstadion, Freiburg im Breisgau where a sun-smart Owen Davies prepares for what would be a shining, undefeated performance (Pictures: W-M. Breward)
With the MCC at 88/4 in the 23rd over, Owen Davies joined the Australian to begin what would be a fine innings; the Welshman making it clear from the start that he wasn't going to to drive all the way to fecking Freiburg to bat for just 5 balls. He and Wembridge continued to work the ball around the field before the latter was caught at long on in the 28th over quite literally just one ball after announcing he would now 'shift into third gear'. (Perhaps a fecked clutch?)
Accompanied briefly by Messrs. Colling and Gattinger, Davies continued on his merry way ticking over the singles with the odd boundary until the 'drinks' break was finally taken at 13:15. This happened to be a generic 'everything' break; drinks, tea and and drinks again all mashed into one. Turns out that the Freiburg boys were taking great care not to upset members of the local community after having been previously burnt by residents' interpretation of the gesetzlich vorgeschriebene Mittagsruhe and subsequent fist-slamming by the authorities.
Freiburg's provision of a huge delivery of delicious, very healthy looking pizzas went down a treat with the team enjoying the wonderful weather with a refreshing dip at the nearby Flückigersee. The General challenged Wembridge to the 1500 m Freestyle title around the lake and back which was flückig exhausting but equally as refreshing on such a lovely warm day – though they both returned gleichzeitig together so the result was in many ways a dead heat. (Geddit??)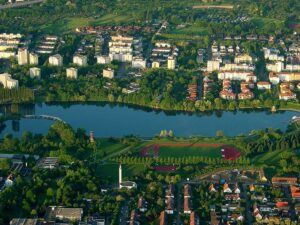 Gallery 6: The lovely Flückigersee with Seepark Stadion in the foreground (Picture: N. Blau)
Resuming at 15:05, Gattinger was bowled shortly after for ten (including a ferocious flat six over mid-off) while Brooks and du Plessis accompanied Davies to the end of the forty overs; Owen seeing the team through to a decent target of 189 with an undefeated 42*.
With all accumulated break time already exhausted, Ravi and Vijay were out there facing the first ball within minutes, with Pierre and Brooksy opening the attack. Full credit is due to the Freiburg lads who displayed a mastery of skill and knowledge of their home ground, adapting their game appropriately to the shorter boundaries, quick outfield (and our less agile fieldsmen) to their advantage. With a decent handful of missed opportunities in the field from the MCC (excluding an edge in the direction of first slip that bounced at least two full feet in front of the always low-crouching slipper who then prevented a boundary with that swift foot twist) the opening bowlers remained wicketless, as did those leading the first change attack of Wembridge and pal Pal Singh.
The Freiburg scorecard shows 'Pollock' finally getting the first breakthrough, bowling Vijay to break the 100+ opening partnership, later determined to be his non-South African bro Nick 'Colling'. Surviving a handful of further clangers in the field, in addition to a ball well-caught at long-on invalidated by the rubber-band-like rebound of a lanky frame against a steel boundary fence, Jamsteid continued on with Vijay, eventually hitting the winning runs in the 29th over despite further attempts from de la Rey, Salthouse and Gattinger to stem the flow with the ball.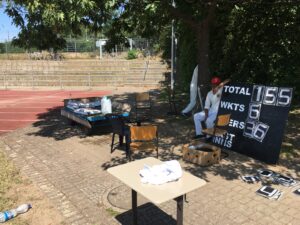 Gallery 7: Keeping the scoreboard ticking over; the Freiburger who two weeks later would be immortalised as Elton John's 'Rocket Arm'. (Picture: W-M. Breward)
Captain Vishv graciously reclaimed the sacred anti-trophy in the post-match ceremony which had been judiciously painted by supporters of the Freiburg Nomads, no doubt expecting to get it straight back in the return fixture scheduled in Munich in the following weeks. (Spoiler alert: They didn't)
Our heartiest thanks and congratulations to the Freiburg Nomads for the entertaining us and of course to Nick Colling and Steve Salthouse for carting everyone across the country and back. We look forward to giving the Freiburg boys a much better run for their money in our return-fixture in Munich in a few weeks' time.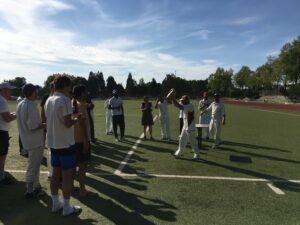 Gallery 8: Captain Vishv proudly accepting the return of that bloody horrible head-thing in good cheer before the lads cooled off with a delightful alternative to Augustiner Helles thanks to the Nomads. (Pictures: W-M. Breward)
Wendi-Meg Breward