MCC Gold 243-7 (35.0 overs) (J. Altmann 2-fa, P. Bowes 2-fa) defeated MCC Black 164-7 (26ish overs) (N. Konchada 2-fa, K. Mahmoud 2-fa)
Man of the match: Dave Carr for making a delicious 20 pesto, olive oil, fresh basil and tomato-topped delicacies – in addition to a swashbuckling 20* runs carved all around the wagon-wheel.
With an initial verbal confirmation on Monday, Desmond 'Tromboner' Bradley was triumphant; the Munich Cricket Club, recently railroaded by a Hirsch-destroying Food Truck festival, were finally granted permission to return and play cricket on their hallowed, now-repaired-after-30,000€-and-three-months turf.
But make no mistake – this wasn't the canny old Chairman's first rodeo. As we have all learned all-too-well, verbal confirmation means sweet-FA in Germany, so the foresight to request written confirmation of said permission wasn't such a bad idea at all. In fact, it really came in handy when a slightly soused Helmut rolled out to the middle as we were rolling out the pitch to tell us all to piss off back home. (Incidentally, the pitch was rolled out west of the track due to damage on the regular side.)
Anyway, MCC Black Captain-of-the-day Philip 'Phil' Bowes managed to avert a hostage situation, proudly presenting the short email on his handy to the thirsty Hausmeister who grumbled off back to his farm, thus avoiding being bound and gagged for the duration of our match.
Jonathan 'JD' Deverill, having misplaced his coloured MCC top several months earlier, read the awkward situation like a Chinese newspaper and thought he'd try his luck asking the steaming caretaker for his shirt back. Helmut softened somewhat and surprisingly obliged, throwing in a free pair of Pak Orient trousers presumably as a gesture of goodwill given his error.
As with every game without our Chairman present, all things administrative went to shit as we were lacking any form of scorebook or writing device. James 'Jabez' Kantor saved the day with a quick trip down to German Cricket TV headquarters, indulging in that well-known pastime of pinching office supplies from work. If only he'd remembered to grab a pen too.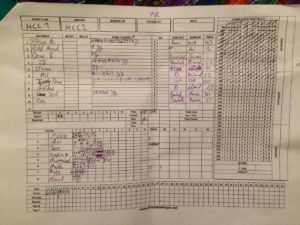 Starting at 12:43, MCC Black hit the field with a whack, similar to that made by the knife-wielding maniac lurking around Rosenheimer Platz, but much more like the one from 2017's top run scorer Mahmoud 'Macca' Khan, who belted one straight back to Jonty 'Jont' Altmann for an excellent c&b in the third over.
Some very tight bowling continued with maiden overs from Altmann, 'Disco' Dave Carr and Deverill hindering the run rate. This was however at time to time threatened by the odd loose ball in addition to an hilarious 4 overthrows gifted by the white-haired warrior. Sixty-three years young and still bounding about like a teenager, the MCC look forward to welcoming him into the 26 club very shortly, joining the likes of wrestler Hulk Hogan, former cricketer Imran Khan and Tim Allen of Home Improvement, er, 'fame'.
An initial wild over from 'Akka' Akmal transitioned into a quite a tight display but he was unfortunately unable to snag a wicket. Overs passed, with the crispest bat-stroke being played directly into one batsman's ankle, where a pornographic soundtrack of painful screams ensued.
Obayed 'Mushy' Mushtaq made it to the crease, with his measured and elegant strokeplay pleasing all spectators, almost as deeply as the chicken curry he brought for the tea break back in summer. Eventually, Queenslander and new father Ben 'Ben' James managed to dazzle the Masterchef with his lofty spinners, bowling him for 12.
Nirmal 'Nermal' Konchada also delighted onlookers with at least one sizable six, before being trapped in front by Bowes, proving yet again that you don't have to bowl fast to get wickets. Doubling-down, he bowled talented hitter Sami 'Sammi' Jamula the very next ball to emphasise that very point; sadly the hat-trick delivery to ring-in Harmand was uneventful. (Usman 'Chicken Man' Sandhu's interpretation of Bowes' theory was unsuccessful on this particular day, despite a tight first over.)
With Jabez holding up one end nicely, Harmand hit a few quick-fire fours before allowing Jonty the opportunity to rearrange the structural integrity of his woodwork. Imtiaz 'Imti' Ahmed also made it to the boundary on more than one occasion, with he and the cuddly Kiwi closing out the innings to begin a well-anticipated tea break.
Once again deliciousness triumphed, with players spoilt for choice. Whether an entire vat of Haribo gummies, more leftover KFC original recipe pieces or mouth-watering home-made sausage rolls from top-tier WAG Sylvia, it is safe to say that no-one went hungry. And just when the ice cold beer was beginning to wash the last crumbs down our dry throats, Disco Dave provided the ultimate encore, freshly preparing his bruschetta with the delicacy of a surgeon to the gastronomical standards of a smiling south Calabrian Nonna.
Full of food and fire, Khan 'Al' Ali and Ruhel 'Smiley' Ahmed opened the batting, the latter departing for just two in the fourth over, caught off the bowling of borrowed MLCCer 'Butterfingers' Avi, who assured us he had been learning how to catch hard cricket balls over the week. As Desmond was again taking a well-earned rest from scoring duties, it is impossible to quantify the partnerships in terms of, well, runs, due to a lack of entries in the 'Fall of Wickets' row. C'est la vie.
Anyway, national superstar Dennis 'The Menace' Ritigahapola was bowled for a mere single from the bowling of Sami, while Ali was amusingly caught after swatting away a rank full toss from Avi in his third over, though square-leg umpire Altmann resoundingly declared it a no-ball. Deverill and his bespectacled buddy confidently prodded around Imtiaz' quick bowling before one of the fizzing slowies from Konchada bowled the venerable team elder.
Usman came and went relatively quickly, despite 'surviving' a dangerously close LBW decision by national umpire Ritigahapola, (later deemed to have had the finest of edges.) He was shortly thereafter bowled for a finger-lickin' good KFC duck, bringing Bowes to the centre.
A colourful partnership of (*unknown) runs continued with a good handful of sixes peppering the fresh grass before a mix-up left both Phil and Ali at the striker's end. With mild confusion as to who was actually dismissed, the captain, with utmost nobility, relieved his partner of any further stress or responsibility in the match – heartiest congratulations to Ali and his 43 well-earned runs, bouncing back very well from his unfortunate duck in 2016 playing for MCC Black.
A little slow to get off the mark, Carr accompanied the dangerous Bowes before the captain was bowled by Nirmal for ten. Akmal didn't last long, being bowled for a duck off the crafty part-time slow bowling of the curry King Mushtaq who unfortunately, according to the scorecard, bowled just the one over despite having plenty more left in the tank.
Altmann added some spice to the mix during his brief tenure, fours and sixes comprising the majority of his 21, while his GCTV colleague took a few overs to loosen the stiffness in his arm, bowling an impressive 5 or 6 wides. All the while, Carr continued on his merry way driving, cutting and carving before his fellow countryman was bowled by Macca.
Two balls later, yet another of his countrymen was bowled by the same gentleman and it was time to pull up the stumps for 2017; the heavens in concurrence as the last tones of daylight bid us adieu.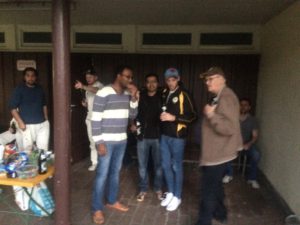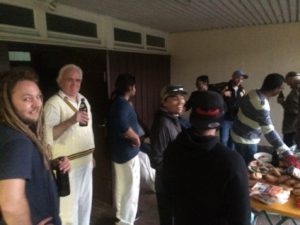 Wendi-Meg Breward