MCC Black 157-8 (30.0 overs) (T. K. Butt 65, X. Wides 29, J. Deverill 2-16, V. Gattinger 2-38) defeated by MCC Gold 158-6 (28.4 overs) (M. Ayub 50, J. Deverill 33*, P. Bowes 2-42)
Man of the match: T.K Butt
With seemingly precious little else to do, twenty-odd misfits set upon a surprisingly sundrenched Hirsch in an attempt to squeeze in what we always dread could very well be the last match before winter sets in – knowing full well that we'll all soon be confined to 3 months of indoor physical activity, whether that be more team sports or simply going at it solo.
Indeed, the MCC was lacking a source of opponents for the weekend – unsurprising given just how fucking rude we are – though those interested decided to resort to the Fritzl-esque practice of an 'Intra-club match', where all sorts of adventures happen at home within one big happy family when no outsiders are in sight. A few key MCC stalwarts wisely stayed well-clear of the match, despite the beauty of the day. The moist but pristine condition of the grounds we likened by some to that of the well-manicured lady-garden of Caitlyn Jenner.
Captains Bowes and Wembridge set the scene early, literally, ensuring that the boundary flags were set at record distances before Jonathan "Schrebergarten" Deverill would have a chance to offer his input. Special mention goes to Craig Barrett who gleefully punched in the western flags a further 5 yards away to ensure that cow corner would be udderly impossible to reach.
Team selection was reminiscent of one of those American high school gym class scenes from shitty 80s sitcoms. Bowes and the newfound MCC Blacks won the toss and elected to bat, with the soon-to-be-thirty Jonty Altman facing the first ball from Imtiaz Ahmed at an impressively early 12:41pm. (Quite possibly an MCC club record) Unfortunately, the hirsuit South Australian whiskered an edge safely into the keeper's gloves from Deverill's second ball at the other end. Never one to dread the truth or bristle with his conscience, he hared straight back to the pavillion for a fag, sparing Umpire Waqas of what could have been a quite a shaggy decision.
Fans had flocked from afar to see King Khalid Butt join Abahjit at the crease. A strong bowling attack however constipated run-flow, eventually resulting in the latter 'cracking the shits' and Veith Gattinger digesting a catch from Imtiaz' sharp boweling. Ring-in Junaid Butt maintained his record of 0 runs for the MCC but set the stage for Mahmoud Khan to support his majestic namesake. A partnership of 33 was built, Veith Gattinger greatly assisting by conceding 22 from his first over. This included a butt-load (3) of sixes and a series of yelps from hapless passers-by and their pets meandering along the eastern flank.
However, it wasn't long before Khan found himself and his bat bogged down in the middle of the wet wicket. He desperately attempt to swim on his belly to the safety of the popping crease with some form of terra-canus paddle, sadly failing, and being run out for 17. Incoming Bowes managed to middle a few for his hard earned 5, before a deliciously sweet strike met the sticky hands of Matt Fudge, finally granting a turn of fortune for bowler Gattinger. Continuing the Veith, he trapped man-mountain Amin Khan attempting to scale cow corner, with sherpa Mudussir Ayub safely ensuring his return to base-camp.
Butt hustled along on his merry way beyond a well-crafted half-century, despite the tight bowling from Hashimi, Fudge and MCC resident wizard Charles Beresford. It was however the sorcerer's apprentice Beresford Jr., with his magically deceptive looping, who snared the prized, hairy scalp of Butt, comprehensively stumped for a man-of-the-match deserving 65. Ending Elias' spell, Captain Wembridge bravely brought himself on to bowl the last over against the dangerous Barrett. The MCC's best-loved ginger waddled politely off the field shortly thereafter as Waqas Khan and Usman Sandhu brought the innings to a close of 157-8 from the full 30 overs allotment.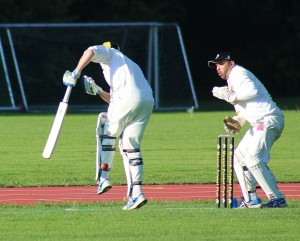 A JD-inspired tea interval was washed down with a few cups of Italian mint cordial before both teams realised that we'd forgotten to have a drinks break. For the first time ever, every single semmel was devoured, allowing the boys to experiment with all sorts of calorific alternatives; crisps wrapped in sliced cheese being heralded as a smashing gluten-free alternative.
MCC Gold, represented by Mudussir Ayub and Serendipper K. Ali, were able to face up to the first ball before 3pm – likely another MCC record if statistics were to be considered for intra-club matches. Punctuality aside, this was unfortunately no serendipitous cause for Ali to celebrate – he was tied in knots by Bowes' opening over and conjured back to the pavillion by Umpire Beresford after just four balls. Maiwand Khan seemed to be still fatigued from his sharp 3-over spell, earning the second duck of the innings due to the well-seated bowling from Butt.
With subject expert Desmond Bradley taking a well-earned rest from the scorebook, the statistics understandably went to shit from this point, (they were fudged?) but it looks as if Ayub and Seyar Hashimi put on around 30 or so. It also suggests that there was a miserly 0-7 scored from two skillful Barrett overs, taking full advantage of the gigantic field. His worthy opponent Hashimi, who only just had the strength to crawl out of bed and sweat out his nasty fever, made a brave 19 before retiring with sheer exhaustion to allow the young Beresford his moment in the centre.
Beresford Jr. opened his account with a cracking cover drive, a certain four with any of JD's boundaries, but Abajhit managed to break through his defences shortly after. Ayub brought up his chanceless fifty in style belting Bowes to the boundary before the captain got his revenge a mere two balls later, bringing the score to 94-5. Deverill and Fudge spent 5 runs at the crease together before the younger Englishman fell to the very sharp bowling of Amin Khan.
MCC Black threw everything they could at the silver-haired veteran, including fill-in keeper Butt's attempt at an 'Arsehole's Stumping'. For readers unfamiliar with the term, this involves stumping the batsman without having the cricket ball at all, then picking up the ball and hitting the stumps as the batsman walks out of his ground back to the pavilion, believing he was (already) fairly dismissed. Merely accompanied by a boundary-less Wembridge, Deverill carefully steered MCC Gold to victory with an unbeaten 33*; the target reached with a mere 8 balls to spare.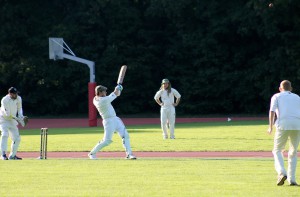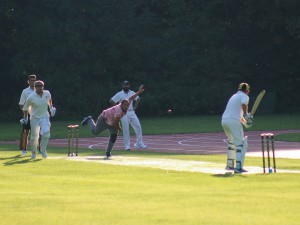 Many would argue that cricket was the real winner, but this author would suggest that is bullshit. MCC Gold were the clear victors of the day, and the winning captain would like to have at least one victory credited to his captaincy record in this life.
The other victors were of course those who managed to hold a good view of the two young women in lycra attempting to practice yoga next to the track. To the shock of those of both Black and Gold, Des inexplicably chased them away in what can only suggest was a moment of sheer madness, as it is highly unlikely these fillies will be accompanying the MCC for team sports throughout the long, hard, throbbing winter.
Wendi-Meg Breward