One of the most anticipated tours of the year in the MCC cricket season. So much so that this year we agreed to take more players than normal. Only to find out that we would indeed at one point time have 17/18 players and still end up finishing the last game borrowing a player from our opposition! Oh what a JOY!
Indeed lets start with Joy. Arun Joy was so keen for his first (11 a side) tour that he started the journey from Munich on Monday morning! After a restful stop in Bodensee where he was supposedly working he got to Freiburg on Friday morning before anyone else. Slowly and steadily all 11 players and our beloved coach (The Koch) made their way to a sunny Freiburg. Tour Manager, Tom (Ajit Agarkar) Clode's car enjoyed their own version of Carpool Karaoke which if Adele heard, would make her "set fire to the rain". Vishv reminiscing his youthful days took us to the Restrau Extrablatt which was a very nice place right next to the river. Over the next two days all our players and even some opposition players heard the line from Vishv….when I was in Freiburg this is where we used to come, when I used to live here it was so cheap, this is where I and my girlfriends used to come…. 😊. Being served by a waitress called "Sandy" was just a randy bonus! On the way back to the hotel most of the team made a customary stop at O'Kellys to enjoy their Whisky collection. Incidentally a place where Vishv used to work, when he lived in Freiburg….Skipper Jonty was very impressed by Joy's knowledge of Whiskys and Vishv was not very impressed by the bar tenders suggestion….RedBreast whisky….#aweful!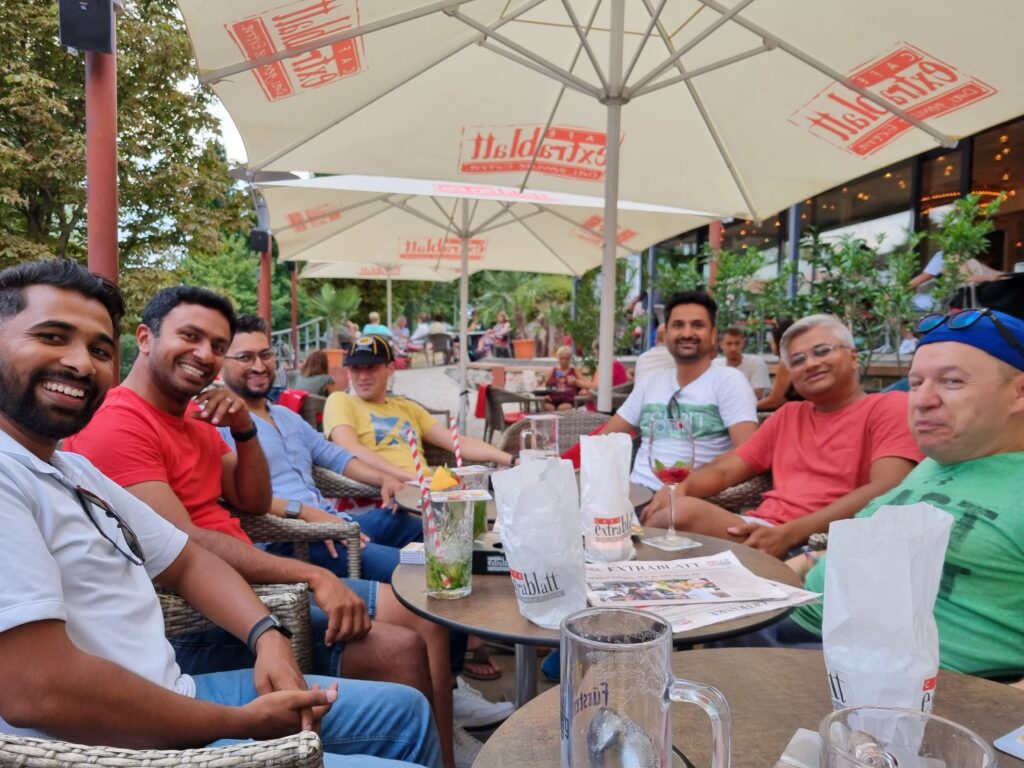 Next day all 11 athletes were ready to take on Basel. After having breakfast and coffee (obviously from a place Vishv used to go to) we made our way to Basel. Tom C taking an indirect non scenic non border route to ensure our passport less member didn't get in to any trouble. A very very warm welcome by the Novartis CC team who knew the average age of our team was high and provided us deck chairs to sit. NCC won the toss and elected to bat. Major highlights of the bowling innings being:
Tour virgins (Joy, Deep and Ritwik) all getting their first tour wicket
Joy appealing from anywhere in the field
Jonty running to save a boundary where batsman was given LBW
Such dropping 2 easyish catches (should be a lowlight and not a highlight)
Joy and Vishv getting hit on the shins by their teammates
Obvs saving the best till last…..Vishv showing Such "how to F*$king do it" and bowling a bouncer to their number 11 batsman, hitting him on the helmet, making him lose his balance and eventually getting out "handled the ball". Fun fact….Handled the ball goes down as obstructing the field!
Chasing 121 to win MCC started off with Simrat and JD. Simi perished going for an uppish drive on the second ball of the first over. Vinny and JD had a very solid partnership which saw the game taken away from NCC. After making a solid 25 Vinny got out to a well planned delivery from R Vijay "bouncer, bouncer, yorker". Tom "Agit" Claudia was next to come in, she played some amazing drives and pull, even got hit in the crown jewels and eventually perished for an entertaining 10. Needing 22 to win skipper then walked in…told the non-striker JD "I will play myself in" and hitting a first ball lofted drive for 4. Jonty ended up with a very (circumspect 😊)13 of 7 balls. JD who carried his bat through and never looked like getting out make a very solid 38 of 78 balls to see his team home! Some help from NCC bowlers also meant that we got 35 extras.
As usual NCC were a great host and a team who enjoys playing red ball cricket. Amazing hospitality and delicious curry and biryani for lunch. Thank you guys! See you soon.
Saturday evening started again at O'Kellys and then for dinner to La Piazza….yes you got it right….this is where Vishv used to go 😊. After going through the fines and needless to say everyone did get a fine…we ended by again in O'Kellys via a few other drinking establishments.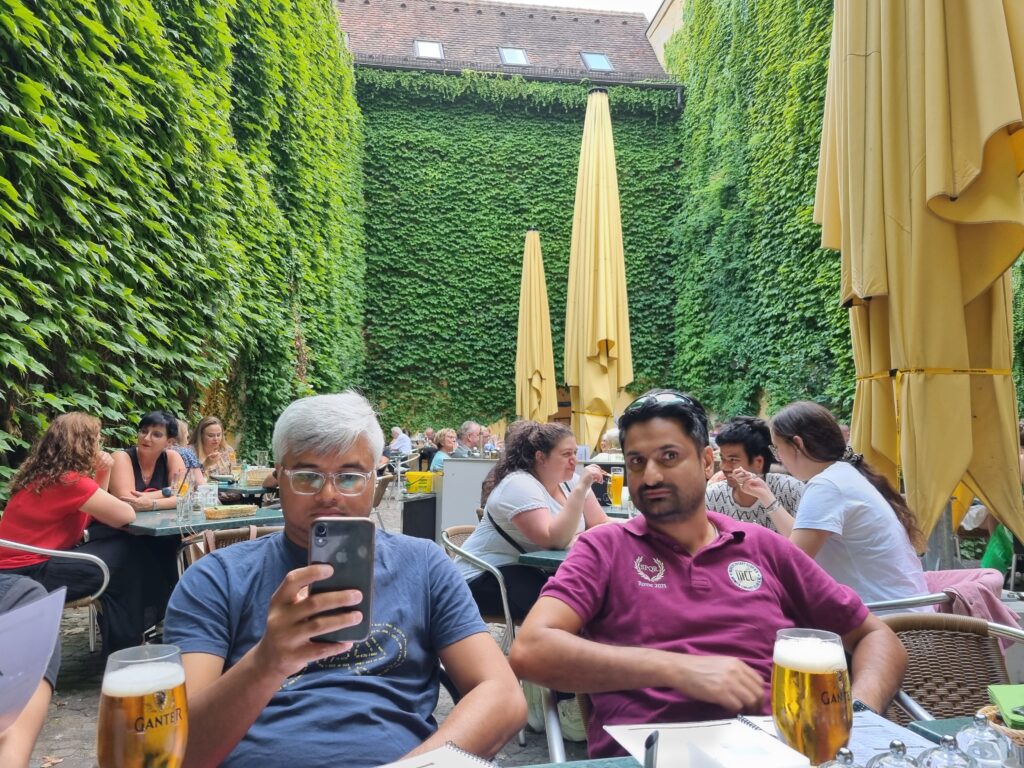 Next day morning we all woke up to: Vinny asking if anyone is ready for breakfast at 6:30, a photo of Such sleeping on a broken bed and JD telling everyone to "Eat more pussy". We all made our way to the Freiburg cricket ground on another blistering hot day to compete for the infamous "Grumpy Head". JD as one of the pioneers of the Grumpy head captained MCC. Losing the toss, MCC were put in to bat.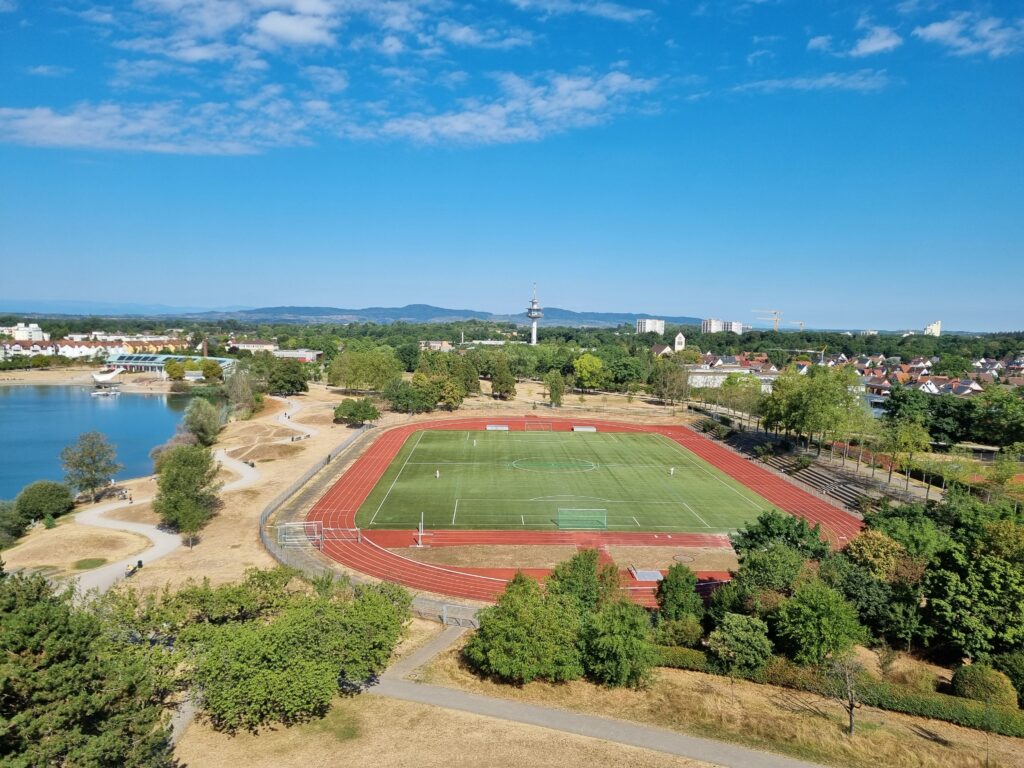 High and low lights of the batting innings:
4 ducks for MCC (Deep – run out while strolling for a run, Such – golden duck blame it on the whiskys, Vinny – I cant hit the loopy shit and Tom C – I was playing for the team)
3 run outs
Solid performance from JD (24) and Ritwik (30)
Basil Skaria's outrageous figures of 8-4-5-4
MCC ended the innings with 117 of 40 overs. A reliable source from the opposition said this is a very competitive score! After a lunch break which seemed longer than an Indian wedding…..MCC went out to bowl. Ritwik continuing his form from Saturday took a second ball wicket. A good attacking partnership saw FNCC get to 40 of 5 overs. A run out from Deep and an lbw from Jonty saw the opposition captain, Nav come out to bat with well-set Adi. A perfectly set plan from JD saw Nav go for a big heave only to be dropped by Such (yes, yet another drop of the tour for him). Rumors say that Nav, like Steve Waugh to Gibbs in 1999, said you've just dropped the trophy.
The JOYless curse of Grumpy head continued…. This time not so JOYful JOY tried to catch a ball with his right hand ring finger. He had to be taken (or rather drive himself to hospital….no JOYride for him) and have an operation on his JOYstick 4 days later. Not a very JOYous ending for our JOUfullest new member.
FNCC were kind enough to give MCC a fielder….who eventually turned out to be the best fielder on the pitch and took a very good running catch to get rid of Adi who made a solid 40. Such "I only catch of my bowling" eventually managed to hold on to one obvs…of his own bowling. A very mature performance from Nav saw him take his team home in the 27th over and ensured that the Grumpy head went on its merry way to Munich.
After finishing the game, a friendly beer or two and a skinny dip in the lake for the work couple MCC set off on their way back to Munich.
Thank you to FNCC for a great game, their friendship and playing the game in the true spirit. A special thanks to Manesh from FNCC who went to Joy to the hospital and Simrat for driving back Joy's car. Thank you to all drivers, tour managers, captains, tour virgins, alcoholics and coach for a very memorable tour.
Such