Lohhof, Munich, 16th July 2022
Schrobenhausen failed to show up at Hirsch couple of weeks back on a nice sunny Saturday, and MCC Sekunden ended up playing two 6 a side two 10 overs and 12 over Intraclub games at Hirsch. With high hopes this week, MCC Sekunden arrived at SV Lohof on a nice Sunny morning to finally get to play their first 40 over league game this season.
There were early signs that its going to be a hot day, so Lohhof welcomed us on the ground with water sprinklers running in full flow. Probably to have cooler start to the hotly contested league match. 🙂 😎
Sprinklers ran for more than two hours and with each passing minutes chances of having any cricket this week became slimmer. Home team became more worried, as the chance of a washout was very likely and umpire having a final say to award the travelling team with full points. But keeping Spirit of the game alive, Our captain of the day Vinny agreed to move the game to Hirsch, and get a game of cricket in such a nice weather. Moreover, Umpire of the day also agreed to the request of two Captains.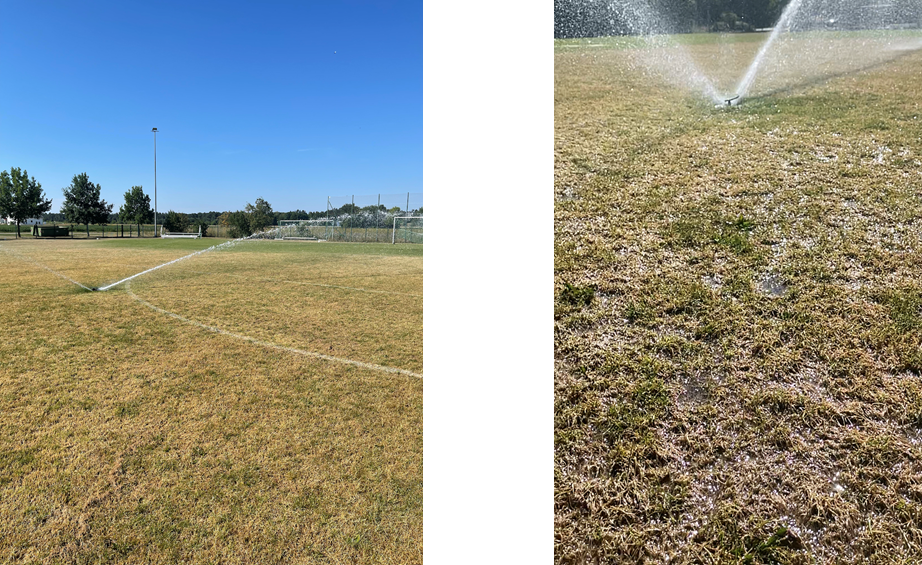 The game was moved to Hirsch with 35 overs a side game and finally some league cricket for the Sekundens and it became MCC Sekunden vs SV Lohhof from SV Lohhof vs MCC Sekunden.
For a change Vinny won the toss and elected to bowl, with lot of uneven bounce on offer due to dry weather. It looked like a good decision, as Lohhof were 76 for 5 of 19.2 overs at drinks break.
1st innings Highlights until 19.2 overs:
Scotty bowled beautifully conceding only 11 runs off his allotted 7 overs for one wicket (4 Wides only).
Shivam and Benny managed to get wicket apiece.
Deleivery of the day was bowled by Ritwik – outrageous outswing by Right arm bowler to Right handed batsman – with line started two stumps outside the leg Stump and which made batsman leave the bowl, only for the bowl to swung late to hit leg stump.
36 extras in this total of 76 at drinks break.
Three catches for Manish, and catch apiece for Simrat and Sundeep.
Post drink break there was not much to cheer for Sekundens, and good partnership between old pal Praf (38) and Sajal (59) made sure that Lohhof post a Daunting target off 207 in 35 overs. Another highlight of the day was 72 extras in this total of 206.
2nd innings highlight:
Chase started pretty bad with duck each for Simrat, Sameer and Vinny. Simrat got lbw in the first over with bowl staying low to hit back leg right in front of middle stump. Sameer ended up giving simple catch to keeper and Vinny got the diamond duck.
Sundeep, Priyansh, and Shivam were the only players to get to double figures.
Sundeep getting 17 – before being given caught behind which he did not nick as confirmed by leg umpire Vinny.
Priyansh hit four consecutive 4's before playing another attacking shot to loose his wicket.
Shivam was the not out batsman being stranded at 17.
Lohhof played well showing Sekunden batsman how to play on Flix.
Spirit of the game award goes to Vinny for agreeing to shift game at the last moment and letting cricket decide the winner as it should be.
SimCity reporting from Munich City