Saturday, 28.05.2022 Munich
Sun was MIA and mercury wasn't soaring, at 15-18 degrees weather was on our side. Fürstens were too pumped to be late. Broken fingers and sore legs weren't going hold Fürstens back from crushing anything or anyone that came in their way of making it to the knockouts. The opponents had a rocky start, they had just learnt that like there are no free lunches, there is no free parking on a Saturday. Well, little did they know it was "sign" of things to come. Fürstens on the other hand seemed more in their Zone, well for starters they had 12 players ready to play, which given the last outing in Tegernsee seemed like a luxury. Return of skipper Jonty, Vish, Deeps, Waqas and Steve was just what the doctor had ordered. As the two captains stepped for the toss, Phil had called it already, the first thing he told me was "We have this one, I have a great feeling, we have this one." Who knew he had an in-house crystal bowl amongst us.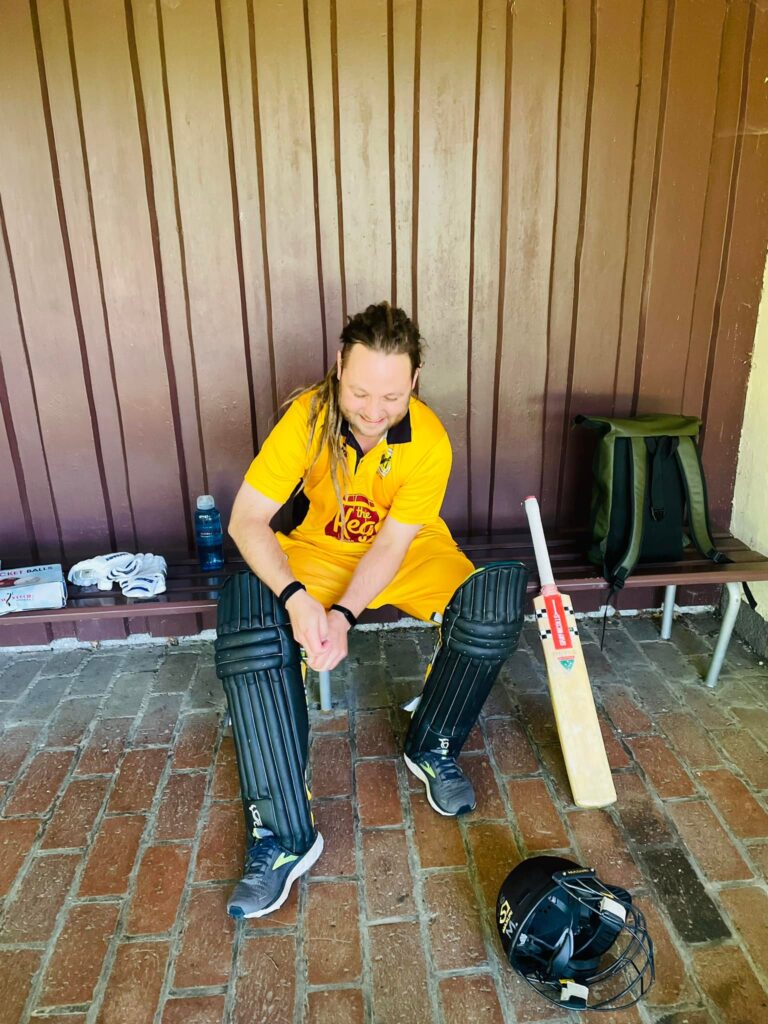 Scorers for the day Joy and Steve weren't going let the chilly morning wind to weaken their resolve of making sure the scorebook was flawless. Jonty and Vish got out in the middle. While Vish was trying his best to judge the low-bounce on the Hirsch pitch and take singles, Jonty treated Opposition's good length balls with disdain. Together they kept the scoreboard ticking with some good running between the wickets and occasional boundaries. We got off to a good start. Just when we were appreciating the quick singles came in two unfortunate run-outs.
First one to fall short was Jonty – although the fielder looked more like trying not to fall rather than effecting a run-out, that too a direct hit! Not only did he gather the ball but also turned around in a jiffy and hit the stumps. This valiant effort from Jonty added 40 more to our scoreboard in only 37 balls, which had 3 fours and a 87 meters Six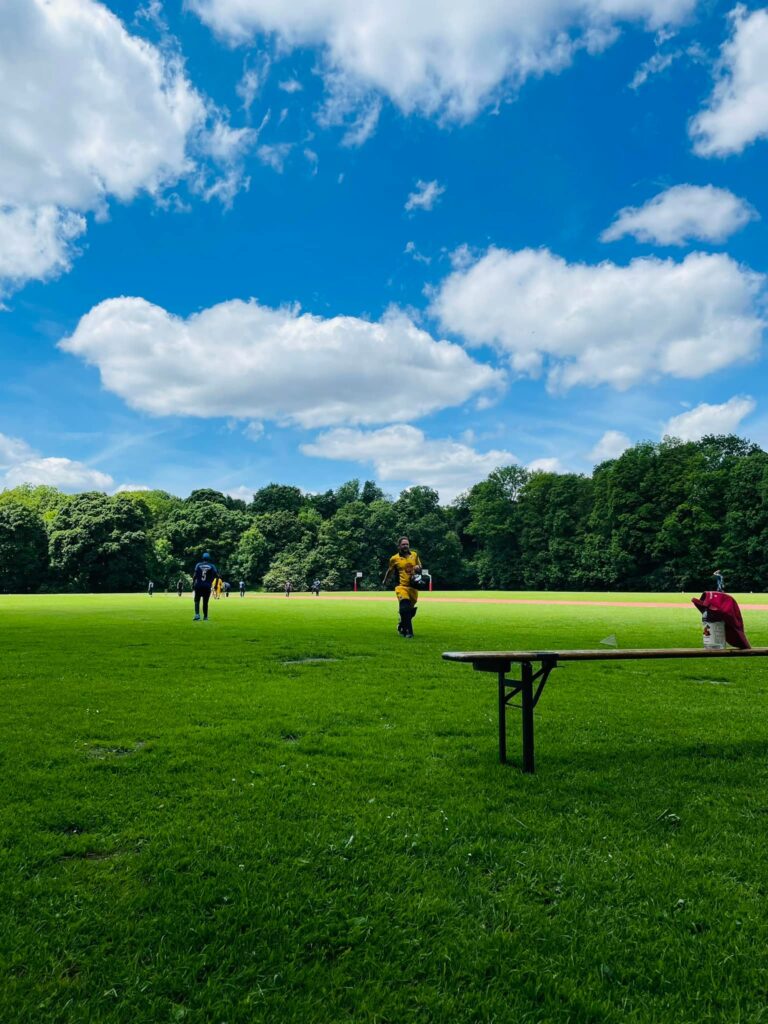 Next to go was our Vish. Deep played the ball into the sandpit and calls for "Sandpit 2, easy 2", only for Vish to turn around and say "shit, where's the ball", clearly he had no clue where the ball actually went. The fielder wasn't letting go off this opportunity, a direct-hit from the sandpit! Vish is gone – Runout at 28!
Walks in Deeps with his bat, some bat he got, the way he swishes that 5kg+ bat one wonders if he is playing the right sport. He wasn't looking to fool around, scored brisk 25 including a massive ~95 meters six (this was measured after the match by Jonty, Phil and Billy) A change in the batting line-up for Fürstens, the Chairman walks in. Phil meant business and hit two fours in a short cameo of 12 runs before the scorers could blink. Mucca, Cameron and Priyansh added a few more and got Fürstens to 130/5 in the allotted 20 overs. With 130 to defend Mucca took the new ball in his hands. And was it his day! His second ball sees the opener back to the hut. Gone for a duck (first of many).

Mahmoud "Mucca" Khan and Cameron McKenzie Matthew Foskett gave us a dream start. At the end of 6 overs scorecard read 12/5.
Walked in their captain wearing a cap that had a big zero printed on it, we knew right there what was in store (Guess he knew too) All charged up Fürstens bowlers were bowling fire balls. The energy on the field was palpable.
Adding to opposition's misery, Phil at gully, was incessant with some "friendly" banter. His curious mind kept enquiring the batsman "mate you sure you are left handed?", "mate, are you sure that is your bat?". While our Vish greeted with his courtesy statement "Good luck mate" Deeps dropped a catch after calling "MINE". Although he made up for it by taking another one however this time he shouted "MINE" after taking the catch! Thanks to an awesome backward running catch by Priyansh, Billy got his first wicket on his first ball! Way to go Billy!
Against a target of 130 they were bundled out for 34, keeping our hopes alive of making it to the knock-outs. Four ducks in the innings! Let's see if they can better this in the next game!
The second game started after a short 20 minutes break.
Our captain called it right "tails never fails" but the coin fell on the edge so the opposition jumped out of their pants when the umpire offered to flip the coin again (Ofcourse! They couldn't get out of here sooner and save some of that parking fee) and chose to bat first.
Mahmoud "Mucca" Khan and Cameron "Cam" McKenzie Matthew Foskett gave us again a dream start as expected. Then comes in Waqas as first bowling change, the opposition thought they could get some runs finally now that Mucca and Cam were through, they couldn't have been more wrong. By the time Waqas was through his overs he had given a send-off to 5 of the opposition's batsman with only an addition of 5 runs to the total. 3 bowled and 2 LbW's. Talk about a one-man army. Although the LBW's would have raised some eyebrows on another day but no one was complaining today (Parking fee can be steep!) Waqas was "back" and how.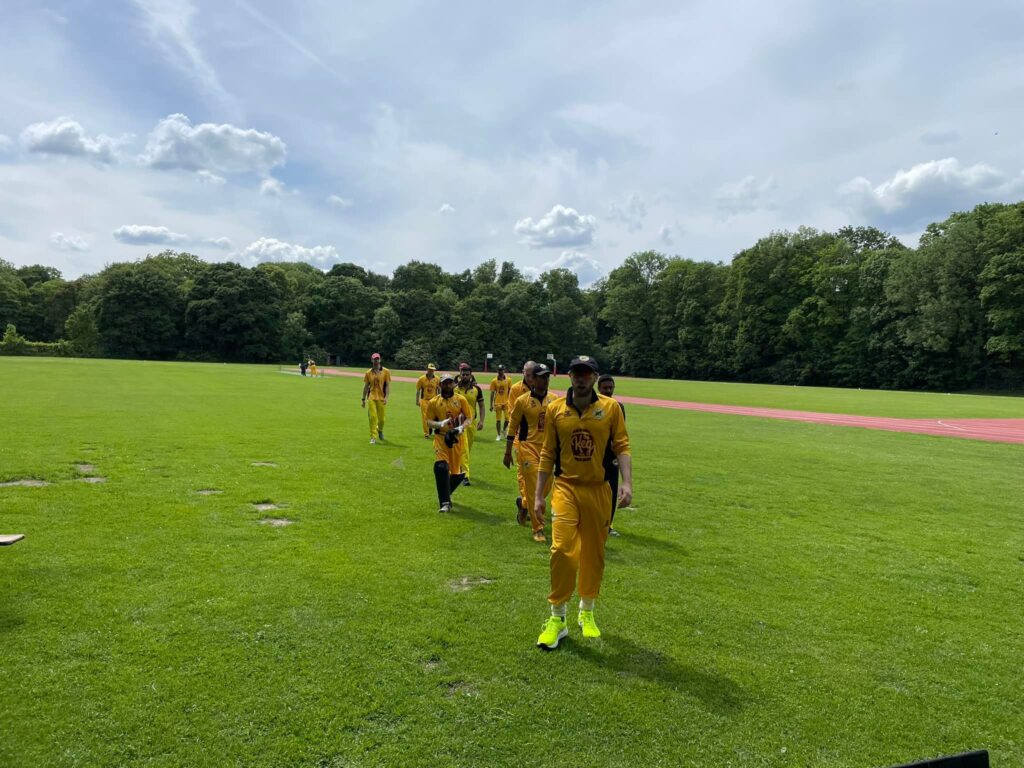 Jonty and Cam opened the innings for Fürstens. Jonty was going for it – a big win. And indeed they got us the big win in literally no time. 43/0 in 5.2 overs.
By the time the match was wrapped up the opposition's scorecard looked more like a paddling in a lake with 7 ducks. Soon the barbie (apparently it had been almost 35 years since the last barbie at Hirsch, and it looked as if Helmut waited all those years for us to clean the Barbie) was lit up. It was meat fest chicken, beef, pork, sausages ("snags" – as called by some of the idiots) of all kinds (Nurnburger, bratwurst, pigs in blanket etc.) you name it and you had it. Barbie experts Phil, Steve and Cam were recognized and were doing a splendid job, dishing out food at supersonic speed.
Now what better way to end a fabulous day of some crazy fun cricket other than by some beers, a Barbie and some snags!
Yoy