MCC Fürsten edge two squeaky-bum thrillers
Munich, 3rd July 2021
T20 is typically known for its bright lights, big hits, sexy cheerleaders and an overall glamorisation of the most gentlemanly and competitive of sports.
Die Fürsten this weekend somehow managed to bring a new level of T20 to Munich – nerve wracking, nail-biting, heart racing agony followed by that euphoric sense of freedom you feel when they finally pull that catheter out.
This Saturday saw 33 wickets fall at the Hirsch for a total of 291 runs including: wild swings to the leg side, dropped catches, 4 ducks and something that was meant to resemble a scoop shot which ended up in the hands of first slip.
Captain for the day Such won the first toss and elected to have a bowl. We were privileged to be in the presence of the new BCV President who took great pleasure in what can only be described as the most thorough of Spielerpass checks. He also enforced the most mundane of regulations on Wembo, forcing a change of trousers so that our team kit matched, like in a professional league. N.B. we will be playing a team next week who have been seen wearing 5 different kits in one playing 11 and we will be eagle eyed next weekend.
The third ball of the day ended up being hit over the fence by their powerful opener, meaning that Waqas finally conceded a run off the bat off his bowling for the first time in over 5 overs!! That 6 also accounted for 55% of the runs Waqas conceded as, after he brilliantly bowled their other opener, finished with excellent figures of 4-0-11-1, denied a last over maiden by some interesting umpiring.
From the other end Billy kept the opposition quiet with only 6 runs off his opening burst. Mahmoud then came and exacted revenge for Waqas by clean bowling their opener whose attempt at a filthy slog ranked number 5 in my 'Slog of the Day' top 5. Mucca kept the opposition very frustrated during his great spell where he bowled 3 overs in which he took a wicket in each and went for 4 runs in each over, finishing with excellent figures of 3-0-12-3.
Jaxon, who could only play one game because apparently Mexicans believe in starting birthday parties at 1700, started his spell with 2 wickets in 2 balls. The first, a bottom edge which was very well held by Vish and the second a thick outside edge carrying at a lovely height to Craig at first slip. He was denied a hat trick because the batsman played a very uncharacteristic defensive shot, very sad. Shivam tried his hand at a couple of short balls, realising quickly that bowling properly at sloggers is more likely to get you a wicket and was rewarded with a wicket in his second over.
It was also great to see Argha back at the hirsh and his two overs got him 2 very good wickets including a caught and bowled in which he and Suchit nearly ended up inside each other. Billy and Mucca cleared up their tail and we had dominated the first innings, rolling Taufkirchen for 63.
What followed next is difficult to explain as we managed to collapse faster than an Italian football player. Such and Vish started perfectly, playing an excellent array of offensive and defensive cricket shots, before Vishv finally lost his 9th life and was caught on the leg side for a well worked 15. Then the scorecard went 1, 0, 0, 0, 5, 1, 2. Craig had a brain-fade and had a swing at a straight one (number 4 in the 'Slog of the Day' competition, Amol got given LBW to a ball he was certain he middled, Wembo hit one straight back to the bowler and Shivam played all round a straight one. Suchit at the other end was watching in disbelief and with the pressure on him to step up he hit a couple of lovely shots before falling for an excellent 24 trying to up the run rate.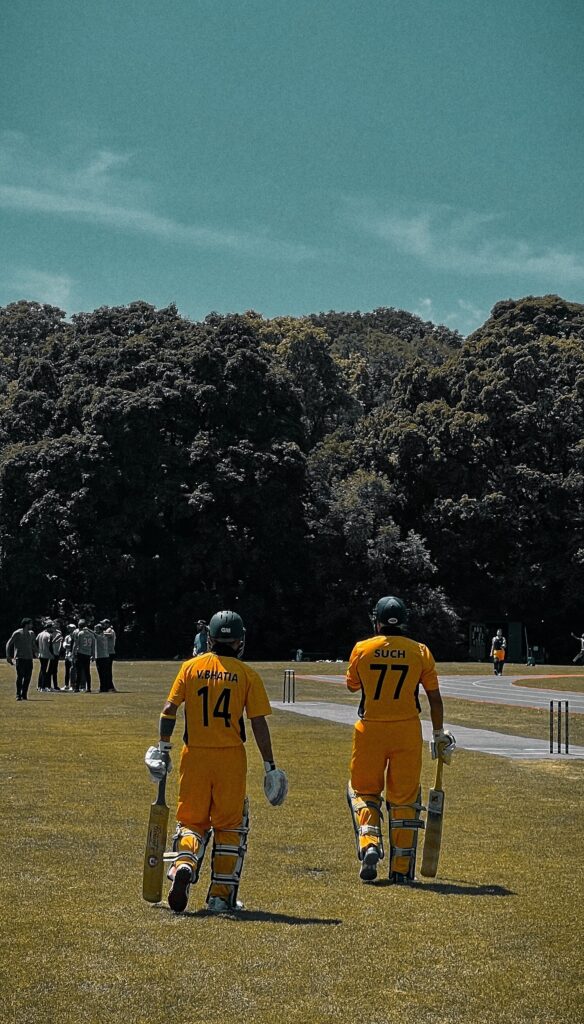 With Jaxon and Mucca in the middle we still weren't totally jittery as Jaxon was looking good early, rotating the strike, however when Mucca dabbed a ball which ended up hitting the corner of the track and rebounding straight into the fielders hands. A dive wasn't enough to save Jaxon and he was run out for 5. Clearly not having seen the scoreboard, Billy and Mucca took off for a single that wasn't there and Mucca was also sadly not saved by a dive. MCC were now 57/8 off only 14 overs still requiring 7 to win.
'Slog of the Day' number 3 was played by Billy, attempting a hockey shot that the chairman would have been proud of and having his middle stump uprooted. MCC 57/9…Waqas and Argha then saw out a maiden, played some fantastic defensive shots, watched a few more balls go down the leg side and eventually we needed 1 to win. With the entire MCC team unable to even communicate with each other through nerves, we stood and watched as Waqas cleared the infield with a lovely drive and punched the air as he ran through for the winning run!!!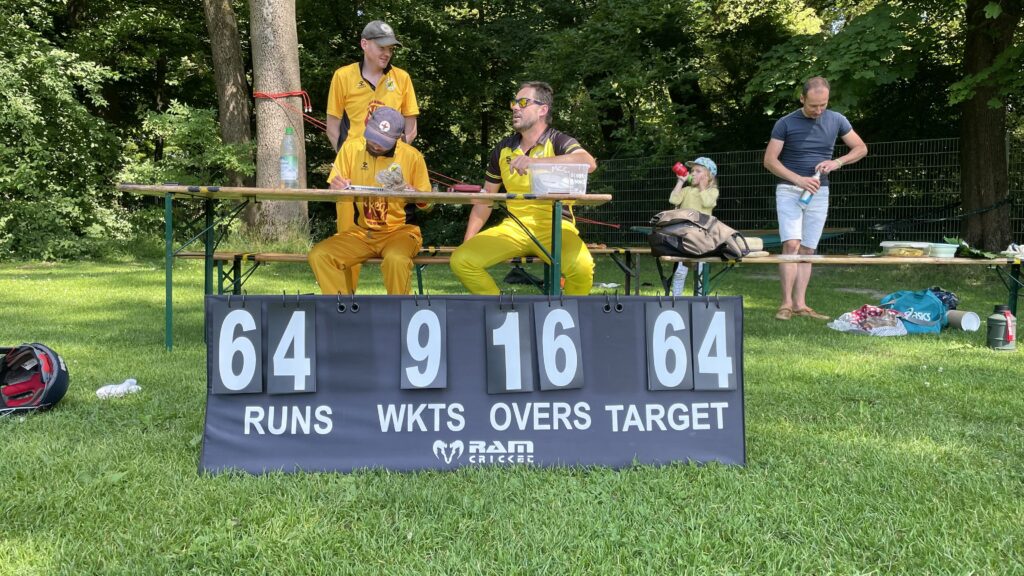 A huge sign of relief… MCC won by 1 wicket!!
The second game was eventful, but ive already written too much, so here are the highlights:
– Won toss, bowled first.
– Their captain asked for a runner, causing chaos and meaning it took us 20 minutes to bowl the first 3 overs – thankfully Waqas removed his middle stump very quickly.
– Billy cleaned up their other opener, with his second wicket caught by Vishy – a brilliant catch at midwicket as all the other fielders decided not to call their own name and run away!
– Vishv took another fantastic catch off the bowling of Mucca, running backwards 10m and taking a diving catch after completing a 180 degree spin!
– Mucca finished with 3 (2 clean bowled), Suchit and Shivam also got in on the wickets late on restricting Taufkirchen to 77.
– PTSD hit us early with Vish and Mucca falling early to some very aggressive bowling.
– Shivam played the number 2 'Slog of the Day' with an attempted scoop which was pouched by first slip who didn't even have to move! MCC were 2/3
– Finally we began to build a great partnership as the maturity of Suchit and Wembo saw us to 60 before Suchit was bowled, leaving him dejected. A great knock though in an eventually match winning partnership.
– Argha played the shot of the day with a square drive that didn't even see more than 0.1 seconds of air and gracefully rolled to the boundary for 4.
– With 2 to win Wembo then won the award for 'Slog Shot of the Day', slogging their spinner over the fence for 6 to win the game with 4 overs to spare!
Player of the day Wembo was awarded his cold beer for fighting his fear of playing 2 games in one day!
Special mentions to Suchit for guiding us home as captain and with the bat and to everyone else for an amazing team effort and taking MCC Fürsten top of the table (probably) with 4 wins from 4!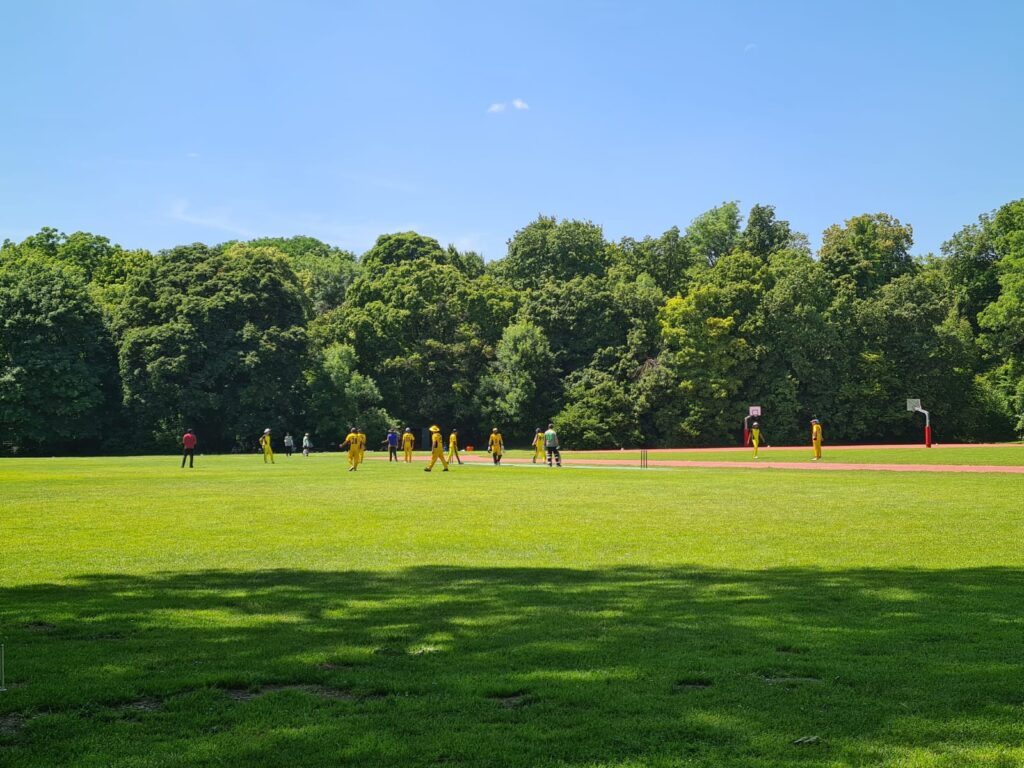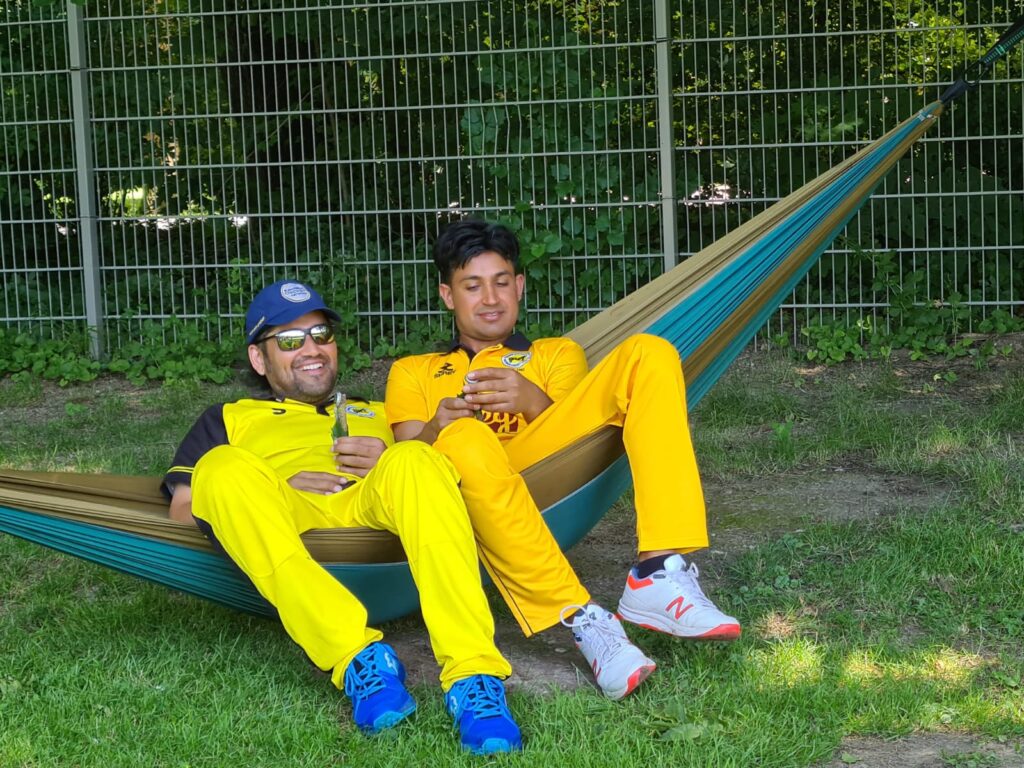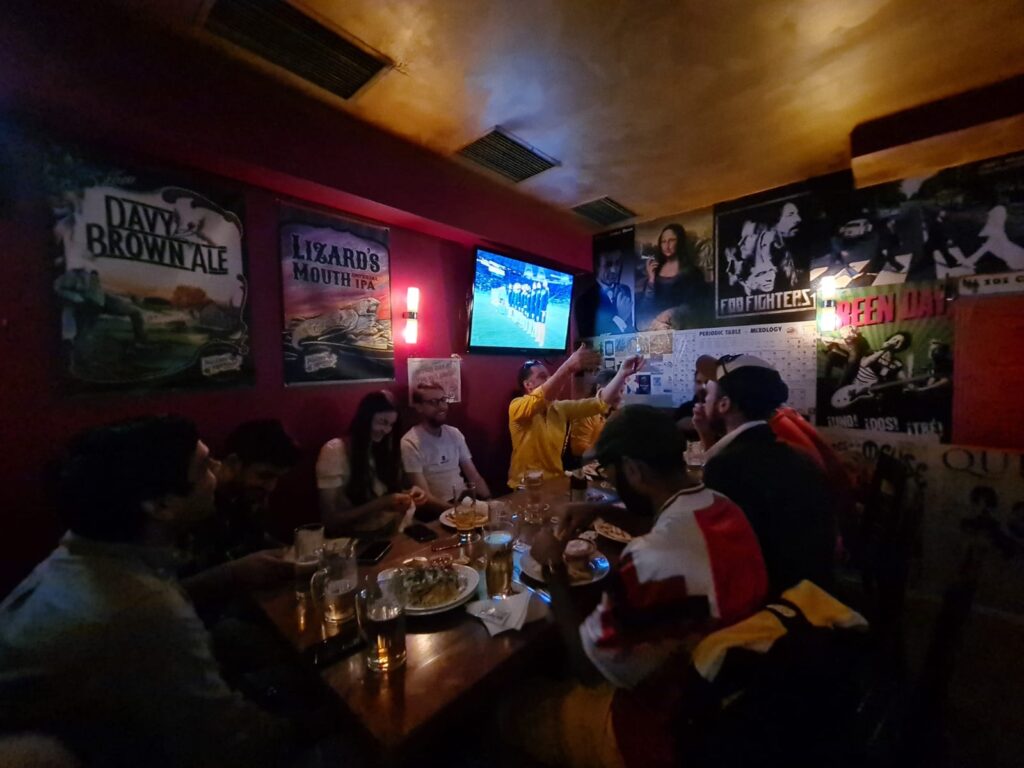 Written by Matt Hancock
Published by Dang-Ling Wang