Match 1: DJK 89/7 v MCC 90/2
Match 2: MCC 114/9 v DJK 111 all out
Player of the day: Waqas
Match 1
Another sunny day at the Hirsh greeted the teams for the first round of the T20 league. MCC captain Altmann wasted no time exhibiting his superior tossing abilities with a correct call that sent DJK Göggingen in to have a bat.
MCC mounted pressure early on the DJK batsman, restricting the scoring in the powerplay overs thanks to some unplayable pace from spearhead Waqas (4 overs for 4 runs, all extras). The pressure eventually got the better of the batsman, resulting in a suicidal run from a free hit (the batsman perhaps wrongly thinking a free hit invalidated run-outs) giving MCC its first wicket (run out Mucca). Further disciplined bowling from Shivam (2-for) and Mucca (0-for, but unlucky) and tight fielding gave MCC a steady stream of wickets through the middle overs. In closing out the innings Craig finally picked up some just rewards (2-for) for a chance-generating spell which was poorly supported by his butter-fingered teammates. An allround (semi-) disciplined bowling attack managed to restrict Extras to only the second highest scorer of the DJK inning of 89/7.
An in-form captain Altmann set about making short work of the awkward chase with an aggressive 34(29) before being bowled, unlucky not to be there at the end with his attacking co-conspirator Mucca 28*(24). The MCC batting unit (90/2) cruised to a 8 wicket victory with 9 overs to spare.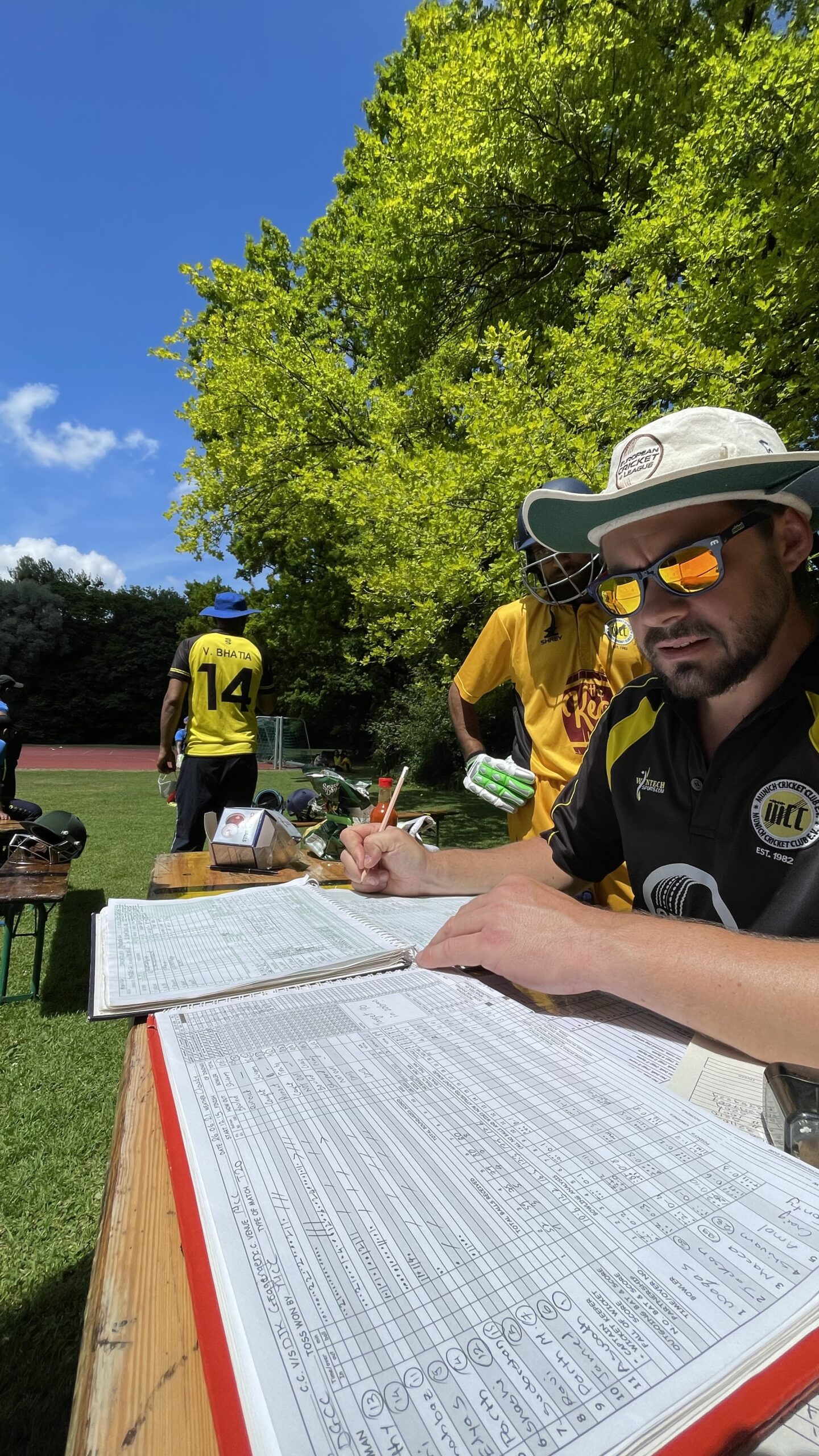 Match 2
After winning the toss for a second time, captain Altmann decided to make use of his padded up batsmen from the first match and elected to bat. The attacking momentum was continued into the MCC's second batting innings of the day with Suchit leading the way compiling an innings high run-a-ball 34. After the loss of a couple of wicket, victims of the ball simply targeting the stumps, MCC found some middle-order resistance in Amol, 18(15), Kunal 11(9), and Shivam 15*(15). MCC narrowly avoided being bowled out thanks to the front foot defence of test specialist Craig Barrett. MCC finished their 20ov 114/9.
Waqas again started the innings off with good lines, length and pace, and DJK batmans struggled to put willow to leather. Mucca provided good support from the other end claiming the first wicket thanks to the lighting reflexes of Amol at short mid-off. Fielding was again on point and brought another run-out (Waqas/Billy). Through good bowling from Macca and Shivam MCC were keeping their noses in front in what was shaping up to be a tight contest. This was until the still-standing DJK opener started picking up the length with ease and made light work reaching the precisely measured 50m boundary. This boundary-laden blitz brought the RRR under 3-an-over with the majority of the DJK batting still to come, and the hopes of a second MCC victory were quickly extinguished.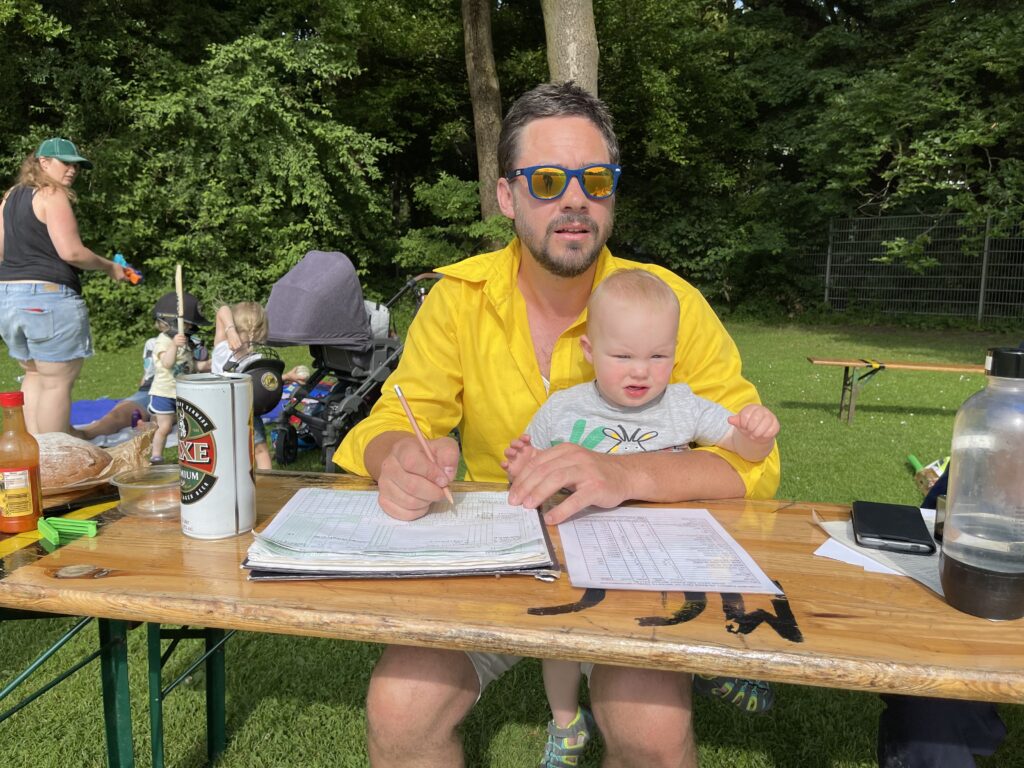 A bowling change provided MCC with some hope when Billy pinned the cross-batting antagonist LBW, and grabbed a second wicket in close succession. With 2 new batsmen at the crease, Captain Altmann snuck in a tight over, before bringing Waqas on to bowl out from the city end. Waqas and Billy bowled brilliantly in tandem, taking the game deep and Waqas picking up a more-than-deserved wicket thanks to some superb catching from Kunal. This nail-biting phase of the match pushed the game into the final over. DJK needed 5 runs to win with 3 wickets in hand. Vice Captain Suchit was tasked with the final over:
Ball 1 - dot (5 to win, 3 wickets in hand)
Ball 2 - single (4 to win, 3 wickets in hand)
Ball 3 - RUN OUT by Suchit/Vishv (4 to win, 2 wickets in hand)
Ball 4 - CAUGHT by MCC super sub with nerves of steel and 3 beer in his system (4 to win, 1 wicket in hand)
Ball 5 - RUN OUT by Vishv moving like a ninja behind the stumps (DJK ALL OUT)
MUNICH CRICKET CLUB VICTORY!!
It was a great team victory, a great start to the league season and a great number of beers were consumed in celebration.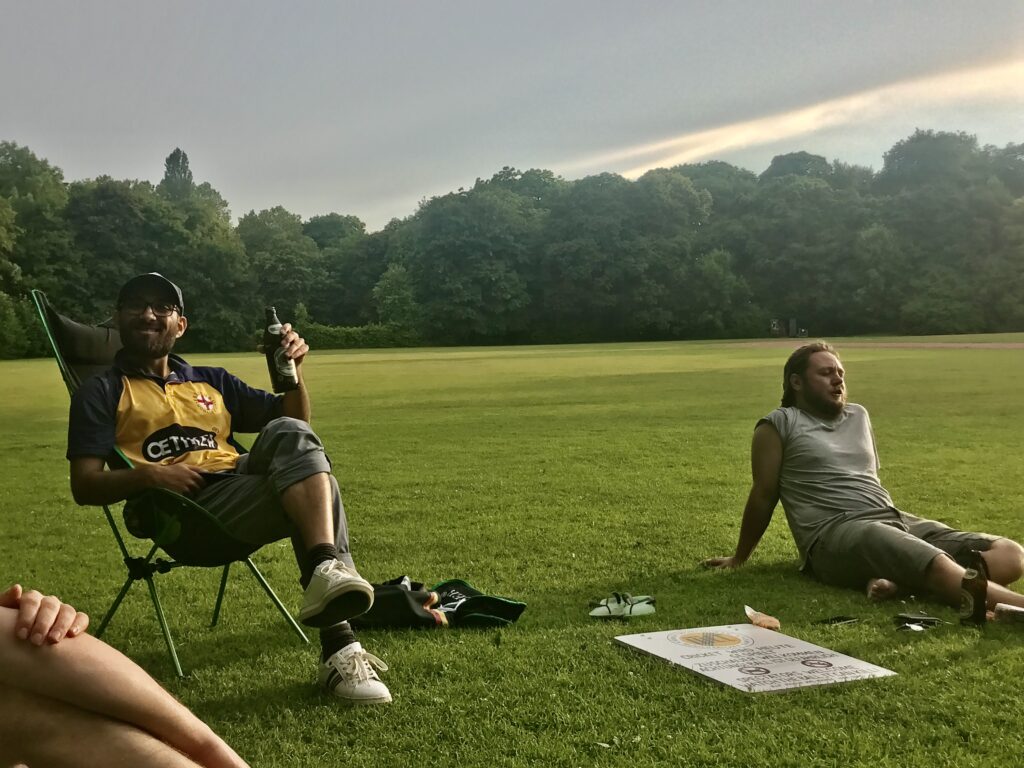 Jaxon