BC Attaching CC 243 all out (S. Saini 6-47) defeated Munich CC 168 all out (C. Singh 22, D. Llewellyn 21)
Man of the Match : S. Saini
Munich Cricket Club sent a cheerful assortment for a 40-over friendly against BC Attaching in sunny Freising – little did they know that it would be just an Andrew-Symonds-lofted-on-drive away from one of the runways at Franz Josef Strauss Flughafen München. With reasonably well-organised car-pooling, most arrived punctually with their negative COVID-19 tests at the nearby baseball fields before realising they belonged to the Freising Grizzlies (not pictured). The environmentally-and-very-friendly Sai Palla elected to reduce his carbon footprint and arrive a short time later by bicycle.
A relatively new club, BC Attaching had all the hallmarks of typical German cricket, boasting a shiny new 10 metre half-pitch of the finest plywood from Hagebaumarkt. On this occasion, it was covered with a comparatively well-tensioned piece of coconut matting with a system of sewn-in straps. Having lost the toss and being sent in to field, MCC soon realised that the five stumps and zero bails standing proudly in the centre were not in fact awaiting finalisation with any remaining pieces but in fact all that was available for the day; in any case, some considered this arrangement a step-up from those plastic kids stumps we encounter away from time to time on our adventures away.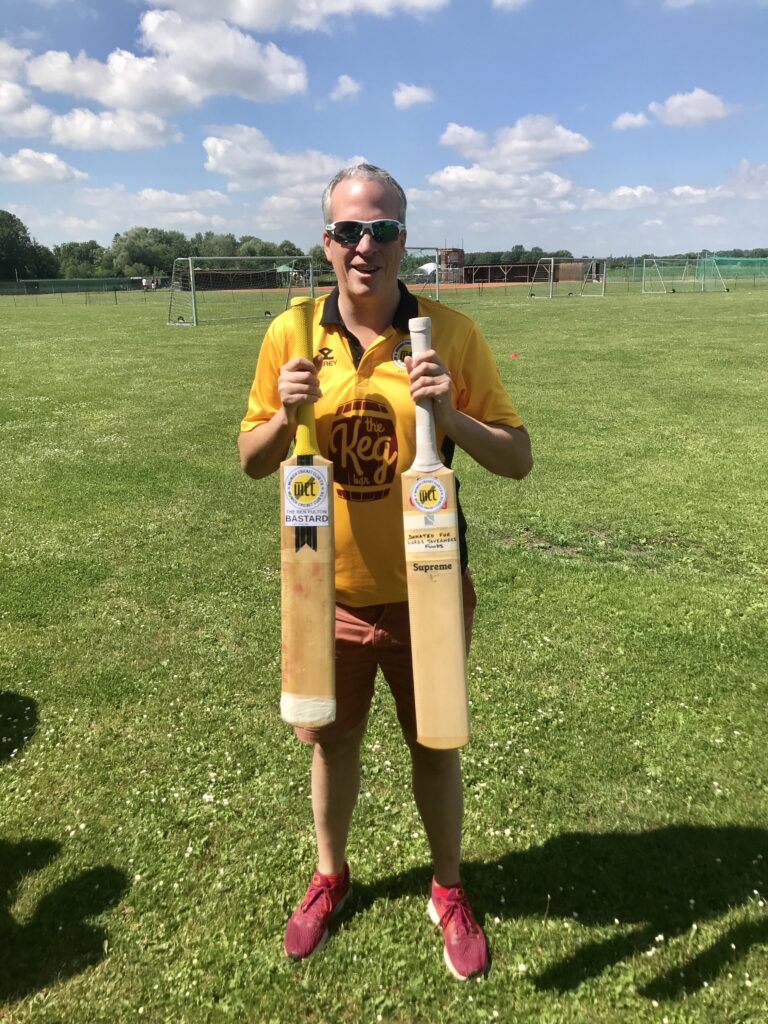 Shivam Saini and Amol Modak made a thundering start opening the bowling; the former snagging the first of his several scalps in the very first over after a miscued fourth ball slog was swallowed nicely by Simrat Singh at mid-off. Shiv took his second after a swipe in the seventh over saw Sanjeev slice one to the shaky-of-late hands at gully belonging to Andrew Wembridge.
The first bowling change brought almost immediate success some overs later with Vishv Bhatia in his first over. He trapped Zeeshan (no, not that one) LBW for a duck with what could be described as 'a lofty delivery that stayed straight' while Vignesh Viswanath could barely contain his laughter behind the bail-less stumps. Batsmen Shashi (no, löl, not that one) and Sundeep (no, not that one either) continued at the crease for something resembling a 80 or 90 run partnership, surviving a handful of dropped catches and a spectacularly funny bat fracture that saw what must have been a top quality blade helicoptering all the way back to the bowler.
Accompanying a disastrous display of wide bowling on both sides of the wicket (though not wide enough to be exonerated as 'dead balls'), Wembridge finally broke the partnership with Singh taking his second catch, this time at secondish slip. Although under reasonable control 4/124 after 27 overs, Munich let slip a little as Craig Barrett turned up to watch – whether the aeroplanes or indeed the cricket match remains noch zu klären – and the run-rate really 'took off' (geddit?) at quite an Attaching rate (hello?).
From memory, the score was around 225 or so when the tenth wicket fell. Although not at all discussed or aligned before the beginning of the match, Captain 4L magnanimously permitted the 12th man who was scrambling out to the middle with some form of pads and bat the chance to enjoy some time in the sunny centre despite the Munich players being already half way off the ground. After a brief onslaught, the visitors were left with a target of 244 after Saini repeatedly blasted 3 of the five stumps away resulting in a magnificent haul of no fewer than six of the ten eleven wickets; the first entry in the MCC 'Michelle' list since early 2019. During the carnage, Jonty Altmann also snagged a very nice caught and bowled despite repeatedly dropping catches off the bowling of everyone else.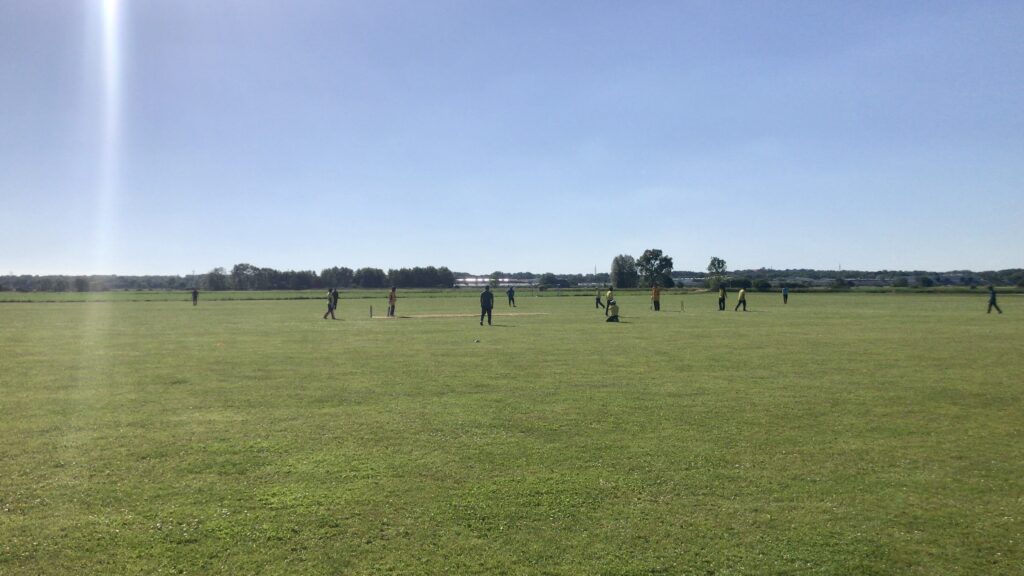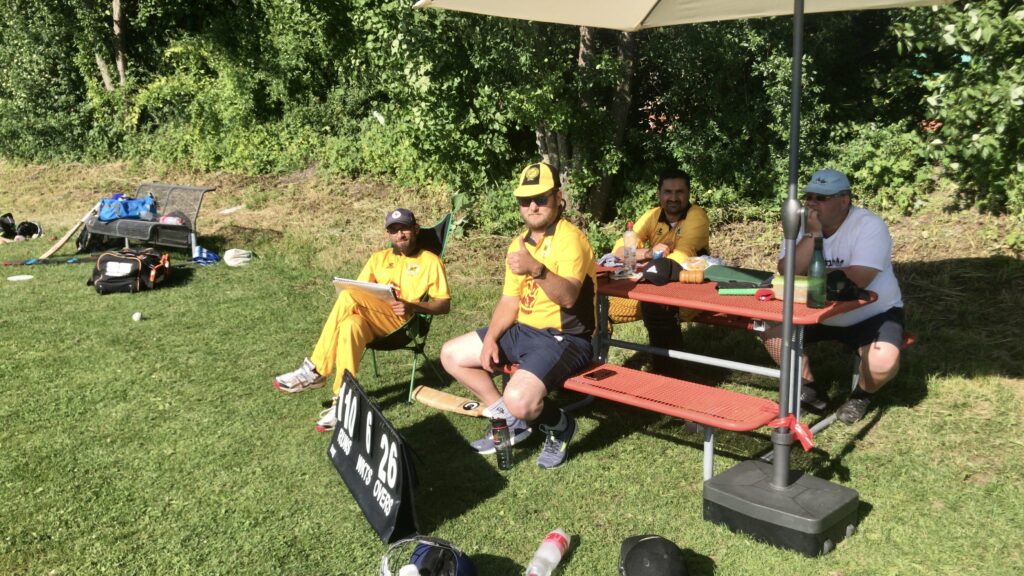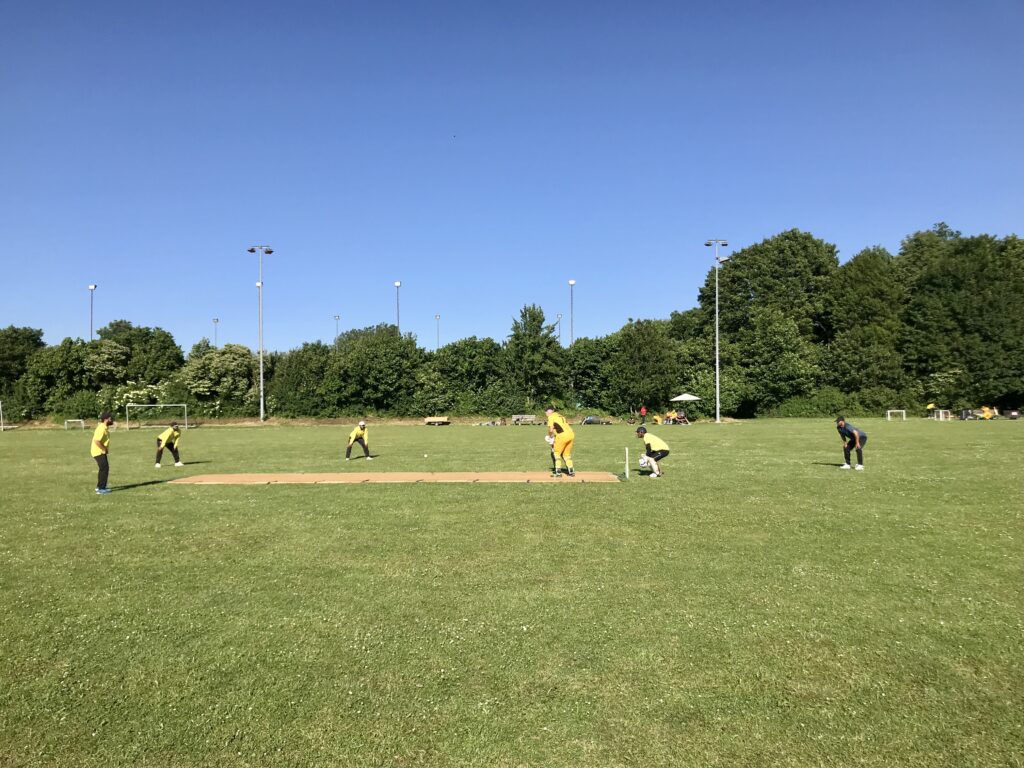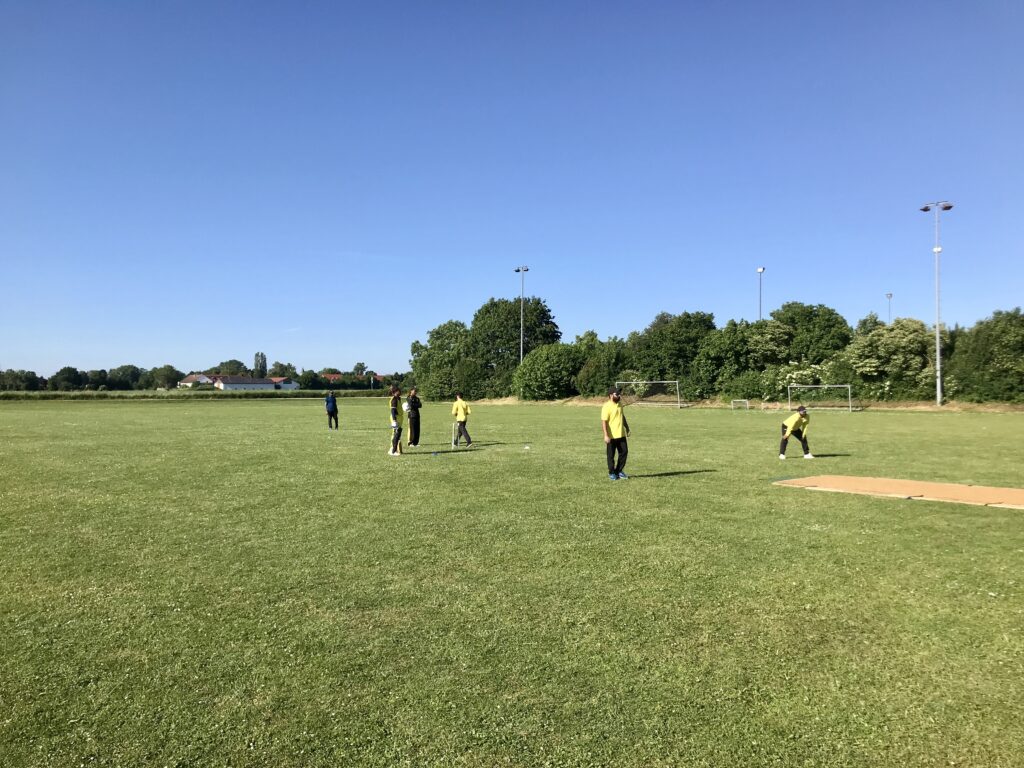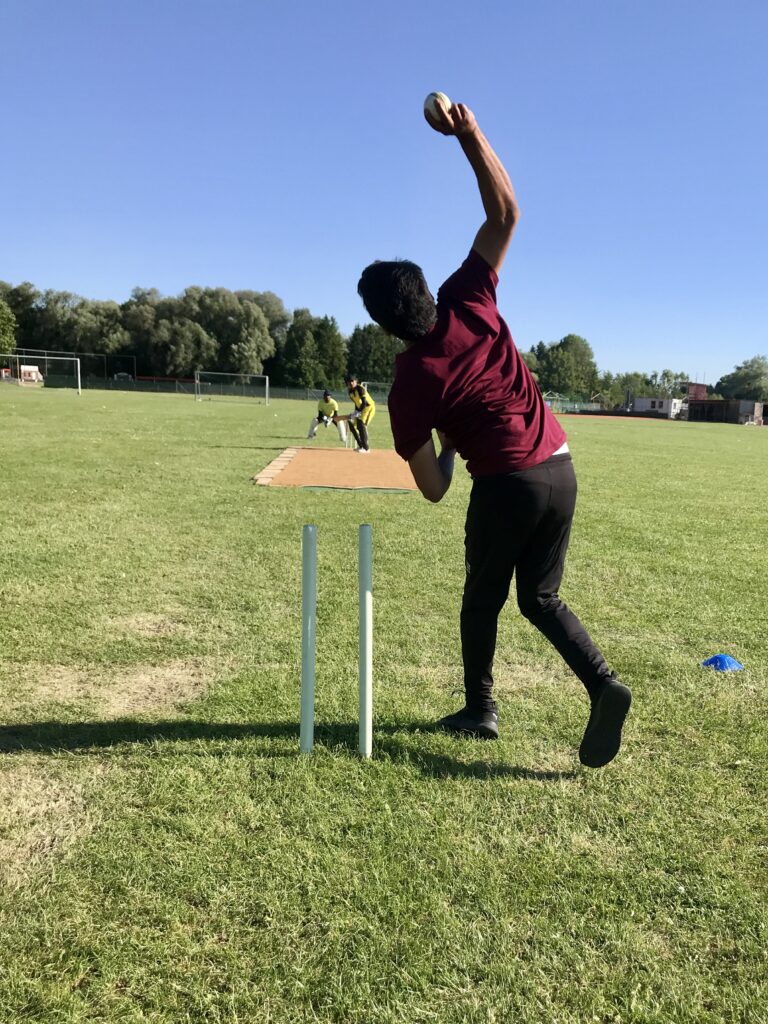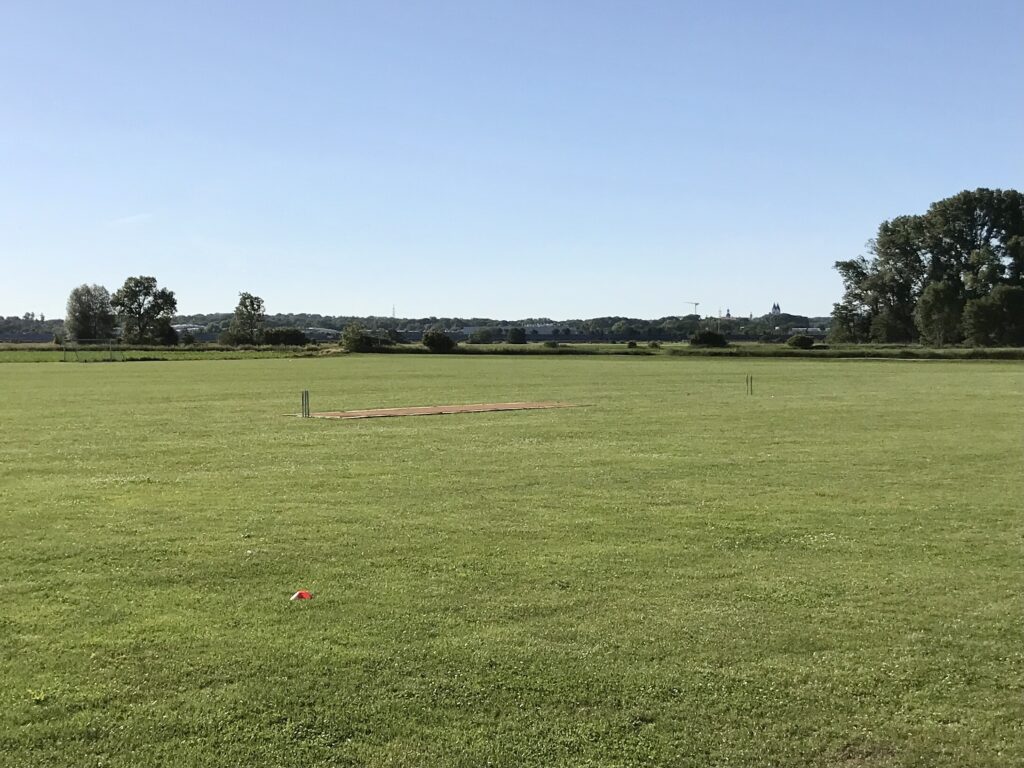 The Munich run chase began with Usman Sandhu and Charanpreet Singh facing the attack in their resplendent Gen1 MCC coloured kits; Usman collecting a handful and Chaz compiling what would be the top score of the MCC innings with twenty-two.
Vishy and Wembo followed on with a partnership of maybe around forty or so of which at least twenty must have been wides, no balls, dead balls, free hits, repeated free hits, dead balls on free hits, fours on dead balls etc. before falling in close succession with the total approaching just 90.

Beyond this, Vinny and Simrat managed ten and seven respectively, Jonty hit one nice four, and 4L carved around what surely must be his highest score with twenty-one before MCC petered out on 168; the final wicket conflating no memories of Ho Chi Minh City with Sai gone, bowled by Yash for a quickfire ten from eleven deliveries. Tạm biệt.
Wendi-Meg Breward