Munich Cricket Club in Malta – Match 01, T20 vs Marsa Representative XI, Friday 22 Mar. 2019
Munich CC 138/7 (20 overs) (N. Arunachalam 50*, J. Altmann 29) defeated by Marsa CC Representative XI 139/6 (18.1 overs) (P. Scott 3-22, O. Davies 2-32)
Man of the match: N. Arunachalam
Malta has been inhabited since around 5900BC with the arrival of settlers from the island of Sicily. Around 8100 years later, the sweet little island, whose name is thought to have been derived from the Greek word for 'honey' (μέλι), was invaded by sixteen representatives of the Munich Cricket Club who attempted to infiltrate the former British (and at times French, Aragonese, Norman, Arab, Greek, Phoenician, Carthaginian and Roman) territory with their brilliant red touring shirts, foul interpretation of cricketing skills, haphazard match arrival times and generally poor standards of personal hygiene.
Gallery 2: Malta's primary exports in 2018 were previously understood by the MCC to be cute doggies and deliciously light chocolate balls
The tourists arrived by aeroplane in dribs and drabs, the majority of whom eventually immersing themselves deeply in Maltese culture on Thursday evening with a visit to The Cork Irish Bar to watch the football. A visit to the 7000 year old, UNESCO world heritage-listed Ħal-Saflieni Hypogeum was a must for selected members on the Friday morning, with others electing to remain in bed after misinterpreting the side-effects of the, er, cocktails served at the White Palace Gentlemen's Club, where 'hand-jobs' were allegedly discovered to be a staggering 100€ each.
Gallery 3: Tour organiser Craig Barrett 1) expressing his complaints about the quality of morning meal available at the Cavalieri Art Hotel in St. Ġiljan and 2) expanding his understanding of Maltese history with an unwashed holiday-maker
Naveen Arunachalam, the highly-respected and deeply-loved MCC member tragically wrenched away from Munich at the end of 2016, was appointed captain of the day after everyone else was too shit-scared to take on the role for fear of being overthrown if we won. Philip Bowes found himself armed with a biro at the helm of the trusty scorebook, with Jonty Altmann and Arun Karthik saluting the crowd as they headed out to battle in the opening T20 fixture against the Marsa CC Representative XI.
The openers got off to a fine start with a partnership of 53 before Karthik was bowled for a reasonable 18 from 28 deliveries. Altmann departed ten runs later for an almost run-a-ball 29 after the bowler managed to successfully juggle a very jolly return catch, despite non-striker Andrew Wembridge attempting to put him off his stride with repetitive flatulence. The shorter-haired Australian clobbered a six but was dismissed the very next ball at deep backward point after a stunning catch in heavy swirling winds by the Maltese-Australian birthday-boy G. Sant.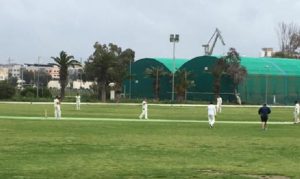 Gallery 4: The Munich Cricket Club opening partnership beginning the campaign
By this stage, Jaymeen Amin had paddled around a few but the scene was set for 'O captain! My Captain!' Nav, who crunched 2 fours and 4 sixes in an unbeaten half-century with the limited overs available, bringing up his 50 off 27 with the final delivery of the innings. With Amin gone for 5, Veith Gattinger had been washed away for a golden duck, George 'Michael' Michahelles fell LBW for 2, Ian 'Baker' Finch for 1 and Paul 'Two Pullovers' Scott remained on 0*. MCC had posted a defendable 138/7.
Scotty opened the bowling at the golf-course end, breaking through with his usual consistency with two catches behind the stumps well-snaffled by the barely conscious Altmann. Adrian Brooks at the other end was unlucky to miss out on a scalp of his own, finishing with 0/34; Scott finishing with 3/22.
The first-change bowling attack consisted of captain Nav and Owen Davies, who took one and two wickets respectively. Davies' third over was a highlight for both Marsa and Munich Cricket Clubs, with 20+ runs scored and the wicket of the dangerous opener 'Boy' George snared with some deft glovework behind the stumps. Even more chuffed was Mr. Joe Vella of Regency Panel Beaters who received an estimated 1400€ of new business from three new customers unfortunate enough to park within a 120m radius of Davies' bowling.
Gallery 5: Letter of thanks from the President of Malta to Owen Davies for stimulating investment in the national automotive industry and the celebratory dinner held in his honour that evening, where Arun Karthik indicates how many vehicles were smashed.
In the meanwhile, 'Mike' Gatting(er) and Baker-Finch tried their luck rolling their (own) arms over, unfortunately with limited success; Veith conceding 0/16 from three overs and Ian being whalloped with 0/29 from two. After having his attempt at a sky-high catch brutally interrupted by a later-very sheepish and apologetic Wembridge, Michahelles bowled the final ball of the afternoon to see Marsa tiptoe over the line with 10 balls to spare.
An enchanted Friday evening was to follow, with burgering, steaking and wining preceding a return to the infamous Cork Irish Pub for yet another viewing of some other sport-related event. Munich-born Veith Gattinger concluded the night's proceedings with a romantic pierside stroll, where, being far from the comfort of his native inland lakes, he was rather callously introduced to the concept of currents and tidal patterns of the Mediterranean Sea.
Gallery 6: The MCC Schatzmeister challenges the notion that it takes two to tango
Fed, watered and eventually dried, the tourists returned to the comfort of their respective Hotelzimmer to rest up for the sunny adventures awaiting Saturday's big 40 over match of the morrow. Scorecard
Wendi-Meg Breward