Despite a long away journey as well as late pull outs and call ups, ten men from Munich arrived punctually at Karlsruhe SCC for the match. The SCC, who proved to be excellent hosts, not only provided us with two extra players (one of whom, Mudit, was immediately dubbed the new Mudi), but also allowed us free choice of the toss, Wembo gladly electing to bat on an excellent batting track.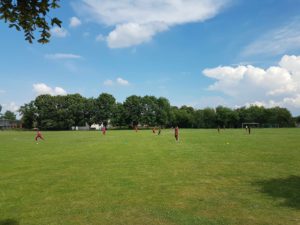 Above: Cricket in Karlsruhe
At 16/3 from 12 overs (Wembo run out in a horrible mixup that had him muttering about calling protocols, Zeeshan and Sumeet bowled), this decision was starting to seem less wise. A pair of stubborn and patient 17s from 51ish balls by Macca and Usman helped us begin to rebuild, before Macca was unfortunate to be caught at third man off a top edged cut. Rahul and Faf (12 each) then helped to push the score along, but when the latter fell in the 31st over, leaving the score at 109/6, trouble beckoned. However, Shashi held his nerve and combined sensible batting with occasional power hitting to guide the score to 156 with a valuable 25 (falling in the final over).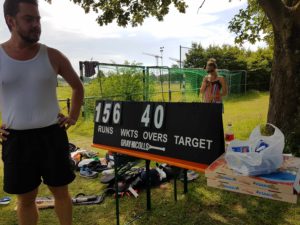 Above: Wembo contemplates the situation.
Imtiaz and Faf then greeted the SCC openers with a hostile opening spell of bowling, the concrete wicket helping them to generate considerable pace and bounce. However, although they beat the bat on numerous occasions, and even took the edge a couple of times without it going to hand, the SCC openers showed a remarkable knack of keeping out the straight balls. Nevertheless, pressure was built, with SCC at 25-odd off the first ten overs. However, with the 30-degree heat starting to get to the fielding side and the SCC batsmen beginning to open up with a brace of boundaries (three overs later, they had doubled their score to 58), a wicket was needed.
Faf (drenched in sweat and water, having dunked himself under the water pump) was able to deliver just this, extracting Ibrahim, the dangerman and top-non-extras-scoring batsman in the game (he made 32) with a sharp bouncer that took the glove, Sumeet snaffling it down the leg side. One brought two, as Shashi's introduction to the attack brought an immediate impact: The other SCC opener took half a look at his bowling and attempted a wild heave off his first ball, resulting in his stumps being rearranged.
With Faf bowled out, SCC's donation, Mudit, was brought on to bowl. He made an immediate impact, reaffirming the importance of bowling straight as he hit the woodwork three times in his first ten balls. Shashi struck again several overs later to leave the opposition teetering at about 80-6. However, the SCC played a sensible hand, joined by the SCC captain, who soon smashed a on
e-bounce four over extra cover.
With the score at 130ish-6 and MCC seemingly played out of the game, Wembo brought himself on and demonstrated the danger of the short, wide long hop. He bowled a ball that not only tested the middle of the pitch (coming up short to the test – it barely passed waist height), but was also so wide that observers were unsure whether it was actually still in Karlsruhe. The batsman reached across to smash it several metres left of Zeeshan. Four runs, he must have thought. Not a chance, thought Zeeshan, who stunned onlookers with a flying leap, taking the ball with an incredible one-handed catch at full stretch.
A combination of fine bowling (Macca, Wembo) and fine catching (the new Mudi and Wembo, who took a pair of steeplers) then brought the equation to six runs to win with one wicket remaining. Macca then took a thick edge off No 12's bat, Sumeet catching the ball behind his body to complete a sensational win for the MCC.
Batting:
Shashi 25
Usman 17
Macca 17
Extras 52
Bowling:
Macca 2.4 overs 3-14
Mudit 5 overs 3-17
Wembo 2 overs 2-6
Shashi 7 overs 2-27
Faf 8 overs 1-25
(And yes, that is 11 wickets)
MoM:
A tight contest between Macca and Shashi (Mudit is disqualified as he hasn't paid his subs…), but edged by Shashi for a very important 25 along with a tight spell that delivered a pair of crucial wickets.
PdP