MCC 1st XI 147-10 (37.4 overs) (M. Hoeck 23, Mah. Khan 21) defeated by Ernsgaden CC 148-8 (29.0 overs) (W. Khan 4-45, A. Dube 2-29)
MCC Man of the match: Waqas Khan
♫ "There is a house in New Orleans
They call the Rising Sun
And it's been the ruin of many a poor boy
And God I know I'm one" ♫
Conventional wisdom suggests that "The Animals" were referring to a well-frequented brothel in Lousiana all the way back then in 1964, although they could very well have been singing about playing cricket on a lively wicket that pops up as often as it skids flat. Simply consider that (quite plausibly) the lyrics "house" and "New Orleans" were muddled up with "Flicx pitch" and "the English gardens" respectively, and you will doubtlessly feel an incorrigible urge to don a grey jacket and black necktie with your MCC coloured kit, comb your hair like a mushroom and break out into song.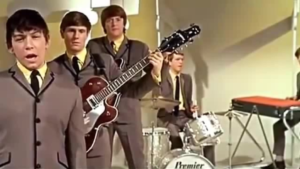 The Animals wearing the 1964 version of MCC coloured playing kit, including necktie.
(Picture: youtube)
Fast-forwarding some sixty-odd years and Bavarian league cricket was finally back. BCV law and order was off to a flying start when the umpire explicitly forbade smoking or drinking within the confines of the Sportanlage and dutifuly proceeded to inspect our still-as-yet-unissued Spielerpässe. Never mind; any form of Ausweiss seemed to suffice in this case. Toss won and full of beans, Captain Jon Deverill elected to bat and headed out to the said Flicx with Andrew Wembridge for the kickoff. The Ernsgaden opening bowling strategy seemed to centre around cleverly placing a short-fine leg and bowling short balls down the leg side, where Wembridge narrowly avoided being caught with his first scoring shot.
♫ "My mother was a tailor
She sewed my new blue jeans
My father was a gamblin' man
Down in New Orleans" ♫
Deverill fly-swatted a rank shortball outside off and was easily caught at point. Beginning his walk back to our non-existent pavillion, the umpire kindly informed him that he wasn't out, as any ball bouncing over shoulder height was in fact a no ball. Sure, whatever, JD didn't complain. At the time. Anyway, today's new no ball rules apparently also decreed that we couldn't run on this particular no-ball, and the openers were sent back to their respective ends.
A handful of runs (mainly wides) later, Wembridge was caught at fly slip off the shoulder of his bat to a ball which unfortunately failed to skid. The crowd were delighted to see unseren bayerischen Löwe Maximillian Hoeck back out at the crease and were even more delighted when he was dropped by the cover fieldsman before scoring a run.
Being caught in that nasty legside trap itself, the captain was replaced shortly thereafter by "Vroom Vroom" Varun Deshpande, who was trapped LBW for a duck after expecting the ball to actually bounce. Jonty Altmann and "bang bang" Maxwell put on a very reasonable 25 run partnership, before one of Max' lusty blows found itself stuck safely in opposition hands. He had hit five fours in his top-scoring knock of 23.
♫ "Now the only thing a gambler needs
Is a suitcase and trunk
And the only time he'll be satisfied
Is when he's all drunk" ♫
Mudussir Ayub joined his dreadlocked pal and managed to get off the mark when four leg byes down leg side were kindly not signaled by the umpire. Unfortunately, the kindness ended there as two balls later a clearly disdainful interpretation of law 36 rendered the talented Pakistani in disbelief as he trudged back off the field.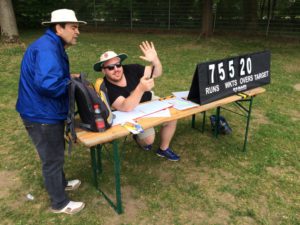 Recently-arrived Sarth Efrican Ivan Bekker indicating how many wickets had fallen as per the umpire's new human scoreboard initiative. (Picture: A. Wembridge)
Mahmoud Khan showed us how to play cricket yet again as he and Altmann toughed out a disciplined 40 run partnership in exactly the style of batting required to settle a shaky innings. In the 30th over, he finally fell for 23 with the total on 107. Ali Khan's disciplined innings was also well-noted. He and Altmann put on 27 before the nuggety left-hander was caught.
Jonty, having collected 15 runs at this point but obviously distraught at losing Ali, decided to go out the very next ball. MCC league debutants Aditya Dube and Pierre du Plessis put on a couple of runs but were each dismissed trying to get the ball away at all costs in the dying overs. Waqas remained 1* and MCC were dismissed for 147 having batted 37.4 overs. Okay. Not our greatest score, but the team are still ironing out (so to speak) a few wrinkles (in the new pitch) and it would have been difficult to say that anyone batted irresponsibly. Defendable? Sure. Bring 'em on.
♫ "Oh mother tell your children
Not to do what I have done
Spend your lives in sin and misery
In the House of the Rising Sun" ♫
Waqas opened the bowling from the city end with a loosening but bouncy over really getting some kick out of the pitch. The EGCC batsmen made it very clear that conventional opening batsman they were not. The bowler took advantage of this and struck in his second over, splattering 'EGCC Usman's' wickets with a fuller ball. Pierre struck with the very next ball, where a slash found a thick edge to a perfectly positioned (!) fly slip, who swallowed it promptly. The fieldsman? Our very own Waqas Khan, being involved in back-to-back wickets.
So vicious was the combination of improperly stretched, new Flicx pitch and Waqas that batsman '03' (in both number and batting position) hobbled off the ground after copping a crippling blow to the elbow. Ernsgaden seemed to have adjusted to both left-arm inswingers despite the injury, though a fumbled edge behind the stumps and the fumbled certain-runout of the non-striker at the other end did unfortunately contribute to the lack of wickets.
Mudussir Ayub was handed the ball and delivered a wide with his first. Resisting the urge let this dishearten him, he bowled the bloke the next ball. Maxi Hoeck came on for a trundle too but with limited success, being dragged after a rather sombre 18-runs from his second over. Aditya 'Doobie' Dube came on and struck in his first MCC league over, with Varun swallowing a wayward prod to cover. Waqas was reintroduced to the attack and bowled a very nice maiden; clever captain JD noticing that the injured batsman had returned and was shitting himself at the prospect of facing the thunderbolt Pakistani again.
♫ "Well, I got one foot on the platform
The other foot on the train
I'm goin' back to New Orleans
To wear that ball and chain" ♫
The game still very much in the balance, Waqas bowled yet another bloke but the EGCC had seemingly changed their batting strategy to that of picking off slightly skew balls, rather than simply windmilling at every ball. Ali Lodhi Khan, wicket-keeping with masterful agility and conceding a mere 5 byes for the match, not to mentioned preventing 5-wides on more than one occasion, took a nice catch off the gloves from his namesake (the Khan part, not the Lodhi part), followed by another one off the same namesake but this time a short, rank, legside hurl. Four wickets for Waqas, who, credit to him, barely celebrated that wicket after conceding himself that it was a shit ball.
Not many runs to play with but living dangerously with only three wickets in hand, the feeble EGCC number nine (or shirt number 04) was trapped by Aditya LBW after he not only failed to play a shot, but failed to do anything beside hop on the spot. The tension rises another notch. Next ball. Aditya to the new batsman, who swatted it precisely to the chest of a perfectly positioned Wembridge at cow corner, who inexplicably dropped it. Murmurs resembling something like 'he's just dropped the World Cup' resonated throughout the field from a few well-wishing team mates as well as the Twos who were excitedly cheering us on from the boundary, having returned from their smoky (vapey?) battle against CCB. C'est la vie. At least the beer was cold, as can be attested by Ivan Bekker, a South African whose extraordinary kindess had him ploughing through the scorebook for most of the afternoon, for which we are very grateful. Welcome aboard for the summer, boet.
Anyway, without much more of interest, EGCC made it over the line and the MCC sadly missed out on that first big league win of the season that we could all but taste. What was evident was a tight-knit team made their way off the field together without any remote feeling of despair – in fact, quite the contrary – a team who could feel that they were on the rise.
♫ "Well, there is a Flicx pitch in the English gardens
They call the Rising Sun
And it's been the ruin of many a poor boy
And God I know I'm one" ♫

Enjoying a curry with the usual suspects after the match. Not pictured: oddly enough, any form of curry. (Picture: The waiter at Sitar c/o I. Bekker.)
Wendi-Meg Breward
W-MB