Most runs scored: J. Deverill (106 runs); Most wickets taken: P. Scott, C. Barrett, A. Wembridge, V. Gattinger (2 wickets each); Most catches: V. Gattinger (3 catches)

MCC Praf of a tour: P. Toke
Not too long ago, on a wicket not too far far away….
Thursday:
Fully ready for some cricket and ready to blow off some steam, 12 MCC men made their way to Alicante via various methods of transportation. Craig Barrett and myself took an early morning flight via Madrid to Alicante. Turns out one of the aircrafts had some repairs written by Craig – much to his delight. As he was telling me various aircraft related anecdotes, I found myself contemplating whether I had lived life to the full and if it was still possible to escape the Barrett fixed aircraft. Luckily, we survived. Upon arrival, a car was hired, and we drove to the UNESCO site "la palmera de elche" to meet up with Mr and Mrs Wembridge. They had set off a week earlier and decided to drive to Alicante by car, visiting a plethora of UNESCO sites en route. After realising it was just a bunch of palm trees, it was decided that a bit of cricket would add some much-needed culture to the place. Wembridge decided to save his energy and be the umpire of the day, since he was still recovering from a bout of food poisoning after eating an Andorran seafood paella in the Pyrenees mountains!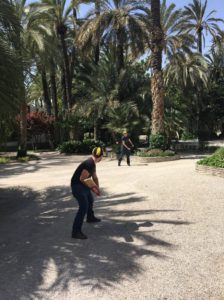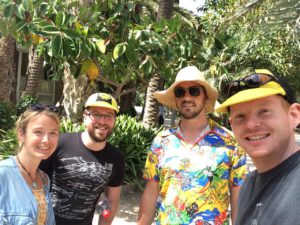 Cricket in "la palmera de elche" and Wembo taking tourism seriously.
After a short trip on the autopista, we arrived at our hotel in Albir. Following the check in, we were greeted by Messrs Deverill and Finch who were enjoying some pool-side sun with the "high society" of Albir. Not too long after, the remainder of the squad had checked in, apart from Dave Carr who was on a late flight. Since all of our bellies were grumbling, we set out to find a place to eat for the evening. Having walked past dozens of places offering full English breakfast, it dawned on us that Albir might not be the most Spanish of places in Spain. Skipper Deverill who was not too impressed with the cuisine on offer, asked his smartphone "fine dining near me". After being told the closest fine dining place was more than 20 miles away, we settled for some pizza. Finch reckoned Wembo could not manage a jumbo deep-dish Texan pizza but was soon proven wrong by the Australian who had polished off the whole thing (with tabasco!!! How is this humanly possible after food poisoning???), although he went missing for a couple of hours after departing the restaurant. The squad then wound down with a few cold beers and some questionable wine. Dave Carr finally arrived, and everyone got some sleep before the big match the next day.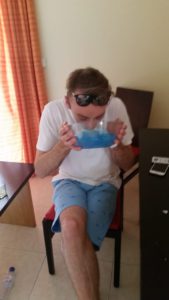 Hydrating before said big match
Bright and early, MCC descended upon the free breakfast to gather some strength. After imbibing what can only be described as an insult to coffee, some errands were run and MCC made its way to the local cricket ground. Many of us could have wept with joy upon arrival. A proper club-house with a picket fence, an electronic scoreboard, permanent nets, astro wicket, mountains in the background… the list goes on. We were in for a magnificent weekend! After getting to know the local club members a little, captain Deverill won the toss and decided to have a bat.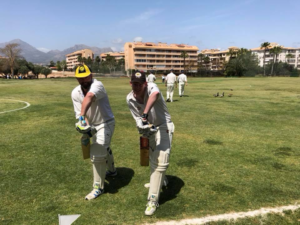 Messrs Deverill and Barrett warming up with some doubles cricket
Skipper Deverill and Craig Barrett opened the batting for MCC. It soon became very obvious that there was plenty of trusty bounce with plenty of runs to be had off the backfoot. The opening partnership was going very nicely, scoring freely with plenty of boundaries. It was going on so nicely, that after 20 overs Dave Carr started to get a little impatient since he was due to bat next. It was a pleasure to watch this partnership, not just for the sheer number of quality shots played, but for watching an opposition which truly respected the spirit of the game. The utter silence due to the lack of appealing when a ball hit the strikers pads that was clearly not LBW, was pure bliss. The skipper reached a masterfully crafted fifty much to MCC's delight. Dave Carr then proceeded to sledge the skipper a little with the general message being "get off let me have a go". J.D. kindly obliged by allowing himself to be stumped on 56 in the 24th over. The pad-rashed Dave Carr raced out to the middle to join the Englishman in the middle. The run-rate stagnated a little, due to some pin-point precision bowling by the opposing bowler in the form of an 84-year-old Jägermeister fuelled former county cricketer for Notts. Nevertheless, the Englishman Barrett having persevered to knock up a test-match-esque fifty (his maiden fifty for MCC, well done indeed Craig), kindly retired to allow Naveen to have a bat. Considering that the Englishman could have easily beaten his previous high score of 70-odd, this was truly a selfless act.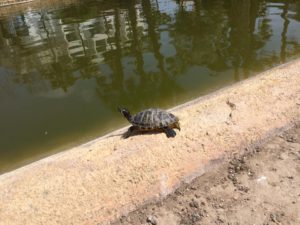 Craig's spirit animal bathes in the sun during his innings.

George Michahelles giving a few putting lessons while Barrett batted
The cricket gods are obviously a right bunch of see you next Tuesdays and decided to punish MCC shortly after. Both Carr and Arunachalam were consequently caught within a single over to bring Wembridge and Bowes to the crease. Wembridge decided to get his eye in with a few dots and singles, whereas Bowes smashed a quickfire 22 off 14 balls including two fours and a six, before his stumps were obliterated. Pilot George Michaelles walked out to the middle to join the Australian. After some shouts from the side-lines that he should just have a f***ing slog, Wembridge obediently dispatched two deliveries out of the ground. Michahelles managed to get a single off his 9 balls faced which brought the MCC innings to a close on 220 runs with the Australian on 26* and the pilot on 1*. A serious highlight of the day was the teas provided by our most generous hosts. They were magnificent. Pork pies, cheese and pickle sandwiches, strawberries, ACTUAL tea…. I better stop here since just the sheer thought of the tees is making me rather peckish. Anyhow, MCC stocked up on some calories and took to the field shortly after.
Paul Scott and Jonty Altmann opened the bowling for MCC. The former's first over went for five, whereas the latter's first over was a maiden owing to some – as the opposing batsman later said – proper banana balls. Scott struck in the first over to open his account as the semi-centurion Barrett gobbled one at point. Though the next 10ish overs did not bring any wickets, they were rather economical and more importantly not a single wide bowled until the 11th over. It should be noted though, with it being proper cricket and all, a legside ball was not automatically a wide. This is also largely due to the luxury of us having a quality umpire for both matches – not a single complaint was made about the umpiring in both matches. Maybe we can all chip him and get him to do a crash-course on what is LBW and what not….
Anyways, strayed a little off topic there. Back to the match. The opposition's number three reached 53, and as was convention for this weekend, retired after reaching his half century. With the set batsman gone, Ian Finch removed the other opener due to a superb catch by Veith – which would prove to be his speciality of the tour. Wembridge removed the oppositions number four, with their number five also retiring after reaching 50. Scott took a catch of Barrets bowling and Wembridge took a second wicket as the striker holed out to our resident Rastafarian. Arunachalam managed Nav-igate one through bat and pad and the remaining strikers were kind enough to hang around to the end of their innings to save the Jägermeister fuelled bowling machine from brushing the dust off his bat. MCC won by 8 runs and all was good. Both teams shared plenty of beer at the close of play to quench our considerable thirst. Most importantly, having bowled less the 10 wides, the skipper got a round in for the whole squad (hear, hear). Feeling rather peckish, the hunt for a suitable restaurant began again. A steakhouse was chosen to be worthy of our thoroughly deserved victory feast. Owing to some superb wine (at last) served by our waiter Simon (who surprise, surprise was also British), the exact details of the remainder of the night are not entirely clear so we'll skip ahead to the part where we all went to bed thoroughly content after a superb day out.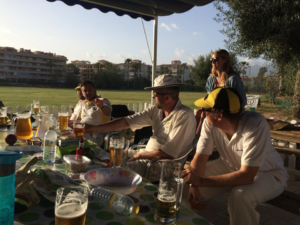 Wembridge asks the skipper to pull his finger

Nav is taught some cross-seam bowling as Finch wonders why Scott has an invisible glass
MCC match 1 stats:
1. J. Deverill, 56, stumped
2. C. Barrett, 50*, retired not out, 8 overs, 38 runs, 1 wkt, 1 catch
3. D. Carr, 17, caught, 2 overs, 25 runs, 0 wkts, 1 catch
4. N. Arunachalam, 9, caught, 6 overs, 24 runs, 1 wkt
5. P. Bowes, 22, bowled
6. A. Wembridge, 26*, 8 overs, 43 runs, 2 wkts
7. G. Michahelles, 1*
8. J. Altmann, DNB, 6 overs, 32 runs, 0 wkts, 1 catch
9. V. Gattinger, DNB, 1 catch
10. P. Scott, DNB, 8 overs, 20 runs, 1 wkt, 1 catch
11. I. Finch, DNB, 2 overs, 24 runs, 1 wkt
MCC, 220 – 5 in 40.0 overs, beat Alicante Alfas, 212 – 9 in 40 overs, by 8 runs
MCC extras: 14 (2nb 6w!!!! 2b 4lb)
MCC MOM: C. Barrett
Saturday Match 2:
As the sun rose, there were some seriously sore heads in dire need of some proper coffee. Not willing to make the same mistake twice, some made their way to a café across the road for a proper breakfast, while some were clearly too hungover to remember the previous mornings breakfast calamity and suffered through it again. After some naps, Thai massages and errands run, eventually everyone made it to the ground. The opposition was playing their first team for this match. Nevertheless, the skipper confidently walked to the crease for the toss, which unfortunately was lost and MCC was put in the field.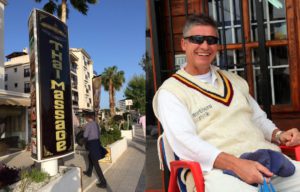 Must have been a damn good massage
MCC opened the bowling again with Scott and Altmann. The first over was fairly economical with the batsmen deciding to get their eyes in first. From the second over onwards, they launched an all-out attack on the MCC bowlers and with the score on 67-0 at a run rate of 6.1 after 11 overs, the skipper took matters in his own hands. Deverills first two overs went for 9. At the other end, Scott was bowling his last over and put in the extra effort to finally pick up the first wicket for MCC. The next over was a fairly entertaining one – for both sides. Captain Deverills first four balls went for 6,4,3, and 4 but he removed the in-form batsman as Gattinger took a fantastic catch at deep square leg. Next, Barrett and Arunachalam bowled in tandem. The Englishman struck in his first over as Gattinger took yet another belter of a catch at deep square leg! In the next over, one of these fantastically odd moments occurred which cricket produces from time to time. Nav bowls his delivery. The striker smashes it back at him. Has he caught it? No, No, No he has dropped it. But wait a minute. What is this? It fell on to the stumps!!! Nav realised that the non-striker (who had not even faced a ball) was dutifully backing up and was therefore out of his crease. Exuberantly, he appealed for a run out, and a rather confused umpire consequently gave the non-striker out without having faced a single delivery. Wembridge bowled two overs and then Finch and Gattinger were tasked with getting a wicket. The former was carted for a few sixes, whereas the latter applied his catching form to his bowling and had the striker caught on 56 by the keeper. Dave Carr struck with his very first delivery, having the batsman caught on 41 by his fellow countryman Wembridge. The on fire Gattinger trapped one LBW, after which another batsman retired on 50. The pilot crash landed the oppositions innings after Jonty Altmann took a sensational running catch. If this had been the IPL it would surely have to have been the Vodafone-McDonalds-Durex-Bridgestone-Kookaburra-Super-Mega-catch of the match or something along those lines… Anyway, the opposition were bowled out after 38.3 overs having posted a mammoth 331 runs – gulp –
MCC tucked into some delicious teas again as we pondered whether this target could be chased. Sufficiently nourished, Jonty and Wembo arrived at the crease to open the batting. The opposition started with some pacey length balls with Jonty on strike for the first over. The scorecard reads: dot, dot, dot, dot, dot, wicket – caught as the Australian popped one up to bring up what was not going to be the only duck of MCC's innings. The batsmen managed to cross to put skipper Deverill on strike for the next over. In exuberant fashion, Deverill drove through the covers to score 10 off the second over. Wembridge got a single, after which my scoring pencil was in severe danger of being blunted by the amount of dot balls. 14 dot balls later, the Australian departed having been caught in the eight over. His replacement Naveen, having scored a boundary off his 5 deliveries faced, was then also caught to bring the thai-massaged Paul Scott to the crease. What followed was a wonderful partnership of 68 off 12 overs which was a true pleasure to watch. At one end skipper Deverill was making us all look silly by continuously cover driving for four. At the other end Scott batted on defiantly. And to his and our great surprise he also drove one through the covers for four as he middled a forward defence. The skipper reached 50 and retired to let Ian Finch have a go. Scott was obviously missing hiss skipper, and having scored 16 well earnt runs, was bowled to reunite him with his batting partner. In came Phil Bowes to join his fellow compatriot. Maybe someone told Finch to duck any bouncers. Obviously, there must have been a bit of a misunderstanding resulting in a 6-ball duck for Finch. As Craig Barrett was getting his eye in, Phil Bowes decided it was time to attack. He did maintain his above 100% strike rate, albeit he was caught on 8 after an entertaining 8-ball cameo.

Craig: "Right Veith, no tennis ball shots please"
Veith Gattinger, hellbent on applying his fielding form to his batting, joined Craig at the crease. What followed was some very crafty spin bowling, which became the undoing of Barrett as one snuck through bat and pad to splatter the bails over astro wicket. Dave Carr then came and went without struggling the scoreboard to bring up MCCs third duck of the day. Michahelles and Gattinger were the last men standing for MCC. The former blocked his only delivery faced that day, whereas the latter was bowled after smashing a four and a six. MCCs innings collapsed to 118-10 after 31.3 overs. It was definitely time for some beer.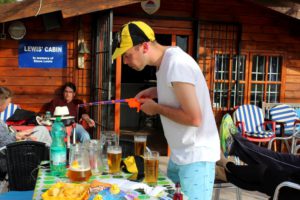 Bowes attempting to get a duck of his own to the befuddlement of a random bystander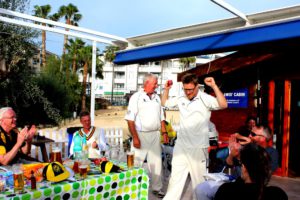 Veith receives an Alicante Alfas cricket ball for man of the match, as Scott attempts to count how ducks MCC got. The random bystander still lurking in the background.
MCC returned to the beautiful clubhouse to join our hosts for some thoroughly deserved beverages. Some kind words were spoken by both captains, and gifts were exchanged. During the imbibement of considerable quantities of beer, Deverill and Barrett realised they were tied on who was going to get the most catches, runs, wickets (one of the former, I can't really remember). They decided to settle this with a good fashioned bowl off. Consequently, MCC returned to the scene of the crime – aka the middle – to settle the affair. At least 30 balls later, neither had managed to hit the stumps.
Wembridge had had enough of this and declared: "hold my beer you ****, watch me". He runs in. He releases the ball. He bowls a beamer!!! Oh no, its gone over the stumps! Then, it missed the beer behind the stumps and smashed into Bowes' vape machine causing some considerable damage. We all collapsed in a heap of laughter as the bewildered Bowes inspected the damage. The bowl off resumed and the stumps were still not being hit. I got bored of this, went to the loo, got myself a new drink and still- no stumps hit! Halfway through my drink one of them finally hit the stumps (I think it was Craig, but I had lost interest at this point and didn't pay too much attention – sorry). Some more beer later, we realised that we had drunkenly booked a Tapas place the night before. We said our farewells and made our way to the Tapas place. The food was delicious. Finally, some good Spanish food! Following a fantastic meal, we made our way back through the streets of Albir where we encountered Simon (our waiter from the night before) who was rather busy preventing his misses going Connor McGregor on one of her customers. Classy scenes! We found a shabby place with a pool table and after some ridiculously expensive games of pool, we passed out in our beds praying for the hangovers not to be too severe the next day.
MCC match 2 stats:
1. J. Altmann, 0, caught, 5 overs, 25 runs, 0 wkts, 1 catch
2. A. Wembridge, 1, caught, 2 overs, 20 runs, 0 wkts, 1 catch
3. J. Deverill, 50*, retired not out, 3 overs, 30 runs, 1 wkt
4. N. Arunachalam, 4, caught, 4 overs, 31 runs, 0 wkts, 1 catch, 1 legendary runout
5. P. Scott, 16, bowled, 8 overs, 44 runs, 1 wkt
6. I. Finch, 0, caught, 4 overs, 41 runs, 0 wkts
7. P. Bowes, 8, caught, 1 catch
8. C. Barrett, 4, bowled, 5 overs, 44 runs, 1 wkt
9. V. Gattinger, 10, bowled, 4 overs, 46 runs, 2 wkts, 2 catches
10. D. Carr, 0, caught, 2 overs, 32 runs, 1 wkt
11. G. Michahelles, 0*, 1.3 overs, 9 runs, 1 wkt
MCC, 118 – 10 in 31.3 overs, lost to Alicante Alfas, 331 – 10 in 38.3 overs, by 213 runs
MCC extras: 18 (2nb 8w!!!! 4b 4lb)
MCC MOM: V. Gattinger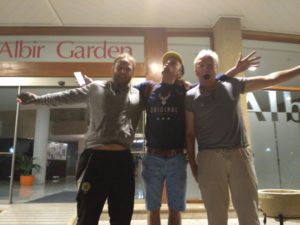 Something in the air that night, the stars were bright, etcetera…
Sunday Recovery day, and the departure:
Some MCC members had to depart rather early, while the others were still not quite ready to emerge from their rooms. In general, it was a fairly low-key day. There was a trip to the beautiful town of Altea. Altmann, Bowes and Jonkiffe embraced their inner child and had some good old-fashioned water park fun with slides and some catching practise in the pool. Some dinner was had and then some more pool and air-hockey were played, after which we all decided to get some long overdue rest. The following day there was some time to kill before our flight and we found a mini-golf place to ensure we looked like proper sunburnt English tourists upon our return to Munich. All in all, it was very memorable tour. I thank each and every one of you for pleasant memories that I will forever cherish.
MCC tour stats:
J. Deverill, 106 runs, 8 overs, 38 runs, 1 wkt, 1 catch
C. Barrett, 54 runs, 13 overs, 82 runs, 2 wkts, 1 catch
D. Carr, 17 runs, 4 overs, 57 runs, 1 wkt, 1 catch
N. Arunachalam, 13 runs, 10 overs, 55 runs, 1 wkt, 1 catch, 1 legendary runout
P. Bowes, 30 runs, 1 catch
A. Wembridge, 27 runs, 10 overs, 63 runs, 2 wkts, 1 catch
G. Michahelles, 1 run, 1.3 overs, 9 runs, 1 wkt
J. Altmann, 0 runs, 11 overs, 57 runs, 0 wkts, 2 catches
V. Gattinger, 1o runs, 4 overs, 46 runs, 2 wkts 3 catches
P. Scott, 16 runs, 16 overs, 64 runs, 2 wkts, 1 catch
I. Finch, 0 runs, 6 overs, 65 runs, 1 wkt
MCC extras: 32 (4nb 14w 6b 8lb)
Most runs scored: J. Deverill (106 runs)
Most wickets taken: P. Scott, C. Barrett, A. Wembridge, V. Gattinger (2 wickets each)
Most catches: V. Gattinger (3 catches)
MCC Praf of a tour: P. Toke
So long, and thanks for all the fish….
J. D. Jonkiffe
JJ