MCC Gold 151ish-8 (35 overs) (A.Wembridge 45*, X. Wides 29, O. Mushtaq 19, J. Deverill 2-4) defeated MCC Black 117-9 (25.2 overs) (Y. Wides 30, M. Khan 20, Obaidullah 18, W. Khan 3-12, P. Toke 3-14)
Man of the match: Obaid Mushtaq for his 19 runs and 22 servings of simply divine curry.
This long-overdue match report from 15-07-17 has been simplified into a dot-point summary for your Sunday reading convenience, mainly due to the author's laziness
Serendib Sports Club e.V withdrew interest in the match at the last minute, however Craig Barrett remarkably managed to organise 20 (mostly) MCC participants
Clever decision made for both teams (and umpires) to wear identical black clothing
Deverill arrived resplendently in a shiny new Napa Valley Cricket Club blazer, resembling some sort of candy-cane thief.
Wembridge fresh off the plane from an African safari (of sorts), accused of challenging Deverill for the title of 'silliest arrival costume bearer'
Teams picked, Praf and Craig skippering their respective ships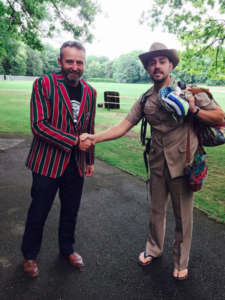 Praf, wielding some plausible excuse about traffic accidents, arrived to find Farid and Waqas padding up to open the batting
Mahmoud caught a Waqas fly-ball at mid-on in Abdul's first over, cementing the left-arm strike bowler's prized number 11 position for at least the duration of this mortal life
Fortunately this duck will not count toward the official duck race leaderboard
Shazhad made an elegant start but guided a Colling short ball into the loving hand of an unrecorded mid-wicket fieldsman
Farid fell for 9, caught off the bowling of Obaidullah, ending a hitherto well-disciplined opening performance which certainly caught the eyes of the selectors
Maiwand seemed to have turned up by now and was cheerfully enjoying watching the match before realising he had been selected for the fielding side
Usman and Obaid Mushtaq built a handy partnership of 39 before Master Chef Mushtaq was caught for a well-earned 19, giving Deverill his first wicket.
Nirmal allowed JD to nab his second wicket, unfortunately being bowled for 2
Usman continued his attack with new partner Wembridge
A partnership of somewhere between 13 and 15 developed, if we apply some sort of logical deduction techniques from the unorthodox scorecard
After a 'timeless' drinks (etc) break, Usman was clean bowled by Seyar for 17, bringing captain Praf to the crease.
Really quite difficult at this point to distinguish the difference between '1s' and '.s' in the scorecard, or 4s, 7s and all other Arabic numerals for that matter.
The proud skipper and his antipodean lackey poked around for an indeterminable period of time for an indeterminable quantity of runs
Barrett snaffled a catch behind the stumps to give Imtiaz a taste of glory, Toke finally being dismissed for a total of '1Y'
Remarkable to report that not a single runout dismissal occurred despite the wonderfully diverse run-calling methods practiced by the MCC Gold team
Not a single LBW given, naturally due to some sort of interplanetary magnetic force dragging every ball contacting the pads well down the leg side.
Ring in Rohail was cheated of facing his fair share of deliveries on more than one occasion, given his foul-tempered partner's accidental farming of the strike.
Rohail bowled for four by "Sam", where a rare Fall of Wicket entry suggests the score was 141 at the time.
A true dolly was dropped at backward square leg off a Maiwand Khan short ball, allowing Wembridge and new batsman Akmal to close out the innings for (allegedly) 151
Mahmoud Khan extremely unlucky to finish wicketless, bowling a superb 4 overs 0 for 8, and wides accounting for 29 (or 19,2%) of the total MCC Gold score
MCC Gold and Black were treated to a magnificent tea courtesy of the wonderful culinary skills of Obaid Mushtaq
Chicken curry and lentils were wolfed down with delicious brown roti, chased with chocolate biscuits.
A description of 'triumphant' would be severely understating this mouth-watering intermisso from our established semmel-based standard
Rumour has it that the wife of Mushtaq is in no way partial to curry, and this was the Master Chef's big chance to show off his skills
MCC Black made a healthy opening partnership of 31 between Hashimi and the in-form Mahmoud Khan
This was facilitated by several mangled caught and bowled opportunities by Sanger Khan.
Shazhad knocked over Hashimi's castle for nine, bringing Barrett to the crease
Waqas snagged the prized wicket of Mahmoud with a simple, regulation catch at gully
Deverill fell for a fortunately unofficial duck to become Waqas' second victim, caught behind by Farid
Abdul managed to belt around a few boundaries before one finally stuck in Sangar Khan's mitts at mid-on after a woeful delivery by Wembridge.
Barrett was bowled by Akmal for nine and MCC Black were beginning to look a little shaky at 5 for 84
Promising resistance from Colling (10) and Obaidullah (18) was soon to be interrupted after captain Toke's decision to warm up his shoulder
The captain effortlessly blasted through the pair (and follower Maiwand), taking his three wickets for a mere 14 runs, virtually sealing the victory for his team
Waqas delivered the death blow to the other S. Khan, earning himself a well-deserved 'three-fa'
Well done to all for hauling our arses off the couch and spending our Saturday outdoors sharpening those cricket skills.
Wendi-Meg Breward