A 40 over friendly against MIC saw captain Barrett win the toss and decide to bat, Kotru and Khan Mahmud opening up for MCC. The MIC bowlers were able to get a lot of bounce throughout their spells as the ground was dry and hard after a couple of weeks without rain.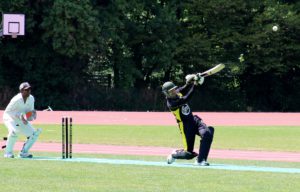 This was Kotru`s downfall as he gloved one to the keeper after looking really good before then. Captain Barrett replaced him and to everyone`s astonishment he hit a four from the second ball he faced. Not only that he hit two more fours in an innings lasting 53 minutes where he faced 37 balls and scored 22 with a scoring rate of almost 60%. Together with Khan Mahmud the second wicket was worth 70 runs. Mustaq hit a couple of fours then left to make way for Toke, who didn`t look comfortable at all for the 15 balls he faced. Bowes replaced him, hit nine from eight balls then made way for keeper Kerr.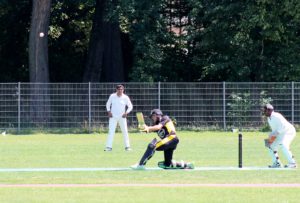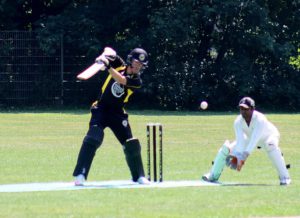 He in turn soon made way for Khanna, who wanted to impress his dad and his uncle.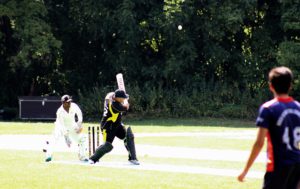 A few singles later he was back in the box talking to them while Singh took over.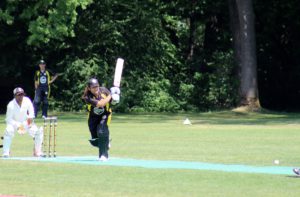 Khan Mahmud finally fell in the 35th over, having scored a magnificent 86, to be replaced by Khan Waqas. Diamonds were sparkling in the skies as Waqas departed, run out without facing a ball. Imtiaz took his place, determined to avoid being the first to the Audi badge.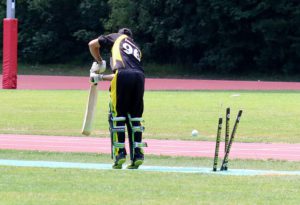 He scored one before being bowled in the 38th over leaving MCC 174 all out.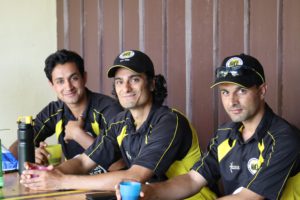 After plentiful teas provided by Khanna – was that why his dad and uncle came along? MCC opened the bowling attack with Khan Waqas and Singh.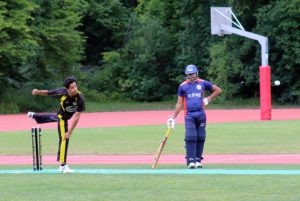 They both bowled maidens first off and, after nine overs, the score was 20 for 0 down.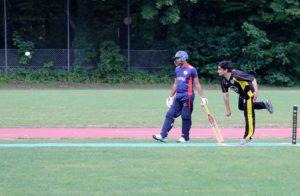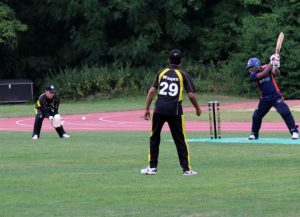 Disco run-up Khana and Toke took over and the run rate increased somewhat so that after 18 overs they were 85 for 2 down, just 4 runs more than MCC at that stage.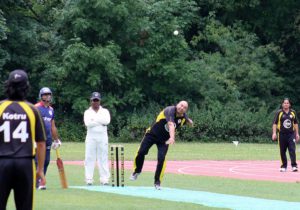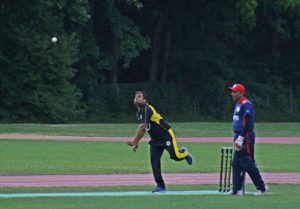 Bowes and Kotru had taken over and were both tonked so that when the heavens broke in the 20th over, MIC were 106 runs to our 28. Play for the day was then abandoned.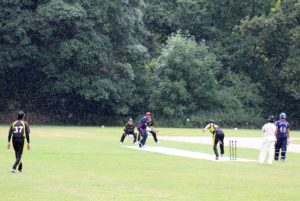 Kotru, 5, caught, 1 over, 0 mdns, 13 runs, 0 wkts
Khan Mahmud, 86,
*Barrett, 20, caught, 1 catch
Mushtaq, 8, caught
Toke, 6, caught, 4 overs, 0 mdns, 25 runs, 1 wkt
Bowes, 9, caught, 3 overs, 0 mdns, 25 runs, 2 wkts
+1Kerr, 7, caught
+2Khanna 4, caught, 3 overs, 0 mdns, 22 runs, 0 wkts
Singh, 3*, 5 overs, 2 mdns, 7 runs, 0 wkts
Khan Waqas, 0, run out, 4 overs, 2 mdns, 8 runs, 0 wkts
Ahmad, 1, bowled
MCC, 174 – 10 in 37.3 overs lost to MIC, 106 – 3 by 30 runs (Duckworth Lewis)
MCC MOM: Khan Mahmud