The first of two games to be won handsomely if we were to remain in Division I  saw MCC hosting Serendib on a perfect cricketing day at the Hirschanger. Captain Ayub used Maria Theresa to win the toss, choosing to field first and gave a rousing pre-match speech in the changing room.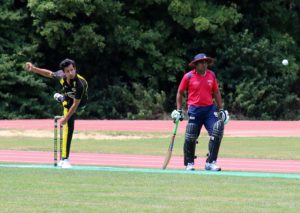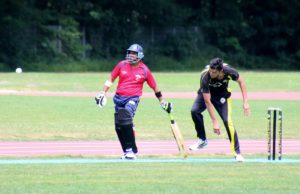 MCC opening bowlers Waqas and Maiwand both bowled good first overs, albeit with a couple of wides each, but thereafter were a little wayward In subsequent overs and were replaced after three and four overs respectively.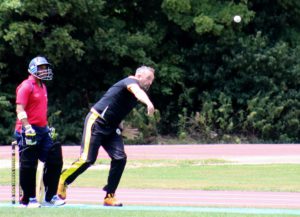 Deverill took over from Waqas at the surfers end but for one over only as he prefers the Chinese Tower end.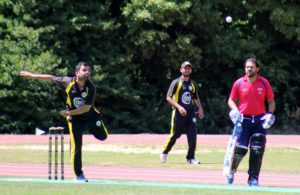 Toke had one over to allow Deverill to move to his favoured end and his performance improved noticeably.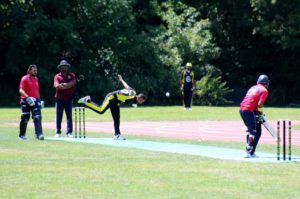 The ground was hard and dry and good shots brought rewards to the extent that after seven overs Serendib were 80 for one down, Maiwand getting their opener, Peter Adit, caught well by Barrett.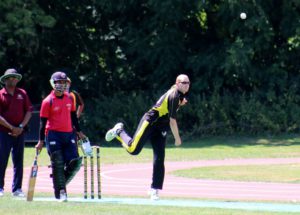 Deverill got the second with the score on 88, the dangerous Rohan caught after smashing it to Toke. Two overs later Deverill got his second. Anthony falling to a very good catch by Maroofkhel with the score on 102 and 13.1 overs gone.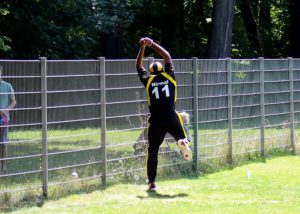 The next wicket partnership between Milan and Dushanta was 85 although Milan should have been out caught when he was on 19 – he went on to make 119, before being caught by Maroofkhel off Butt`s bowling and the score on 276 in the 35th over.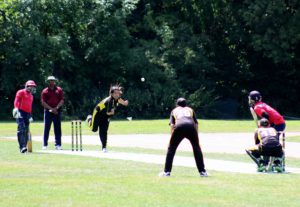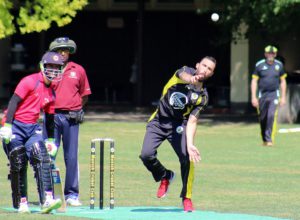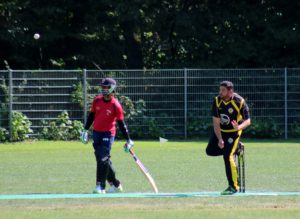 The tonking continued and Serendib finished on 325 all out after 39.5 overs.
Captain Ayub had provided some splendid teas but the team were in a rather shocked mood with a target of just over eight runs per over to meet.
Opener Colling and Mahmud set about the job with good intention, Colling leaving after just two overs, caught in the slips by Milan.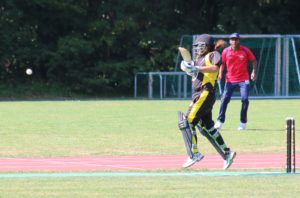 In came Butt clearly meaning to stamp his mark on proceedings scoring 34 from 17 balls in a 43 run partnership with Mahmud but was then out, caught by Milan.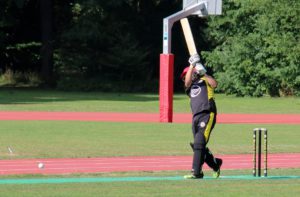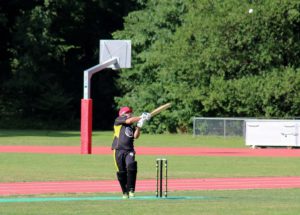 Maroofkhel narrowly avoided a golden one being out LBW to the second ball faced.
Ayub who replaced him also went quickly scoring four only and MCC were now 64 for4 down after 9 overs.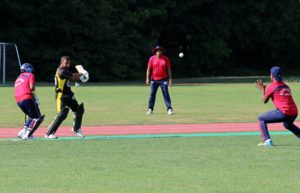 Toke hung around for a while allowing Mahmud to make hay, but then went for 12 with the score on 95.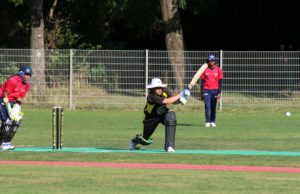 A good 43 run partnership between Mahmud and Deverill took MCC to 138 before JD was castled.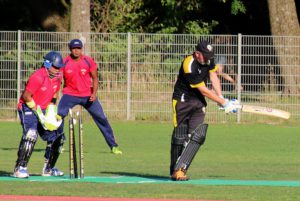 Konchada went for 2 runs only, Barrett has his customary 5 not out and Maiwand made one before being bowled comprehensively.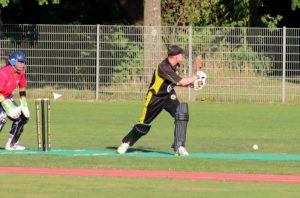 Waqas did not bat having damaged his ankle when fielding so MCC closed their innings   on 160 for 9 after 30.5 overs.
The rather tasty beers delivered by Deverill were consumed before moving on the Fräulein Grüneis Kiosk and afterwards for a curry.
Colling, 4, caught, 3 overs, 0 mdns, 30 runs, 0 wkts
Khan Mahmud, 75, caught, 8 overs, 0 mdns, 47 runs, 3 wkts
+1Butt TK, 34, caught, 3 overs, 0 mdns, 24 runs, 1 wkt, 1 catch
Maroofkhel, 0, LBW, 2 catches
+Ayub, 4, caught, 8 overs, 1 mdn, 59 runs, 1 wkt
Toke, 12,caught, 1 over, 0 mdns, 10 runs, 0 wkts, 1 catch
Deverill, 11, bowled, 6 overs, 0 mdns, 48 runs, 2 wkts
Konchada, 2,bowled
+2 Barrett, 5*, 2 overs, 0 mdns, 24 runs, 0 wkts, 1 catch
Khan Maiwand, 1, bowled, 5.5 overs, 1 mdn, 47 runs 2wkts
Khan Waqas, DNB, 3 overs, 0 mdns, 19 runs, 0 wkts
MCC, 160 – 9 in 30.6 overs, lost to Serendib, 325 – 10 in 39.5 overs by 165 runs
MCC MOM: Mahmud Khan