A very hot summer day at the Hirschanger, the fridge well stocked with cool fresh and the competition – the Fellowship of Fairly Odd Places Cricket Club- waiting outside the gates at 12 noon.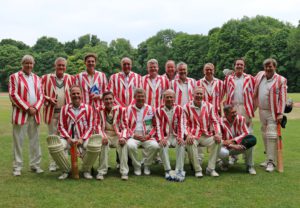 FFOP play one game a year only, choosing their opponents carefully to be "fairly odd". In previous years they have played against, Madeira, Andorra and even the Vatican and selected MCC as fairly odd because of the proximity to the nude sun-bathers in the English Garden. Whatever the reason we were honoured to receive them and looked forward to a good friendly match wearing whites for the first time since the first league match on April 30th and using a red ball with a proper seam which would swing.
Captain for the day Tony Blades conceded the toss and allowed FFOP to bat first. However, there was an ancient ceremony to be performed first as they begin every tour match by distributing glasses of real Bols Genever which got everyone off to a good start.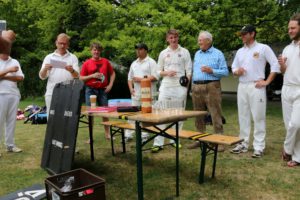 Gill opened the bowling for MCC, spending a weekend in Munich as a break from his exile in Hanover – perhaps it has persuaded him to join us on the Manchester tour.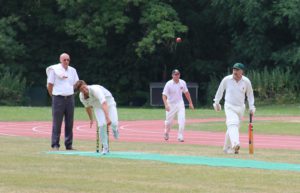 He got a wicket with his fourth ball, clean bowling their opening batsman, Rob Selles for a duck.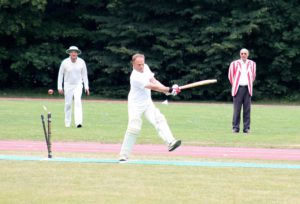 Kantor was a little more generous as the other opening bowler and seemed to effect Gill who went for ten runs in his second over.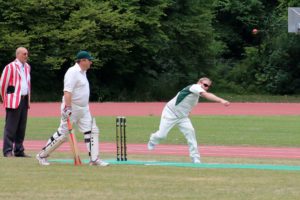 It should be said, the pitch was bone dry and hard giving a good bounce and the short grass in the outfield meant that good shots brought boundaries. Kantor got a wicket in his second over, again clean bowled, and they were 36 for 2 after 4 overs. Sestan and Cross took over the attack, Sestan, a little wayward, bowling 5 no-balls but no wides.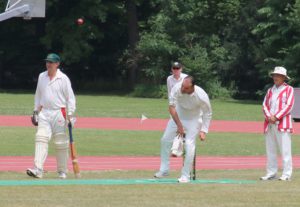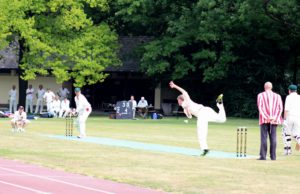 In the 9th over with the score on 76 for 2 Barrett replaced Sestan for a couple of overs.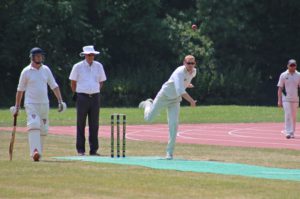 The score mounted rapidly and at 132 for 2 after 15 overs, the Hanover exile was brought back and broke the partnership immediatelywith a scorching yorker. After one over Blades came on and was tonked for a couple of glorious sixes in his first over so cleverly brought on Khanna to mesmerise the opposition with his run up.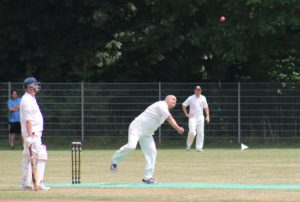 Altmann got a wicket in the 19th over and Blades one in the 20th leaving them at 150 for 5 down.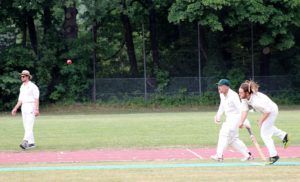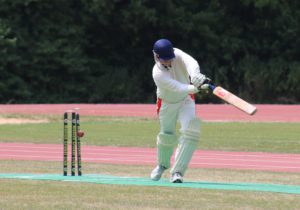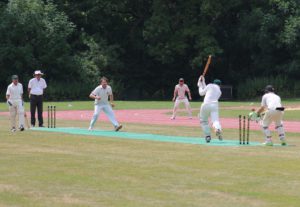 No other wickets fell until the 29th over, another bowled by Gill and up to now all wickets had been bowled. In the 35th and last over Cross rather spoiled it by taking two wickets, one a bowled the other a caught by Gill and FFOP finished on 213 for 8 down.
After some splendid teas provided by Sestan and much appreciated by the visitors, MCC opened the batting with Wembridge and O`Meagher, another old stalwart with a welcome return to MCC cricket.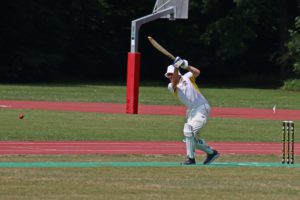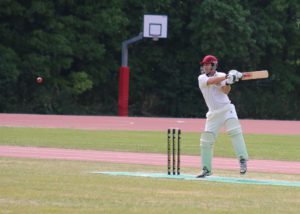 The partnership grew and reached 100 in the 14th over.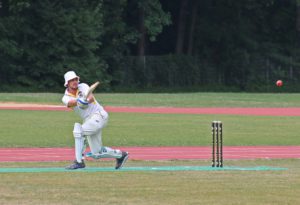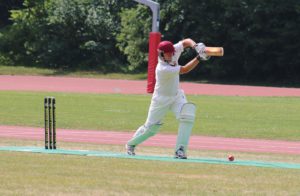 O`Meagher finally went, LBW, in the 16th over, having scored 58 and the total on 109.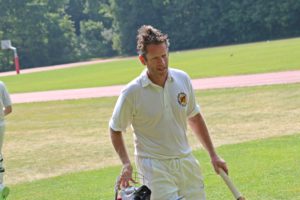 In came Bowes, completing the famous partnership of those who stocked the fridge with cool fresh on the Friday evening, played the same shot many times and even connected once or twice scoring two fours and one six before departing for 15 in the 19th over.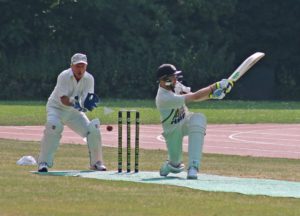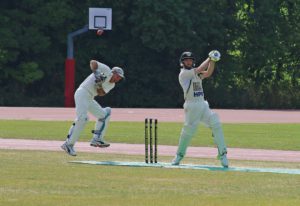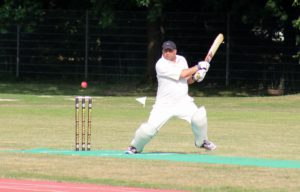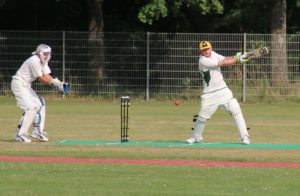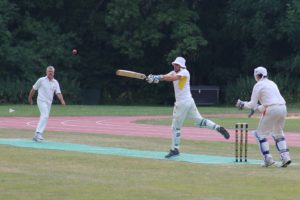 Khanna replaced him and scored 13 before making way for Kantor who put on 55 with Wembridge, who carried his bat and hit an almighty six to win the match in the 32nd over.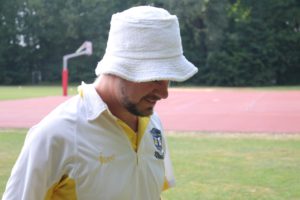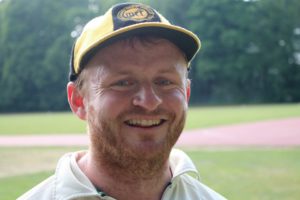 Everyone had a bat or a bowl in true friendly fashion and it was a most successful day.
The club photographer, Philip Crebbin turned up and, to impress the guests, was wearing the shirt he wore when he sailed for the Netherlands and became world Champion.  The South Coast Mafia put in an appearance too but not together – has there been a Turf War perhaps?
There were a numbers of speeches and presentations while the fridge was emptied of the 60 litres as we had a special dispensation from Helmut to stay until 8 pm. Thereafter a move to the Chinese Tower was called for and a boisterous friendly time was enjoyed by all.
Wembridge, 71*
O`Mreagher, 58, LB
+Bowes, 15, caught
Khanna, 13, caught, 2 overs, 0 mdns, 11 runs, 0 wkts
Kantor, 28*, 2 overs, 0 mdns, 17 runs, 1 wkt
Sesten, DNB, 2 overs, 0 mdns, 26 runs, 0 wkts
Altmann, DNB, 6 overs, 2 mdns, 17 runs, 1 wkt
*Blades, DNB, 6 overs, 1 mdn, 33 runs, 1 wkt
Barrett, DNB, 6 overs, 0 mdns, 34 runs, 0 wkts
Cross, DNB, 5 overs,0 mdns, 38 runs, 2 wkts
Gill, DNB, 6 overs, 0 mdns, 24 runs, 3 wkts, 1 catch
MCC, 216 – 3 in 31.5 overs, beat FFOP, 213.- 8 in 35 overs by 7 wicket
MCC MOM: Dominic Gill