Glorious sunshine welcomed the MCC, smartly dressed in their new clothing, to their spiritual home at the Hirschanger. The opposition from Passau were all waiting outside the gate at 12 noon, hoping to repeat the thrashing they gave us last year.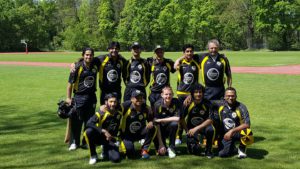 Captain Barrett had decided at the Friday afternoon training that should he win the toss he would bowl first but, as often happens, he lost the toss and MCC were asked to bat. The game didn`t start until 12:35 as the designated umpire – the league umpiring coordinator – was late having been to a Sri Lankan party in the morning. The MCC openers, Khan Mahmud and Bhat looked pretty comfortable and put on 27 before Bhat fell in the sixth over to be replaced by Deverill. JP showed exactly how to build an innings scoring 1 from 10 balls, 3 from 20 and 5 off 30 but finished with 58 off 93, bowled in the 34th over. The second wicket put on 92 before Khan Mahmud went and the third between Toke and JD made26 before Toke left, much to the disappointment of his parents. Konchada narrowly avoided the duck race, Mushtaq made a useful 13 and poor Aneesh Kotru had a golden egg. Khan Waqas came next and blasted a fine 20 from 10 balls with a couple of huge sixes . Barrett strikingly upped his run rate over the game against MIC last week and scored 4 from 8 balls, MCC finishing up with 197 for 8 down from the allotted 40 overs,
Teas and Pimms were provided by JD and were very much appreciated by the visitors.
Khan Waqas and JD were MCC`s opening bowlers and Waqas took a wicket with the very first ball of the innings. He took a second wicket in the 7th over and they were 27 for 2 down. J D got his first in the 8th over with the score on 40 and his 2nd and 3rd in the 10th leaving them on 51 for 5. The next four wickets fell for only 11 runs but a reasonable partnership of 14 for the last wicket took them up to 76 all out in the 17th over.
The game finished early so there was plenty of time to enjoy the cool fresh from the fridge and the Pimms from JD.
Khan Mahmud, 44, bowled
Bhat, 9, caught
Deverill, 58, bowled, 7 overs, 1 mds, 16 runs, 5 wkts
Toke, 6, bowled, 1 over, o mdns, 5 runs, 0 wkts
Konchada, 1, bowled
Mushtaq, 13, caught
Kotru, 0, LBW, 2 catches
Khan Waqas, 20, caught, 5 overs, 0 mdns, 37 runs, 2 wkts, 1 catch
*Barret, 8*, 3 catches
+Otmankhil, 0**
Ahmad, DNB, 3.1 overs, 0 mdns, 18 runs, 3 wkts
MCC, 197 for 8 in 40 overs beat CC Passau, 76 for 10 in 16.1 overs by 121 runs
MCC MOM: Jonas DeBeer