On a glorious Sunday morning 12 players managed to find their way to Attaching utilising various modes of transportation – car, train and bike!
We arrived at the ground and found out we would be in the very well sheltered stadium, rather than the usual open fields, which had been kindly taken over by the circus crowd!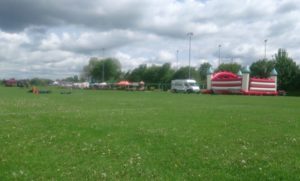 MCC lost the toss and were asked to field, a very odd decision based on the wet outfield and slow, low wicket..
Blades and Bowes opened the bowling with Blades bowling very straight and making it very difficult to hit him off the square. At the other end Bowes took 2 wickets from his first 2 balls, both bowled as the batsmen attempted horrible slog shots against the slow bowling. Bowes took his 3rd wicket in the 4th over leaving LSCC wallowing at 15-3.
Ankur replaced Blades after 2 overs and bowled some great lines and lengths before their opener decided that it was time to start having a swing.
He eventually succumbed to the bowling of Sestan, who, after pitching his first ball on his own big toe, managed to bowl a half tracker, which bounced 3 times down the leg side, only for Khanna to take off the bails and the batsman, stunned from the decision, was given out stumped!
Kapil Singh bowled some really good lengths without taking a wicket, but his two overs were very economic and he looks like a good player for the season ahead!
The Lufthansa collapse then began with Toke taking a very nice wicket. After Arshad had smashed a few, one directly over the perfectly placed Harvey Jackson in the deep, Khanna`s quicker ball removed his bails and ended the middle order stand. He followed this up with a wide, a leg side wide and then the straight one which bowled the clearly bemused batsman!
Blades then took his moment, coming back into the attack, with his first ball catching the outside edge of the bat and was amazingly taken by a superman like catch to Toke at gully, diving full stretch to his left to take a one handed wonder. I'm joking, it was a dolly but nevertheless brought up Tony Blades' milestone of 400 wickets!! The very next ball he bowled another batsman before a great run out from Kotru brought the innings to an end at 105 all out.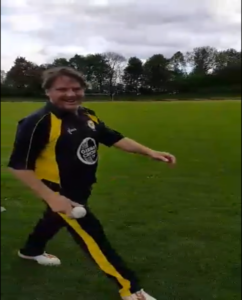 Teas were provided by the kind people of the LSCC Pizza shop and carried graciously by Cross and Toke.
However, the rain came down just as we were about to go back out and having played 2 balls of the opener, we came off for 20 minutes for rain. Fortunately we were very well covered.
After the rain ceased we continued on with Mushtaq and Kotru opening and playing just brilliantly together. Kotru was just watching wides go past his legs and rotating the strike where possible for Mushtaq who was seeing it like a beach ball. He smashed the fast bowler over the covers for a glorious 4, before flicking a 6 off his legs in brilliant fashion. Further big hitting from Mushtaq brought us closer to the target, before Mushtaq departed after pulling a short ball in the air and ending the opening partnership of 65 (Mushtaq 36 off 27). Jackson hit a few beautiful shots before being properly welcomed into Munich cricket and getting bowled by a flix ball. Kotru`s innings also came to an end, before Toke and Khanna brought us within 5 of the total. Khanna then smoked the ball straight at the bowler before Bowes came in and finished off the game with a lusty blow.
Five of us went off to the beer garden for a Maß to discuss the state of the world and Buntys retirement U-turn before wondering down to Hasenbergl to watch the end of the 1's game.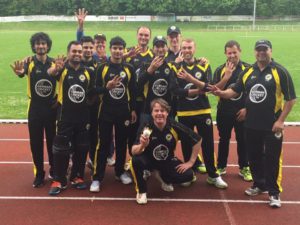 Mushtaq, 36, Caught.
Kotru, 13, Caught
Jackson, 6, Bowled
Toke. 9* , 2-0-19-1, 1 Catch
Khanna, 3, C&B, 2-0-14-2, 1 Catch, 1 Stumping.
Bowes, 4*, 4-0-22-3
Bhatia,  DNB, 2-0-15-0
Singh, DNB, 2-0-14-0
Cross, DNB
Sestan, DNB, 1-0-8-1
Blased, DNB, 3.2-0-12-2
MOM: Obaid Mushtaq
TFC: Sam Cross – great day out 😉