Saturday 8th October, a warm and sunny morning, ideal conditions for stowing the nets and repairing the Flicx. What at first appeared to be the sort of task where most club members found they had more important things to do was actually well attended in the end with the club photographer also turning out to record the action for posterity.
The first task was to remove the poles from the training nets and bail the net itself ready for storage in the kit box over the winter. This was an easy and straightforward job and took only about 10 minutes to complete. There are several places in the nets where repairs are necessary before we use them next season – I almost wrote several holes in the nets but there would have been some clever sod waiting to make a comment.
Then came the difficult one, repairing the Flicx without Jonathon Wright or Andy Wembridge, the known exerts in this profession. However, yours truly and secretary Doug Giles had come prepared and brought cutters, punches and hammers, enough for two squads to work in unison. It transpired very quickly that Farid Otmankhil and Mudassir Ayub were the budding experts in removing faulty squares ready for new ones to be inserted. The club had invested several hundred euros in the repair kits which turned out to be a multi-coloured matting, perhaps in anticipation of Andy Wembridge turning out. Out newly found experts were very particular in ensuring the new coloured squares were positioned centrally behind the wicket, even to the extent of placing them, extracting then again and moving them to the correct position. All told it took some three hours or more to complete the task but we now have a very good pitch again.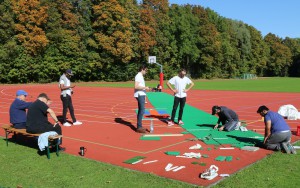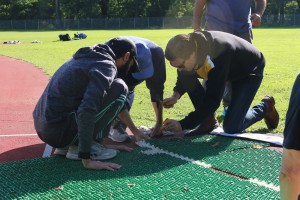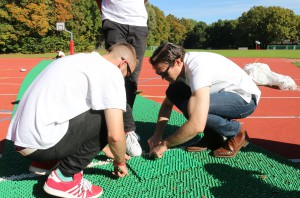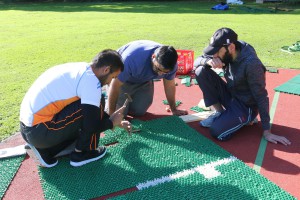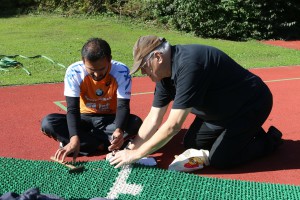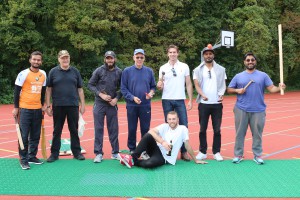 The happy crew posed for a photograph at the end of a task well done.