Another first for MCC as it was the first real fixture Burghausen have ever played, only appearing in the Serendib sixes before. They are captained and organised by Salim Ibrahim who played a couple of games for MCC a few years ago and whom we met on the way to Zuoz on 2015. He also played for Tegernsee and scored a ton against us when the Gore returned figures of 0 – 75 or thereabouts. Be that as it may, MCC captain Wembridge wearing a colourful shirt of fish swimming above sunken ships in the nether regions of his groin, and a non-standard colourful cap, looking rather like Jacob of the many colours, won the toss and chose to field first, opening the bowling with Khan Maihwand and Barrett. Khan underlined his position in the wide boys table as did Barrett who bowled a maiden before going for 32 runs from 4 overs. Deverill and Khan Waqas took over the attack and the first wicket fell in Deverill's first over with the score on 61. He had flown in from Singapongers that morning and had been observed on the Singapore Airways flight from Manchester to Munich. No more wickets fell until the 20th over when Butt came on and bowled superbly, getting two wickets in his first over making them 142 for three down. Ayub gave support and got his first wicket in his first over to make it 142 for four down. Ten runs later Ayub struck again and 19 runs after that there was a good run out by Khan Mahmud taking them to 173 for six wickets. A partnership of 61 followed and was only broken when captain Wembridge shed the non-standard colourful cap he was wearing, which had helped him to set the standard for dropped slip catches, and brought himself on to bowl . He took three wickets in his only over leaving them on 235 for nine wickets. Khan Maihwand came back on and got the tenth with one run only added to their score.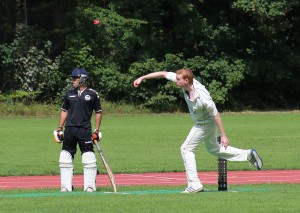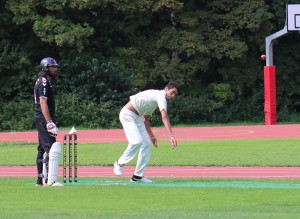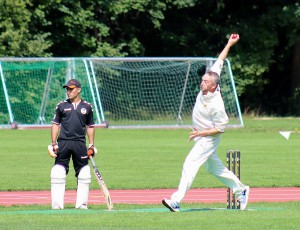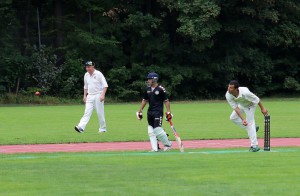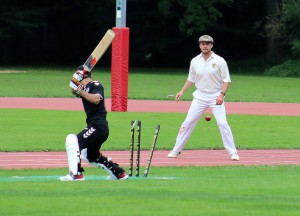 After teas provided by Bowes MCC opened the batting with Khan Mahmud and Colling who put on 24 runs before both went back for more tea to be replaced at the wicket by Butt and Ayub. A partnership of 40 runs followed until Butt was caught for18 off an ex-Pak Orient player, Murtaza, and gave way to the captain. He hit a magnificent six to impress Lady Wembridge then decided he wanted to chat to her and was out caught. Deverill, full of Singapore Slings, came in and shared a partnership of 30 with Ayub who then fell c&b to Ibrahim for 52, the top score in the match. Ayub had been complaining for weeks that his red batting gloves had been left with the away kit in my cellar. Would he have scored more using them?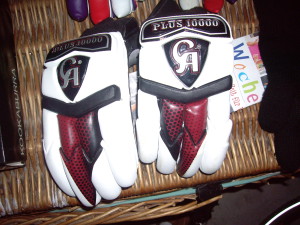 Bowes stayed a short while with JD, narrowly avoiding increasing his lead in the duck race and made way for Barrett who played a test match innings scoring 5 from 18 balls in 20 minutes leaving MCC 144 for seven down. Ottmankhil came, hit his trademark 6, but then left to make way for Imtiaz who hit a couple of great sixes in his 15 off 14 Balls. Deverill departed for 21 and Imtiaz went for 15 so poor Waqas finished 0 not out without facing a ball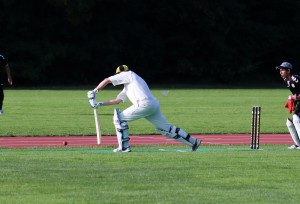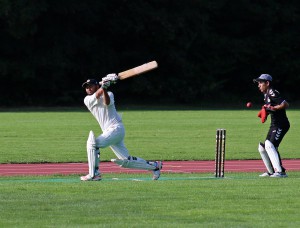 Khan Mahmud, 6, LBW
Colling, 12, bowled
Butt T K, 18, caught, 5 overs, 0 mdns, 17 runs, 2 wkts, 1 catch
Ayub, 52, caught, 6 0vers, 0 mdns, 30 runs, 2 wkts, 2 catches
Wembridge, 8, caught, 1 over, 0 mdns, 3 runs, 3 wkts
Deverill, 21, bowled, 6 overs, 0 mdns, 35 runs, 1 wkt, 3 catches
Bowes, 1, bowled, 1 over, 0 mdns, 17 runs, 0 wkts
Barrett, 5, caught, 4 overs, 1 mdn 32 runs, 0 wkts
Otmankhil, 7, bowled
Imtiaz Ahmad, 15, bowled, 1 over, 0 mdns, 18 runs, 9 wkts
Khan Waqas, 0*, 7 overs, 0 mdns, 39 runs, 0 wkts
Number of dropped catches: 7 (one because the fielder was chatting with the photographer hoping for a Bollywood contract)
MCC, 175 for 10 in 32.2 overs lost to Burghausen, 236 for 10 in 34.4 Overs, by 51 runs
MCC MOM: Ayub M.