Another beautiful hot, late summer day, to welcome the Crossbats, a touring team from England consisting of players older than 50 with a single 40 year old exception. They had special kit made for the trip which was labelled "the fear the Wurst tour". A very social MCC team had been selected and a large amount of cool fresh was stocked in the changing room fridge. Captain for the day Butt lost the toss but persuaded the opposition to field first as they had never seen or played on a Flics pitch before. MCC opened with Weston and Altmann who scored quickly from the very friendly bowling until Weston was out caught for 51 with the score on 79. His replacement, Wembridge took a considerable while to play himself in and when Altmann retired out for 57 in the 16th over after a partnership of 42, had contributed four runs only. Sestan come in at number four, having spent some time at the indoor training quarters during the week, to be comprehensively bowled by the third ball faced. Next in was Bowes who took the opposition's name to heart for one ball too many as after tonking a six he too had his stumps shattered. While all this was happening Weston was dive bombing the players with his super new drone and took some very impressive videos of the game.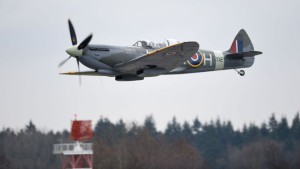 After Bowes departed Elias came in to play some cool defensive shots but then he too joined Sestan in the duck race, bowled by Trigger. Captain Butt, far from the entrance door to the 500 club but promising to bash it down next season, hit a couple of sparkling fours then went having scored nine from nine balls faced. Bhavsar came and went too, falling to the cries of the hoblins and goblins carousing in the duck race chambers and MCC were 170 for eight wickets down. In came Michahelles, for his first innings of the season, having piloted himself in from Outer Mongolia or some such exotic place and shared a partnership of 15 with Wembridge finally being bowled for 1 by Monica having faced 19 balls. Wembridge had now woken up and begun to despatch the ball to the boundary. Having scored 11 from 59 balls he hit a six and a four from consecutive balls and never looked back. He and Kantor put on 82 for the 9th wicket, Wembridge retiring on 72 to allow Gattinger to take the field. He and Kantor put on 12 for the final wicket of which Gattinger scored 8 in two almighty hits for four.
There was a lengthy tea break, food provided by Bhavsar with guidance from Bowes and a truly magnificent iced chocolate cake baked by Sylvia Wembridge. It was superb and seemed to go well with the cool fresh which had been well sampled since the game started.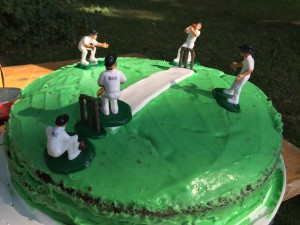 During the tea break we were approached by a young man called Aneesh Kotru who said his uncles used to play for our club back in the earlies. He is studying for his masters in Munich for the next couple of years and will join us at training next Friday. If he is as good as Ashok and Rajan we are in for a treat.
MCC opened their bowling attack with Butt, who began with a maiden, and Bowes, who didn`t. The first wicket fell in the fourth over, a run out by Kantor/Butt with the score on 13. The new batsman Pest Piet was bowled by Butt for a duck with the score on 18 and that was it for a long time. MCC bowlers really didn`t look like taking wickets and it fell to Michahelles to get another run out in his first over, Wembridge doing the honours. This was in the 15th over and it wasn`t until the 35th over after just about everyone had been called on to bowl that the next wicket fell with the score on 127. In fact Butt got two wickets in this over. The 6th wicket fell to Bhavsar in the 37th over and the Crossbats finished on 153 for 6 after 40 over and a most enjoyable, friendly game.
There were three presentations, during and after the match, the first being a pair of red gloves claimed by Mudassir.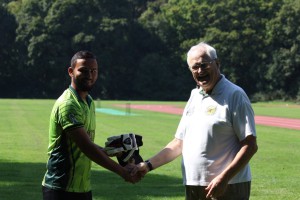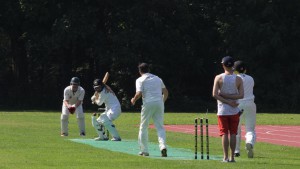 Next an MCC stump signed by the team was presented to the opposition who responded by presenting one of their touring caps to the most blatant sledger in our team – stand up James Kantor
Finally the wide-boys award for 2014 and 2015 was given to George Michahelles for an outstanding performance in those two seasons.
After clearing away all the cool fresh and Helmut's return we quickly vacated the ground and headed for the Chinese Tower to admire the night sky.
Weston, 51, caught, 4 overs, 0 mdns, 15 runs, 0 wkts
+Altmann, 57*, retired,
Wembridge, 72*, retired
Sestan, 0, bowled, 5 overs, 1 mdn, 23 runs, 0 wkts
Bowes, 9, bowled, 5 overs, 0 mdns, 28 runs, 0 wkts
Elias Beresford, 0, bowled, 3 overs, 0 mdns, 17 runs, 0 wkts
*Butt T K, 9, bowled, 8 overs, 4 mdns, 9 runs, 3 wkts
Bhavsan, 0, LBW, 6 overs, 1 mdn, 11 runs, 1 wkts
Michahelles, 1, bowled, 3 over, 0 mdns, 9 runs, 0 wkts
Kantor, 23*, 3 overs, 0 mdns, 25 runs, 0 wkts
Gattinger, 8, stumped, 3 overs, 1 mdn, 4 runs, 0 wkts,
MCC, 259 -10 in 39.1 overs, beat Crossbats, 153 – 6 in 40 overs by 106 runs
MCC MOM: A. Wembridge.