Finally summer has arrived in Munich and with the Hirschanger looking green and inviting and a strong team MCC were looking to cement their second place in division I of the Bundesliga Süd-Ost. The pitch and the boundary flags had already been laid out at the Friday training which three of the team had condescended to attend. Whoever put the flags out must have been a bowler for they were almost out of sight which was to come back and haunt us later.
Captain Mascarenhas won the toss and chose to field opening the bowling with Hoeck and Blades. Hoeck was a little wayward and was called for a high no-ball which was then revoked whereas Blades was his usual parsimonious self, going for 24 runs only in eight overs. Qureshi and Khan Waqas took over and were also very sparing with runs but it took a while before the first wicket fell in the 16th over. It was Waqas who struck showing a fair turn of pace and castling the stumps of their second highest scoring batsman with the score on 53. At the hour long drinks break, Serendib were 67 for only one wicket down. With the first ball bowled after the break Sarma struck getting Berenger – who has the ability to stay around for the complete innings – to sky a catch and, being greedy and looking to the stats, it was also caught by Sarma. He struck again in his second over, this time bowled and they were now 77 for 3 down after 23 overs. Blades returned and got a plumb LBW in the 24th and Ayub, who had a good day to make up for the bummer he had last week, got in with a caught and bowled in the 28th over and they were now 94 for five down. Three overs later Sarma got his third, a superb catch by O`Meagher near the boundary of their danger man Milan Fernando and, in the next over, Waqas castled another making then 108 for seven wickets down. There was now a partnership of 34, before there was a run out in the only over bowled by Mascarenhas, a somewhat unusual over to watch but we`ve all had them Shannon. Serendib finished on 166 for eight down with several simple catches dropped and fielders often "missing catches" as the ball flew just over their heads.
All photographs courtesy of Philip Crebbin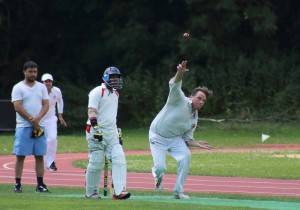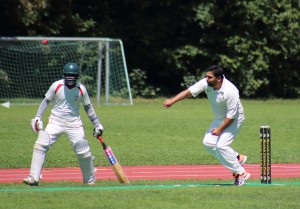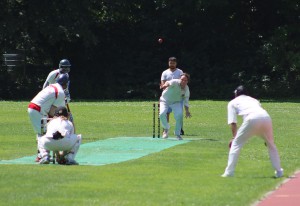 After ample teas provided by Qureshi the main event of the day began when Deverill turned up with a large chamberpot, three bottles of Pimms #1, bags of ice and loads of fresh fruit and mint. I haven`t enjoyed watching a match so much for a very long time. It was quite difficult to take over the scoring again from Philip Crebbin who had sailed up the Isar to do it but wanted a break to take more photographs. The whiff of Pimms had brought several MCC legends along. First to arrive was Mark Palfrey looking very fit and with a suitable thirst. Next was John Hamilton, for the second week running, who never ceases to remind me that he is above me in the eternal batting stats table. Finally, for his annual pilgrimage, Wayne van Dalsum, the leading aggregate run scorer for many years until he was topped by Mark Lovell, arrived. Arriving home I saw a message from Andrew Cotterell, another old stalwart who held the record for the club`s highest score, 129 against ECC Hanau on 17th August 1991, until he was overtaken by Wayne van Dalsum with 143 against Pak Orient on 24th May 2003, that he will be in Munich for a reunion of the old comrades on 20th October. Clearly more Pimms afternoons are needed.
MCC opened the batting with Sarma and O`Meagher and throughout the innings it seemed as if we were still in T20 mode from last week. Sarma went for 7 in the second over to what was some very good bowling, a rising ball being edged to a deep first slip. In the fourth over O`Meagher decided he wanted some Pimms and in the sixth, Butt, who had hit a couple of superb boundaries was thirsty too. MCC were now 40 for 3 down after six overs. Altmann went in the 11th with the score on 62 and Hoeck lobbed a simple catch back to the bowler in the 15th with the score on 78. Mascarenhas departed in the 17th over and after 20, MCC were 94 for 6 wickets down, well ahead of the run rate but very low on wickets. Khan Mahmud, having played a test match innings went for 5 from 29 balls in the 25th over and now the wide-out flags came into play for both Ayub and Qureshi fell to excellent catches by Adit on the cow boundary making us 112 for nine down in the 29th over. Blades came in and did his best to hang around with Kahn Waqas realising they were bowling well over one wide per over and just to hang around still gave us a chance. It was not to be for he was given out LBW to a ball he actually hit but the keeper also caught it so one way or the other he was out.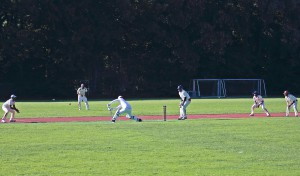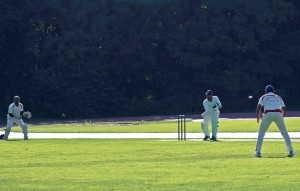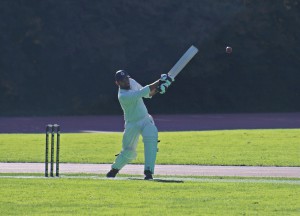 The Pimms had all disappeared along with three crates of cool fresh – Serendib had helped out here and the party split, some heading for Fräulein Grüneis`s and the remainder to the Chinese Tower to sample the cake provided by Khan Mahmud.
Sarma, 7, caught, 8 overs, 0 mdns, 23 runs, 3 wkts, 1 catch
O`Meagher, 4, caught, 1 catch
Butt, 16, LBW, 2 overs, 0 mdns, 13 runs, 0 wkts,
+Altmann, 14 caught
Hoeck, 4, caught, 3 overs, 0 mdns, 18 runs, 0 wkts
*Mascarenhas, 13, bowled, 1 over, 0 mdns, 20 runs, 0 wkts
Ayub, 16, caught, 2 overs, 0 mdns, 13 runs, 1 wkt, 1 catch
Khan Mahmud, 5, caught
Qureshi, 0, caught, 8 overs, 1 mdn, 23 runs 0 wkrts
Khan Waqas, 2*, 8 oversd, 2 mdns, 25 runs, 2 wkts
Blades, 0, LBW, 8 overs, 1 mdn, 24 runs, 1 wkt
MCC, 117 -10 in 29.5 overs lost to Serendib, 166 – 8 in 40 overs by 49 runs
MCC MOM: A. Sarma