A sunny day, 28°C and two twenty over friendlies against Göppingen arranged, their first ever match since their cricket department was formed a couple of months ago. You would think that as everyone knew there were two games to get in, the first one to begin at 12:30 and the complete works to be set up beforehand, the team playing first would all arrive promptly. Well at least Waqas and Mahmud Khan were on time as well as seven others. One finally arrived 75 minutes late and was still allowed to bat higher than number eleven. Clearly the club`s policy needs rethinking.
Captain Weston won the toss and chose to bat, opening himself with Toke, and the innings began some 25 minutes late. Facing two wides and three good balls in the first over was too much for Toke who was bowled for one. He was followed in the next over by Weston, out for two having also pulled a thigh muscle going for the first run of the innings. MCC were now 7 for two down with Almann and Bowes at the crease. They put on 13 for the third wicket, Altmann reverting to test match mode and scoring 3 from 13 balls. Lovell took his place and we were treated once again to some glorious cover driving as in days of old. The fourth wicket partnership was 42 before Bowes top edged one straight in the air for a simple catch by their keeper. Butt, having recovered from the exertions of arriving 75 minutes late came in and went ballistic hitting 45 from 22 balls before retiring. Lovell had departed quite early with the score on 68 in this bludgeoning to be replaced by Mahmud Khan. The score when Butt retired is not entered but the next genuine wicket fell with the score on 133, Mahmud Khan being run out for 19. Kantor and Ayub put on nine runs before Ayub went for an early drink, Usman joined the duck race and Waqas was not out for one. MCC A finished their twenty overs with 153 for nine down.
Amazingly there had been an almost 15 minute drinks break after ten overs and at the five minute innings break MCC decided to have cups of tea and eat some of the teas provided by Kantor, bugger those who want to play the second game being the attitude, "I`m all right jack".
After an almost 20 minute innings break MCC opened with Waqas Khan and Ayub. The first wicket fell in the 5th over, Waqas`s third over, as did the second and the third wickets. It was the club`s first hat-trick since Charles Hobbs took one on 2012.
All photos courtesy of Philip Crebbin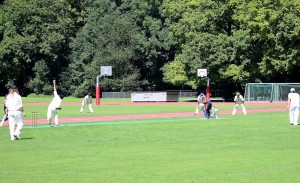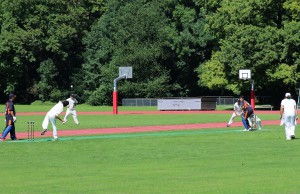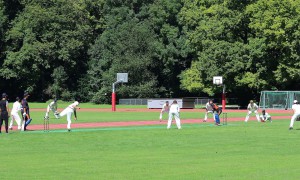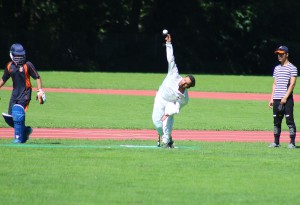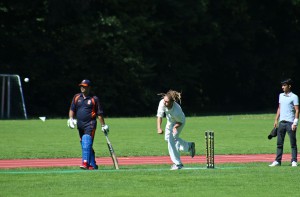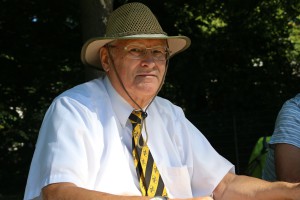 The fourth wicket partnership was broken at 42 when stand-in captain Bowes – Weston having left for home to apply ice to his thigh – brought himself on. The score was now 66 for four down in the 11th over. Twenty five runs later Kantor struck, Altmann taking the first of his two catches (which made him undisputed leader of the catching stats). Göppingen A were now 82 for 5 down after 15 overs. The run rate slowed somewhat and they were 112 for eight down in the 18th over. Some heavy hitting off Kantor and Bowes who had brought himself back on took them to 143 for nine wickets after 20 overs.
It was the first time we had played using a white ball and it is really much easier to see against the background of the trees surrounding the Hirschanger.
Toke, 1, bowled, 2 overs, 0 mdns, 9 runs, 0 wkts
*Weston, 2, caught
+ Otmankhil DNB, 1 stumping (replaced Weston)
Altmann, 3, run out, 3 overs, 0 mdns, 22 runs, 0 wkts, 2 catches
*Bowes, 19, caught, 4 overs, 0 mdns, 32 runs, 3 wkts
Lovell, 13, bowled
Butt, 45*, retired
Mahmud Khan, 19, run out, 2 overs, 0 mdns, 13 runs, 1 wkt
Kantor, 7*, 2 overs, 0 mdns, 23 runs, 1 wkt
Ayub, 9, caught, 2 overs, o mdns, 10 runs, 0 wkts
Usaman, 0, caught, 2 overs, 0 mdns, 23 runs, 0 wkts, 2 catches
Waqas Khan, 1.*. 3 overs, 0 mdns, 9 runs, 3 wkts
MCC A, 153 for 9 in 20 overs, beat Gogginen A, 143 for 9 in 20 overs by 10 runs
MCC MOM: Waqas Khan