An all-time first for MCC in that we had scheduled two T20 games for the same day at the Hirschanger, a BCV quarter final match against PACC Neu Ulm, who had already beaten MCC II in the division II league match, to be followed by a friendly against the Serendib Breakaways. Obviously this required a prompt start and no hanging about during the game, but, as Robbie Burns said "the best laid plans o `mice an` men gang aft a-glee". The terrorist attack in the Olympic Einkaufs Zentrum on Friday as we were at training at the Hirschanger caused a number of difficulties. Several members were forced to find some place to sleep in Munich as there were no trains, U-Bahn or busses running and two were taken into police custody because they were wandering through Marienplatz obviously with a middle-east look about them and carrying rucksacks and this at a time when there were believed to have been three perpetrators who had fled the scene carrying rucksacks. They were eventually released at 3am.
Nevertheless, everyone bar one, turned up well on time only to be greeted by a message from the opposition that their train was delayed due to the follow-on effect from last night`s disturbances and a gloomy prediction by Cassandra, who had also provided the teas, that it would rain heavily at 1700 hours. They eventually arrived at 1305 more than a half hour after the match should have started. The umpire advised that if we wished we could claim victory and simply play a friendly. We decided we wanted to win properly but claimed the toss and chose to field first.
Deverill opened the bowling for MCC and took a wicket with his fourth ball. Blades bowled from the other end and got a wicket in his second over leaving them two down for 4 runs and things were looking good. In his fourth over Deverill got his second making it 22 for three down. There was a good partnership of 39 for the fourth, only broken when Cassandra Barrett struck with the fourth ball of his first over and got a splendid stumping from Altmann. With his next ball Barrett got a caught behind and was hoping for a hat-trick. Not to be but the opposition were now five down in the 12th over with 63 runs on the board. Butt, Barrett and Qureshi finished off the overs and PACC´s last wicket fell after 19.5 overs with the score on 96.
During the innings break the two other teams for the friendly arrived and a good party atmosphere developed. A quick cup of tea and some absolutely scrumptious chocolate and butterscotch biscuits made by Barrett which should have earned him the man of the match award, MCC opened the batting with Butt and Altmann.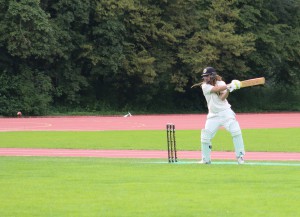 Altmann in aggresive mode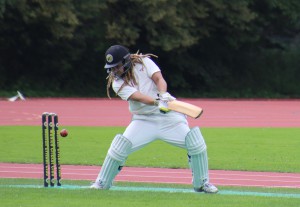 Cut away with gusto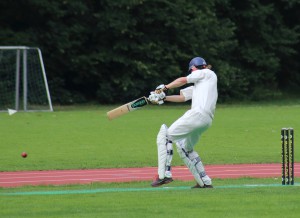 Hoeck in on the act.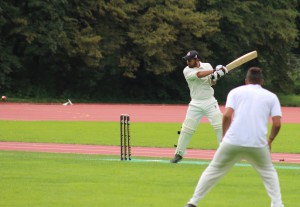 Ayub enjoyed a short innings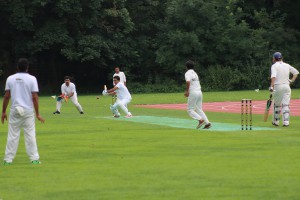 Bhavsar cuts beautifully
Butt decided he wanted another biscuit and was run out after facing three balls to be replaced by Wembridge having changed into whites from his colourful, psychedelic shorts and shirt. He stayed around for nine balls and made way for Hoeck when MCC were only 17 for two down.
A partnership of 46 ensued until Altmann was also run out for 25 with the score on 63 after 12 overs so just up with the required run rate. One ball later is was four down and after 17 overs with the score on 80 it was five down. Then it was six down on 89 after 18.5 overs and then seven down for 92 after 19.2 overs. MCC needed five runs for victory from four balls and tension was rising. Two singles and a dot ball followed then there was a wide and the batsman, Waqas Khan was run out. Umpire Ali signalled wides differently to how I was taught which should be "call and signal wide, wait until the ball is dead, turn to the scorer, signal wide and wait for acknowledgement". He always waits until the ball is dead then turns to the scorer and calls and signals wide. The opposition were incensed when after the run out the umpire signalled a wide which actually meant that MCC still needed two runs to win from one ball and a new batsman at the crease. The umpire was accused of cheating and the opposition refused to continue meaning MCC won on forfeit.
Butt, 0, run out, 2.5 overs, 0 mdns, 10 runs, 3 wkts, 1 catch
+Altmann, 25, run out, 3 catches, 1 stumping
Wembridge, 5, caught
Hoeck, 23, bowled, 2 catches
Ayub, o, caught
Bhavsar, 15*
Deverill J, 1, caught, 4 overs, 0 mdns, 14 runs, 2 wkts
Qureshi, 2, bowled, 3 overs, 0 mdns, 15 runs, 0 wkts
Khan Waqas, 1, run out, 2 overs, 0 mdns, 21 runs, 0 wkts
Barrett, DNB, 4 overs, 0 mdns, 18 runs. 4 wkts
*Blades. DNB, 4 overs, 0 mdns, 17 runs, 1 wkt, 1 catch
MCC, 95 for 8 in 19.5 overs beat PACC, 86 for 10 in 19.5 overs by forfeit
MCC MOM: C. Barrett (for his chocolate biscuits and a Forfar which could have been a Michelle had a sitter not been dropped on the boundary).
The early finish meant that the three crates of cool fresh could be attacked and the party atmosphere raised a few levels while the second match – now reduced to 16 overs – was played.  Among the spectators was the vice-captain of MCC II, Kantor whose train to Budapest for the Hungarian Grand Prix had also been cancelled. Captain Alagh won the toss and chose to bat opening himself with Deverill as partner. The partnership lasted eight balls before Alagh was bowled without extending his lead at the top of the duck race and the next ball Gattinger followed him with a golden one. Next to go was Deverill with the score on 13 and five runs later Ayub who had had one of those days. A huge partnership of 14 between Mahmud Khan and Otmankhail was ended when Ottmankhail joined the duck race in the 9th over with the score on 32. Mahmud Khan went for 29 in the 16th over and was the 8th wicket to fall. Imtiaz and Usman batted out the remainder and MCC finished on 65 for eight down.
MCC bowlers Ayub and Hashimi opened the bowling and each went for 11 runs from their two overs. Imtiaz and Usman replaced them, Imtiaz going for 18 in his two overs and Usman being 7 for one from his one over. The heavens now really opened, just as predicted by Cassandra, and the match was abandoned. So MCC did not finish either match in this two match adventure but the party in the changing room from 5pm onwards and then at Fräulein Grüneis´s was worth turning out for. MCC male voice choir, having sunk the three crates of cool fresh were in fine flow but why did the music stop after the eighties? I used to play a game asking people to name a song title which was a girl`s name with a warning that it really showed one`s age. I reckon the songs sung were also a fair measure of age too. I only recognised "Bye, Bye Miss American Pie"
Deverill J, 3, run out
*Alagh, 2, bowled
Gattinger, 0, caught
Khan Mahmud, 29, caught
Ayub, 1, bowled. 2 overs, 0 mdns, 11 runs, 0 wkts
Cross, 0, bowled
Qureshi, 2, LBW,
Imtiaz, 2, caught, 2 overs, 0 mdns, 11 runs 0 wkts
+Otmankhail, 2*
Usman, 6*, 1 over,0 mdns, 7 runs, 1 wkt
Hashimi. DNB, 2 overs, o mdns, 11 runs, 0 wkts
MC, 65 –8 in 16 overs, Breakaways, 48- 1 in 7 overs were lucky to escape.
MCC MOM: Khan Mahmud. Normally a MOM would not be awarded in an abandoned match but his performance was so outstanding compared to the rest of the batsmen, making the highest score of anyone in the whole afternoon and the game was almost over anyway.