A fine day at the Hirschanger saw MCC wanting to win to maintain their slight chances of topping the league table and CCB wanting to win to stave off a drop into division II. Captain Weston lost the toss and MCC were asked to bat first opening with Weston and Altman. In the fourth over Weston was caught behind with the score on 16, thereby continuing his unfortunate run of low scores whenever his family are watching. Sarma replaced him and put on 47 for the second with Altmann but departed for 21 in the 16th over. A few runs later Altmann left for a cup of tea and at the crease were now Butt and Ayub who put on 20 before Ayub was bowled in the 25th over with the score on 88. Wickets fell regularly afterwards, the only significant partnership being 26 for the seventh wicket between Butt and Otmankhail. Still every little helps, no-one joined the duck race, and MCC were all out for 140 after 39.5 overs which included a magnificent "off his toes" flick for four by Otmankhail.
During the MCC innings scorer Crebbin took a number of photographs and now has two "B" s to his name to reflect the dual tasks he performs.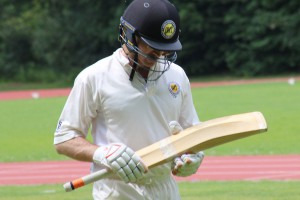 The captain reflects on his run of low scores
when his close family are watching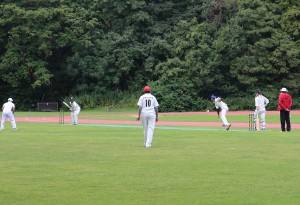 Sarma and Altman push on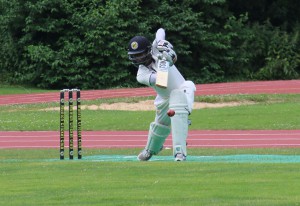 Sarma drives to extra cover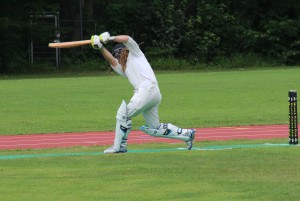 Altmann demonstrates a high elbow
After teas provided by Altmann MCC opened the bowling with Blades and Sarma, both of whom started with maidens. They continued to strangle the run rate and the first wicket fell to Blades in the 7th over with the score on 20. Blades also got his second in the 9th over bur Sarma was not to be outdone and got his first in the 12th over getting their dangerous captain Appavu LBW off a full toss. There was then a good fourth wicket partnership of 31, ended by Waqas Khan who absolutely skittled the middle stump. Numbers five and six fell rather quickly the sixth being a stumping by Altmann who had taken over the gloves from Weston and needed to remind the leg side umpire that "on the line is out". Then there was another good recovery of 26 for the seventh wicket, broken by Ayub who bowled one over, got one wicket for five runs, all of them wides. I really think you have misunderstood the meaning of the wide boys prize Mudassir. CCB were now 104 for seven down and needing only 37 to win off 12 overs so things were getting tight. After a few tight overs by Barrett and Waqas Khan the opening bowlers were brought back on and Blades immediately got his Forfar Athletic, his return over going for one run and two wickets including a caught and bowled for the stats. Sarma took the tenth and CCB were all out for 121 in the 32nd over.
Weston, 12, caught, 1 over, 0 mdns, 6 runs, 0 wkts
Altmann, 21, caught, 2 overs, 0 mdns, 8 runs, 0 wkts, 1 catch, 1 stumping
Sarma, 25, caught, 7.3 overs, 1 mdn, 21 runs, 2 wkts, 1 catch
Butt, 31, caught, 3 overs, 0 mdns, 17 runs, 0 wkts
Ayub, 7, bowled, 1 over, 0 mdns, 5 runs, 1 wkt
Khan A, 1, LBW
Khan w, 1, bowled, 4 overs, 0 mdns, 26 runs, 2 wkts
Ottmankhail, 9, caught
Barrett, 4, caught, 6 overs, 0 mdns, 16 runs, 1 wkt
Cross, 1, bowled,
Blades, 2*, 7 overs, 1 mdn, 19 runs, 4 wkts, 1 catch
MCC, 140 -10 in 39.5 overs beat CCB, 121 -10 in 31.3 overs by 19 runs
MCC MOM: T.Blades